2011 Ganesheshotsav in Pune was marked by heavy rains and a river in spate for over 3 days in a row. That is not something fresh in our memories. Inflation, security issues, poor roads not withstanding people celebrated with gusto either by bringing home the Ganesh idol or in a community celebration in their neighbourhood.
While the Mutha River is a trickle for the best part of the year, environmental activists cry themselves hoarse about pollution and disregard for whatever water does flow there. This reaches a cresendo in this festival as tradition requires the idol to be immersed. The debate begins right from the type of idol rather the material from which it is made- idols made from 'shadu chi mati' (a type of river mud) are said to be the appropriate ones and they are supposed to dissolve easily when immersed. The other popular material is Plaster of Paris and idols made of this may not dissolve. This not only creates a religious issue of semi dissolved and water soaked idols that have to disposed off later but the water is said to get polluted. The 'nirmalya' or floral offerings have to disposed off as well.
Most people have accepted the idea of recycling and do give the nirmalya at special collection boxes kept for the purpose. But idols is another story. We noticed an interesting phenomenon at one visarjan ghat today:
The approach to the river was lined on both sides with placard bearing activists: those on my right urged people to immerse idols in the specially built 'howd' (water tanks) and those on the left urged immersion in the river. Personnel from the Fire Brigade were at hand to actually immerse the idols in water.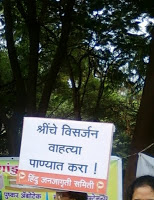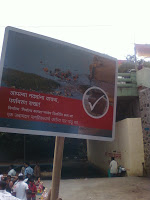 While official figures will be known later, for the half hour that we spent, most people chose to opt for the River. The two photos below speak for themselves.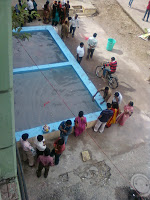 Most immersions ther were of small idols (usually of individuals or families) or slightly bigger ones (probably a community celebration) and probably the situation may have been different later, we were there quite early at around 3PM.
I know of families who immerse the idol at home itself (the ones made of shadu chi mati). They claim it dissolves in a couple of hours and they use the water in their plants and for neighbourhood trees. The nirmalya is recycled at home itself.
Ganesha is the Sukhkarta, Dukhaharta,Vighnaharta .
After 11 days, we miss him at home.
Ganapati Bappa Moraya, Pudhachya varshi lavkar ya!