Hello! Welcome to my seventh attempt at the April AtoZ blogging challenge. My theme this year is Experiences of a first time grandmother! Some sweet, salty moments and learnings! My posts are totally based on what I felt (may even border on rants) and are not meant to be a guide.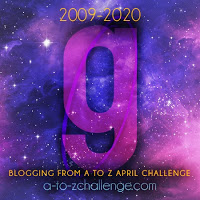 Grandparents.
The word conjures a silver haired couple with happily wrinkled faces who find it difficult to keep up with their grandkids.

As I look around me, I find that people of my generation are fairly fit and only a few have chosen to turn silver! (Self excluded!!) We don't really fit into the picture mentioned above.

In an era when family members live or work in distant places, we have to befriend technology. This has meant we have to learn to use the computer, email, smartphones, different Apps (for online shopping or food deliveries or digital payments) and so on.


I miss my Cassette collection of kids songs… Sigh.. And My brain refuses to let me remember beyond a couple of lines. Sometimes I only remember the tune, no words.


Very embarassing!


If only the cassette player was functional…


But.. there is hope!!! You Tube, Facebook are two places where I have found 'old' Marathi baby songs, poems and even stories. Yay!!


What do you think of tech savvy grandparents? How have you used technology?
I am sure my post may cause a deja vu to some of you.. especially anyone who has hosted a new born. I would love to hear from you!
See you tomorrow folks!


Here are links to my previous AtoZ attempts.
2013 Mixed Bag
2014 Exercising For Fitness
2015 Gardens of Pune
2016 Herbs
2018 Contemporary A to Z
2019 Caring for the Caregiver



Disclaimer: My posts do mention some products or service providers but these are not sponsored and not meant to be an advertisement. All posts are from a maternal grandmother's point of view!