Its still early days of the 2016 April AtoZ and I my posts are about herbs. I have tried to write about herbs that I have seen and identified, those that I use in my cooking.
D is for Dhania which is the Hindi word for Coriander or Kothimbir (in Marathi). This is my favourite seasoning and is an integral part of Maharashtrian cuisine. Almost every savoury dish is transported to a new level when garnished with chopped coriander. It lends a refreshing flavour and I find it reduces the heat in a spicy dish. While coriander is freely available almost all year round in Pune, the same was not true years ago in Punjab when we were posted there.
This herb is mainly a winter plant and cannot stand the harsh summers. In North East India, we used a herb called Nagdhania (
Eryngium foetidum
of the Apiaceae family) as a substitute for regular Dhania during the summer.
Besides a wonderful flavour, the feathery Dhania leaves are extremely pretty and often used as part of salad decorations. The botanical name is Coriander sativum and it belongs to the Apiaceae family (Carrot family). Tender stems can be used to make chutney and the seeds are an important spice in Indian cuisine. However the leaves tend to lose flavour once the herb flowers. Seeds of this plant are used as a spice.
The Coriander inflorescence is said to be an Umbel. Umbel inflorescence is a characteristic of the Apiaceae, Asclepiadaceae and Taccaceae families. Identifying the inflorescence type in the field will help narrow down the search for species id.
Here is an image of tender shoots of Dhania in my fledgling herb garden!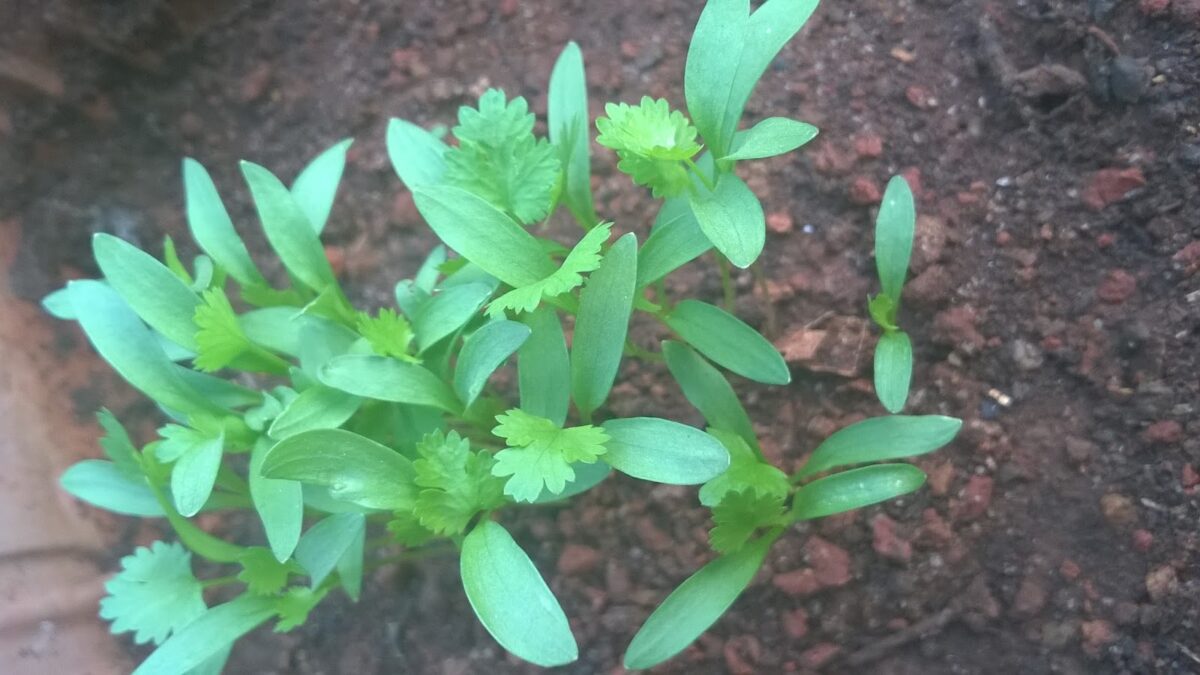 As my bio says, I am a reluctant cook and I am sharing my Mom's recipie of Kothimbir Vadi- a delicious snack or starter or meal accompaniment. It uses both leaves and powder of Dhania seeds.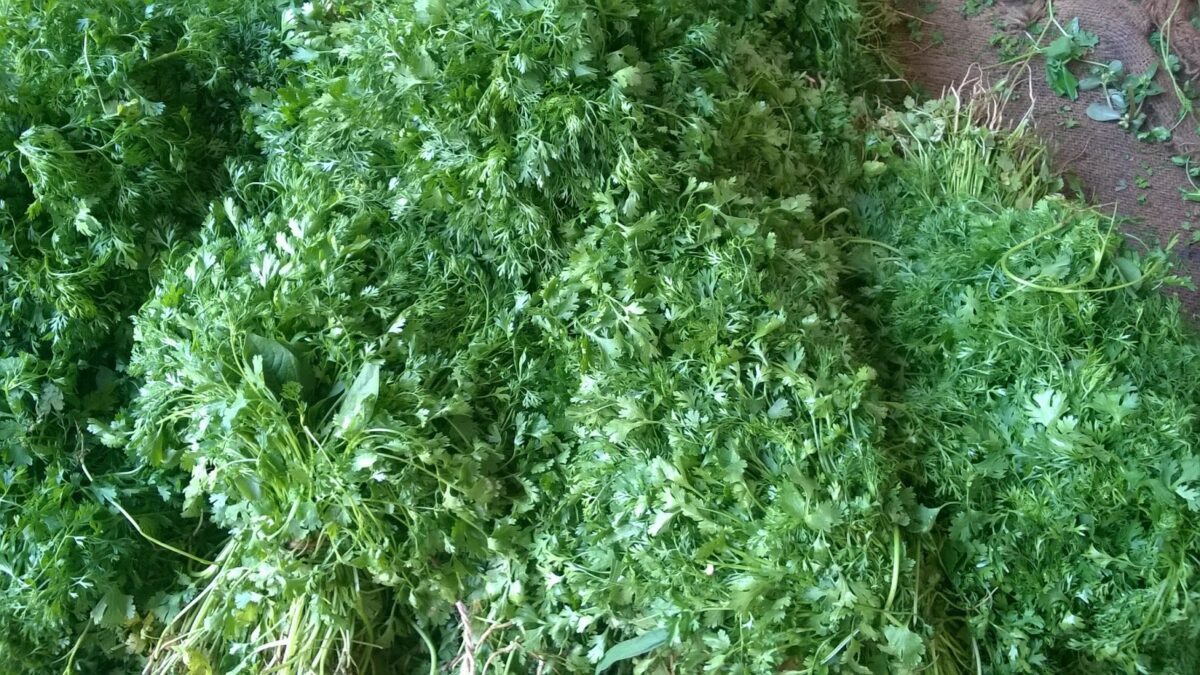 Coriander leaves in the market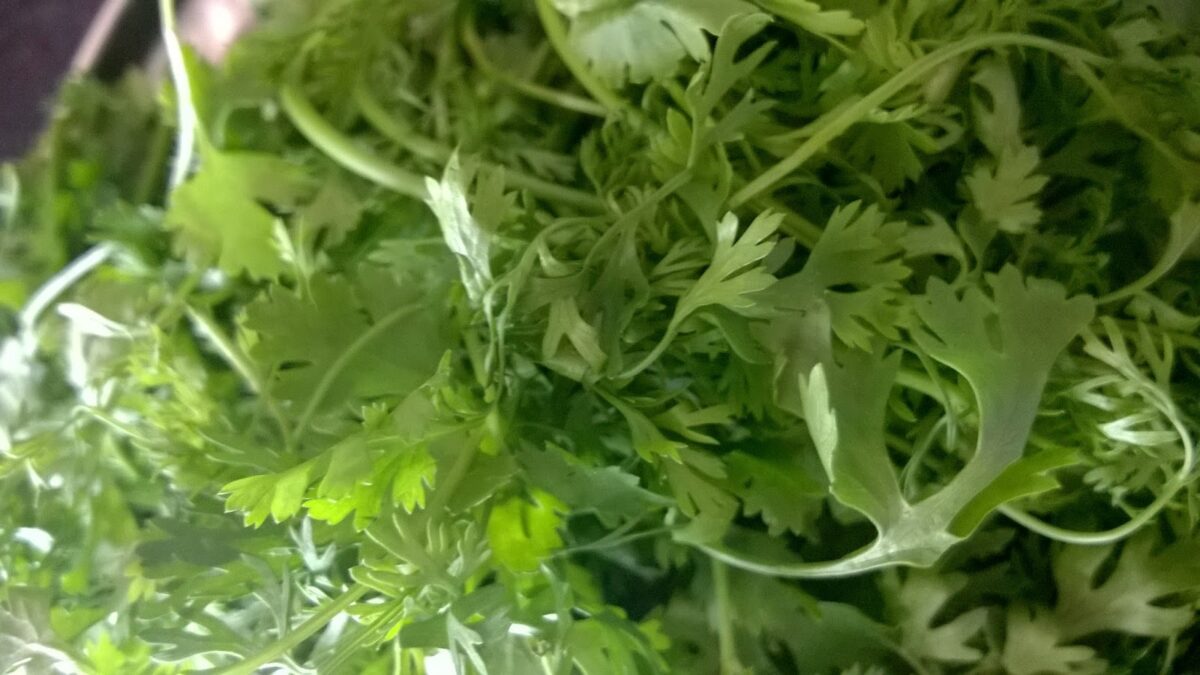 Close up of coriander leaf
Ingredients:
Dhania patta (Corinader leaves)- one bunch

Besan (Chick pea flour)- 2 or 3 teaspoons

Hing (asafoetida) powder – half teaspoon

Dhania and Jeera powder- half teaspoon

Salt, chilli powder – to taste

Water- if required – one fourth cup

Cooking oil- two teaspoons and to line steaming tray
Method:
Wash leaves well and drain on a towel for 10 minutes.

Chop as finely as possible and mix in the spices, salt. Add besan one teaspoon at a time. The leaves tend to leave water hence additional water may not be required unless the leaves are totally dry. Continue to add besan as necessary till you get a sticky dough. Pour some oil over it and let it rest till you complete preparations for the next step.

Prepare shallow steaming trays with a coating of oil.

Spread the dhania and besan dough so its about one centimetre thick.

Steam in a cooker for about 10 minutes

Cool, cut into squares. It can be stored in the refrigerator for 3-4 days.

The vadi can be consumed at this stage but it tastes better when shallow fried till crisp.
Recipe feedback welcome!
🙂