So it begins! One month of frenzied blogging and commenting. In the process we do read some very interesting blogs, unique ideas and wonderful people.
I had two choices for A both really interesting ones and it was a difficult one. So I wrote about the Alice garden and here we are, at the Aba Bagul Udyan. This is the park's common name but technically, it is the Late Vasantrao Eknath Bagul Udyan. Udyan/Vatika are the Marathi words for park/garden. I have used them interchangeably in my posts.


This park is located right on a main road, a very busy road at that, yet
remains quite inconspicuous. I had several visiting opportunities with a botany group but alas, I could not join. Housed in an area that I
frequent, it was quite a shame that I stayed away for so many years.
This blogathon seemed a good way to make good many such pending visits.
I
remember the area from early 1980s when it was a rocky bare space through
which flowed a 'nullah' (a storm water drain that flows into the river). Over last
3 decades the city has grown tremendously and 'developed' and like many other parts, this area is unrecognisable now. I cant say who is to be credited
for the change but the garden I am about to describe is presently under
the Pune Municipal Corporation (PMC).
On entering the Udyan, the Star Apple tree (Chrysophyllum cainito) is the first thing that gets attention. Its canopy of green and golden brown leaves casts a cool shadow in which rests a lion! A statue of course!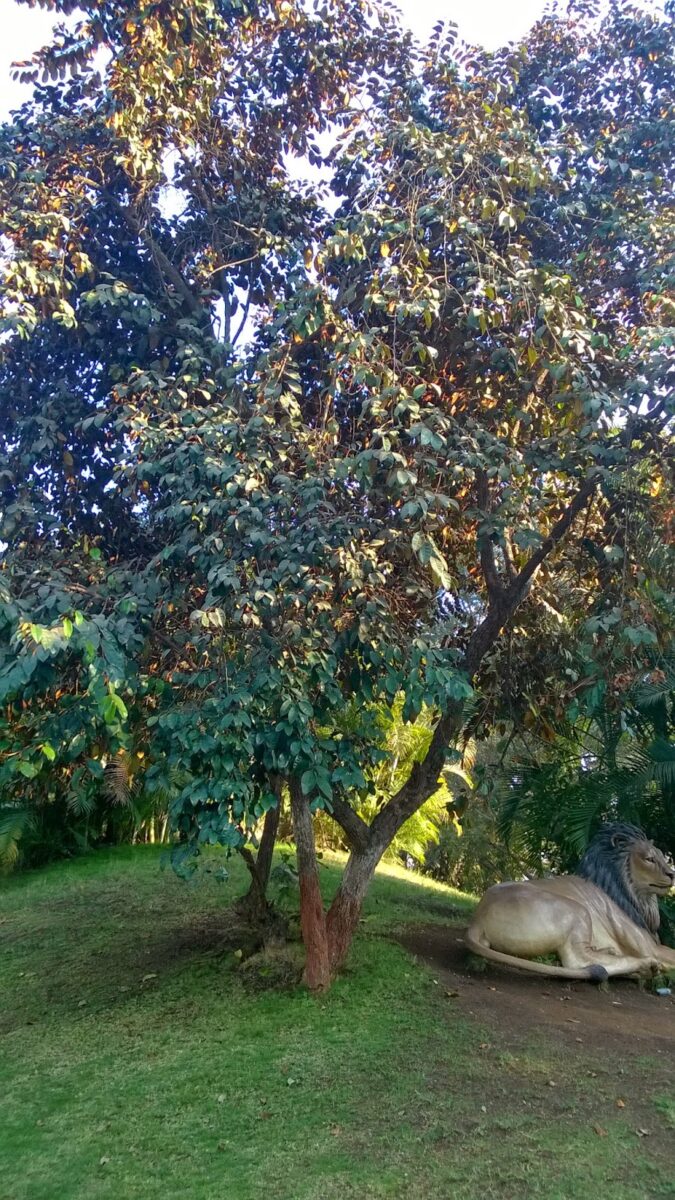 Star Apple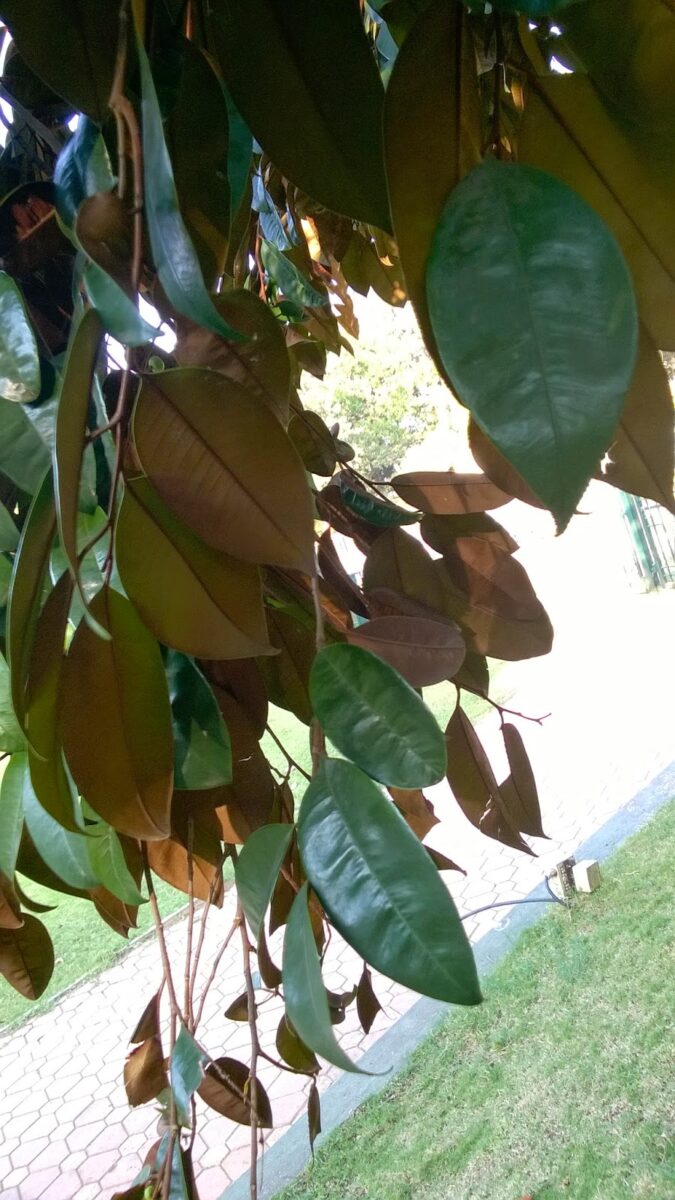 Distinctive leaves of Star Apple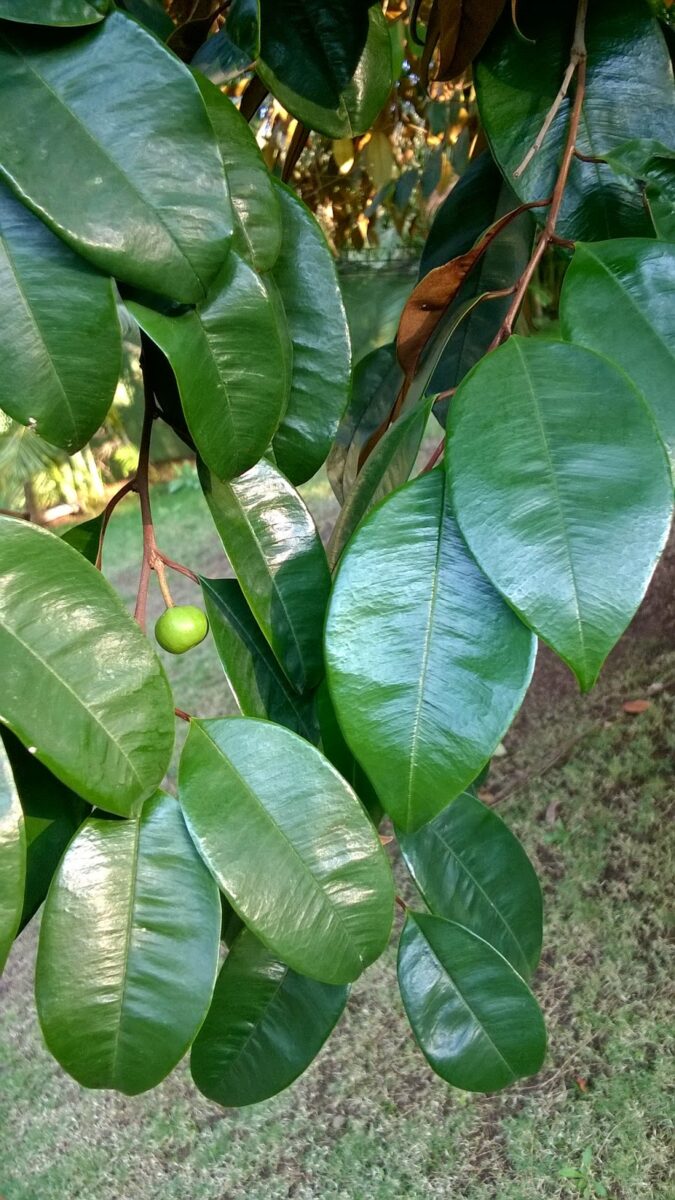 Chrysophyllum cainito
The park has a tiled walkway that goes around the perimeter and also meanders through the well manicured lawns. Aerial roots of a banyan tree have created a 'wall' of sorts. Walk deeper into the park to see the 'nullah'. Obviously designed by professional landscapers, the Aba Bagul Udyan also has a large play area for kids, one that is quite popular with locals. The park also has the Bhimsen Joshi Kaladalan (an art gallery) and a musical fountain cum laser show. This 20-minute is on from Mon to Fri at 745pm and on Saturdays at 730pm. I have heard excellent reviews of the musical fountain and its the only one of its kind in Pune that I have heard of.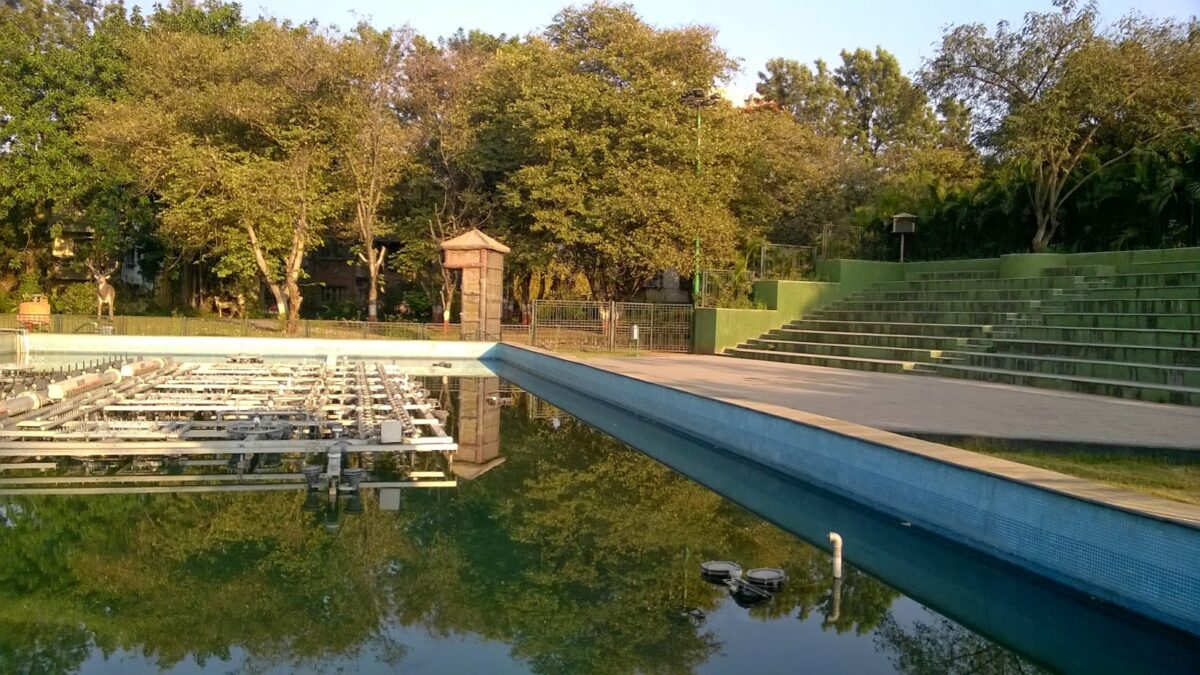 The musical fountain and its seating area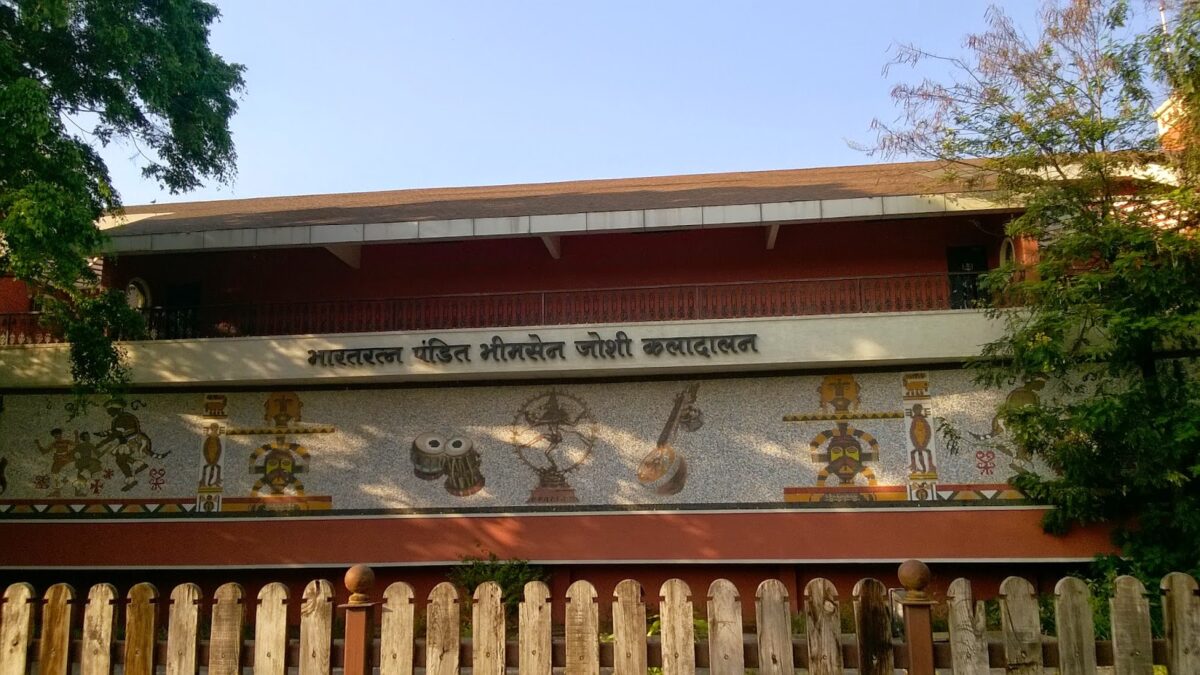 Art gallery
I spotted the Madhavi lata (Hiptage benghalensis) – a liana with fluffy toothed flowers. It was in full bloom and its flowering heralds the spring season. The genus Hiptage is derived from 'Hiptamai' – a Greek word that means to fly. The Madhavi lata has a three winged fruit that can 'fly' – is propogated by wind.
Other significant trees that I spotted include the Triangular leaf fig (Ficus natalensis ), a really tall Rubber plant, a well grown Raktarohida (Aphanamixis polystachia), Satween (Alstonia scholaris) and Seeta ashok (Saraca asoca).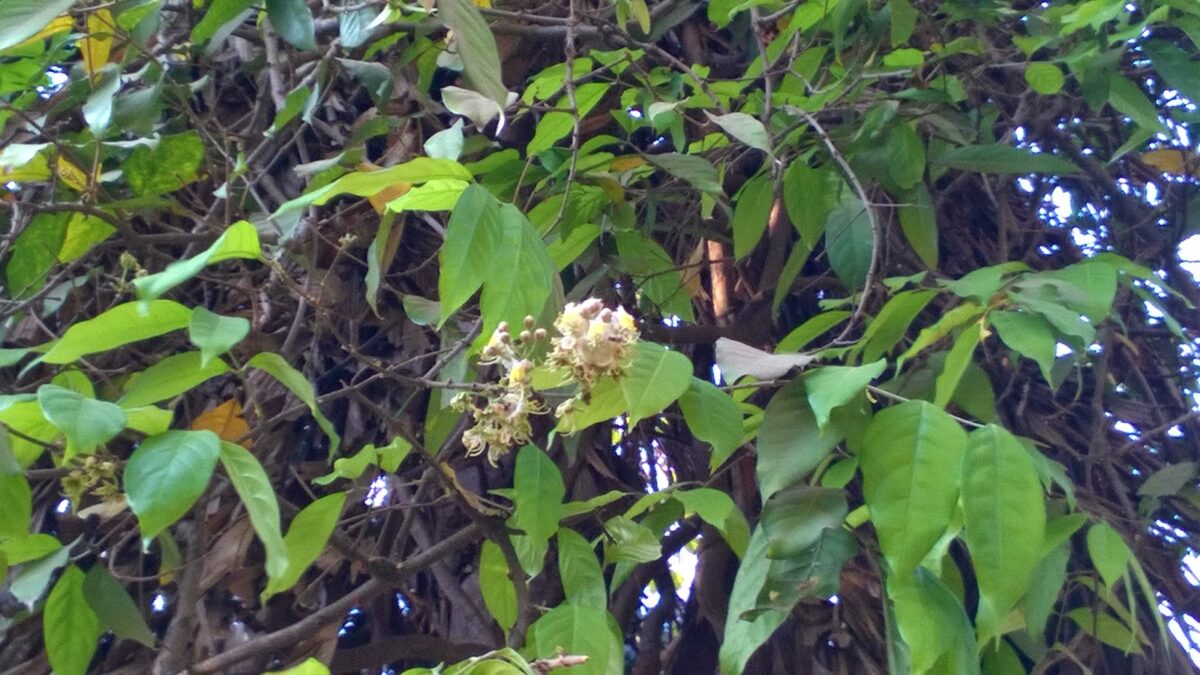 Madhavilata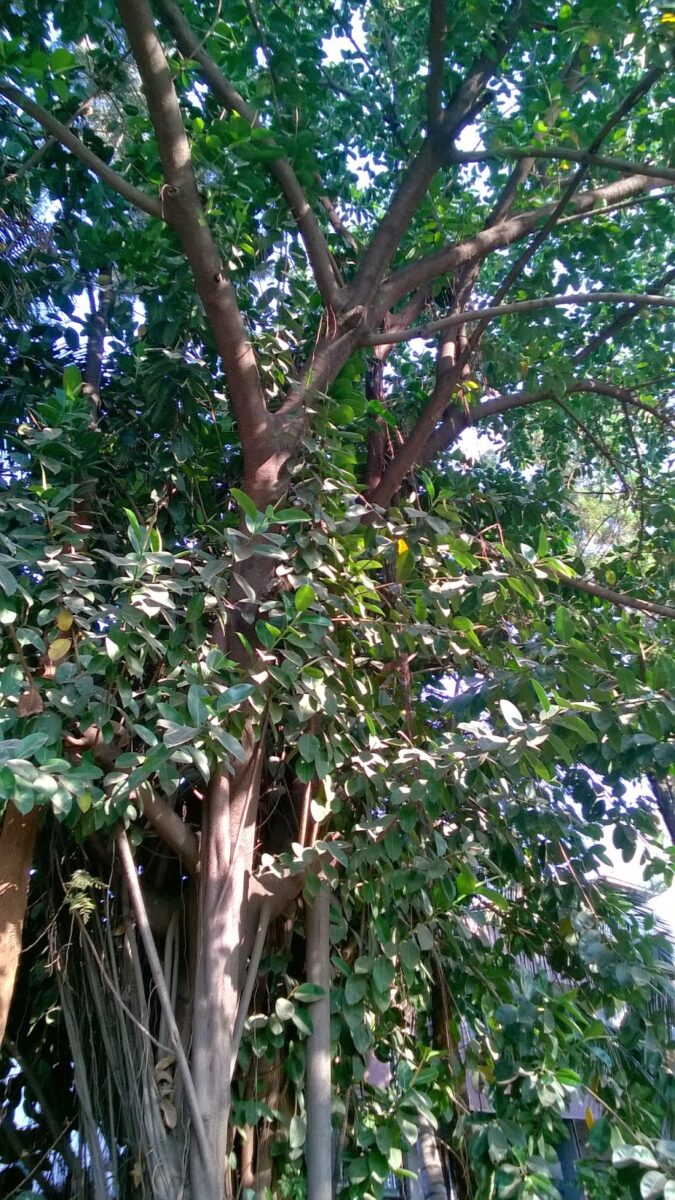 Ficus elastica
Due to the water body, I am sure, this must be a good site to see birds.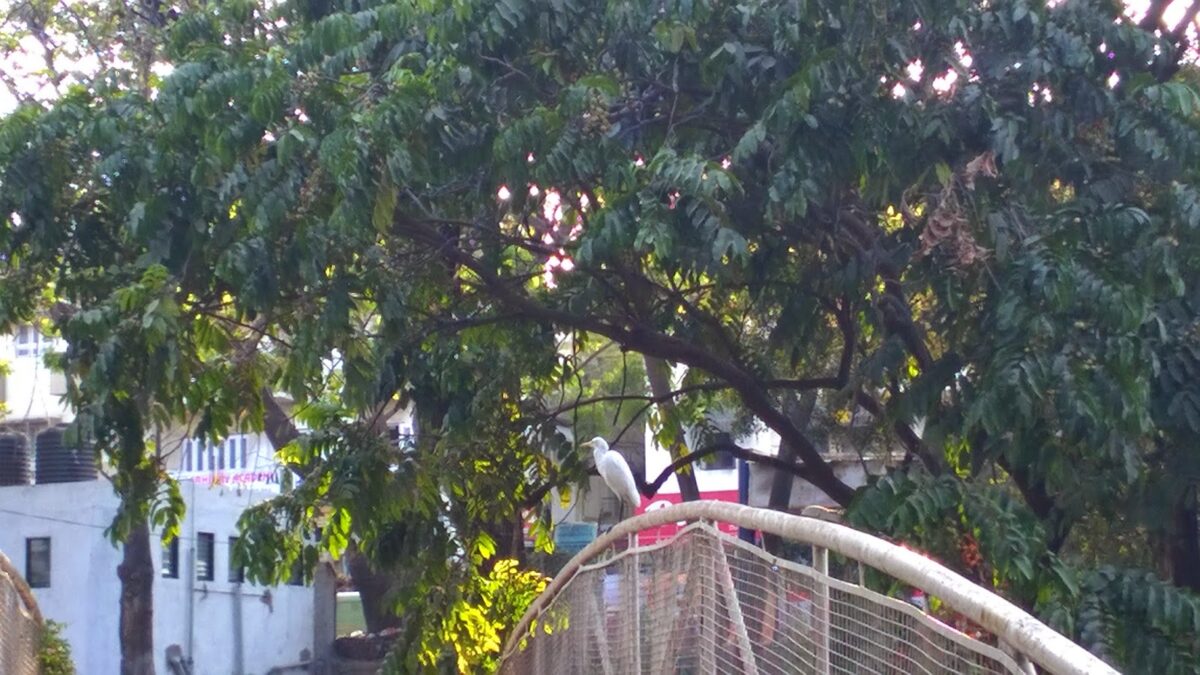 What do you see? The Heron? The Anaphamyxis polystachia? The bridge?
Here is a short video of the musical fountain at this park:


All in all, a great place in Sahakar Nagar to exercise or relax or introspect or dream!


Before I end, A is also for Alice Garden which is an urban jungle of sorts. You may like to visit that too.
Info:
Entry Ticket: Yes INR 20 for adults.
Timing: 6AM to 10AM and 4PM to 8PM
Parking: Available
Drinking water: Available (quality not checked)
Rest rooms: Available (quality not checked)
USP: Trees, Musical Fountain
Location Map here.