I was stunned by claims that its possible to set
dahi
(curd) in a bowl made of Fossil stone from Jaisalmer without adding any starter culture. Ask any local guide or local vendors and they will vouch for this amazing property but it had instantly inspired doubt instead of awe!
Fossil stone a.k.a Habur limestone can be seen as part of the flooring in the Jain Temples @ the Golden Fort at Jaisalmer. Its a lovely reddish
brown with interesting dark patterns on it. Apparently the only other site its found is @ Fatehpur Sikri.
Naturally
I purchased a tiny glass (was left poorer by Rs 300 for it) just to
test this fantastic property.. Some vendors sold small pieces of stone that they
claimed when kept in plain milk would convert it to dahi…If dahi is not your forte then simply drink water stored in this glass as it is said to impart medicinal properties.
Once back home, the first thing I did was to pour a small quantity of milk in
this glass. This was at about 3PM. It was pretty cool in Pune hence I did not
observe any change for about 8 hours. I decided to wait overnight not
really knowing what to expect. I gave it the usual treatment I administer to set dahi in winter (warm surroundings).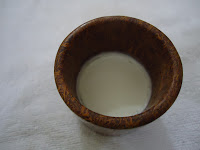 Come
morning, I was absolutely stunned to see that the milk had thickened
and there was a bit of what looked like whey on the sides. On dipping a spoon I could pick up firmly set milk which had the texture
and colour of regular dahi. The taste however was neither sour nor
sweet and had a peculiar 'earthy' flavour. On leaving it at room temperature for more time, the 'dahi' did not turn sour.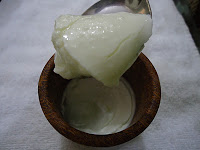 Have you tried to set dahi in a fossil stone (Habur limestone) container? What happened? Do tell us!
Our
research showed that this is the Habur limestone. Here are some links to
published research by Indian scientists on claims to its property of curdling milk.
http://docs.google.com/viewer?a=v&q=cache:dTiE5qLTCvQJ:www.ias.ac.in/currsci/sep102005/729.pdf+jaisalmer+fossil+stone+curd&hl=en&gl=in&pid=bl&srcid=ADGEESjpXT6XwwLEtjqeKNSnhtq3jEEGRSVJUaPCKH4kvfGgOxGbBP822FllVCKd1JJ3Zs1KbUUUEV3hrk9hPvokSGW2t_LHB76t72VfkI-2Dwo8SMW0V3WJJmjMSAvd_GYy6KKDg1Lr&sig=AHIEtbQL7k14rvA7Daw7-Vg50P33qfxMrw


http://docs.google.com/viewer?a=v&q=cache:17VQoyridn8J:www.ias.ac.in/currsci/nov252005/1647.pdf+jaisalmer+fossil+stone+curd&hl=en&gl=in&pid=bl&srcid=ADGEESjSP7UylYPAKlrbRAT5FlSopSuEhedoOvvkdQRS6OgD_7n9JpijoqeilBe4hjfmNYMBn-RZf969PRAfOvtTuFzrGgJkY8z5y5tSNGPfbxJl7qLXZ0z9rNE9-XBswZzgqZv52qBZ&sig=AHIEtbT9d-dgdjpsGMiCuldDqBmw7wlEcw

I am not a
scientist so I cant say it these are million year old
bacteria
at work!
However my experiment did yield part of the claimed result.
Amazing aint' it?
Cheers!