Today is World Tourism Day.
While tourism as an industry may focus on getting more leisure travellers to visit different places I think discerning travellers must include an annual visit to a disappearing forest or biodiversity hot spot or some historical monument threatened by urbanisation etc. Its important to take our kids along so they are aware of things that may be extinct by their adulthood and inculcate a sense of responsibility and conservation in them.
Uttarkhand's Valley of Flowers is a very famous destination in India mainly in August. It demands some level of fitness and not many may be ready for this trek. Maharashtra has its own 'local' zone of endemic and ephemeral flowers at Kas Pathar.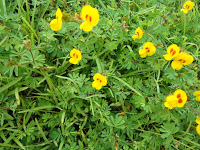 The western ghats have several lateritic plateau at different altitudes and Kas is near Satara. It is characterised by several rocks and a thin layer of soil, strong wind, heavy rain etc. While the plateau is almost bare for a major part of the year, come rains its springs into life. Herbs that have been resting for all this while, sprout and grow rapidly and flower by end of August each year. The species found in Kas are unique to this region and cannot grow else where. In the next few weeks, several such species will complete their lifecycles for the year…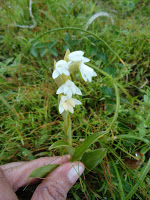 Thus each week presents a visual treat for nature lovers as the plateau bursts into a carpet of colours – a different colour (hence different dominating species) each week. The brilliant yellow Smythia's nod energetically as if 'mickey mouse' himself is welcoming the visitor! Tiny purple Bladder worts (
Utricularia purpurascens
) are an amazing natural wonder as the about one finger length tall plant systematically devours tiny insects to survive! Drosera is yet another insectivorous plant seen here…. The lucky few can see the orchids (
Habenaria heyneana
or
Habenaria panchganiensis
) or the Topli karvi (
Pleocaulus ritchiei
) that blooms once in seven years…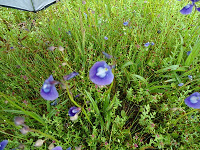 If you can tear your eyes away from this carpet then watch the clouds flirt with the sun and let the occasional shower drench you or bathe in the golden sunlight or let wisps of the rolling mist wrap itself around you. The monsoon is still active in Maharashtra in August and September and shutter bugs may like to avoid a rainy spell. The drive to and from offers stunning views and the rolling countryside seems a world apart!
If you plan to visit Kas Pathar, avoid travelling on weekends. If you must then reach early (by 8AM) so you have some quality time with the beautiful flowers! Traffic is almost unholy on such days and best avoided by sincere nature lovers. Do not walk on the greenery
While there are several photographs that may attract you remember that nature follows its own rules and thousands of visitors every year have left a mark on the environment there. Hence the blooms may flower at their will at their own time. The floral carpet may change from year to year but its up to us to make sure we facilitate its growth every year!
Cheers and Happy Travelling!
Archana