Kas Pathar…
One of my must-visit destinations this season spurred in good part by photos of what seemed like an endless carpet of flowers on this plateau (pathar). An earlier visit to this so-called Maharashtra's Valley of Flowers was quite literally rain washed hence a second trip was absolutely called for.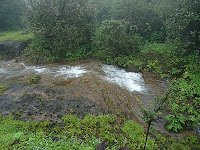 So again we went, a group of enthusiastic amateur botanists making the best of a Sunday by a visit to Kas Pahtar. Accompanied by experts, armed with books and field guides and magnifying lens' and cameras we expected to have a 'rich' haul in terms of a visual feast, botanical information and of course photo ops for the shutter bugs!!
And a treat it was… Kas is a lateritic plateau on the western ghats at a distance of about 22 kms from Satara via a long narrow uphill road that offers breathtaking views of the town, lake and water bodies below. Being September, the marigold fields were a shock of orange amid the postcard perfect view.
The flowers that bloom in August and September every year in Kas are endemic (specific to the weather conditions of this area- heavy rain. thin soil layer, strong wind, mist etc) and ephemeral (last a very short time) and the species may be lost forever if destroyed. Trampling by humans, vehicles are some avoidable factors. We had read reports of the local authorities banning vehicles from entering the ecologically sensitive plateau acting on environmental concerns. Hence we were not surprised that our bus was stopped about 6 kms short of the plateau. At last, the authorities seemed to have got their act right!
The trek to the plateau in blazing sun was made less weary with our efforts to identify trees growing on the roadsides. Our walk was constantly interrupted by vehicles zooming past us, all speeding to the plateau. Yet the number of vehicles kept on increasing and we seemed to be the only people walking up. The sole bus meant to ferry people was soon seen stuck amid several vehicles all trying to enter the plateau.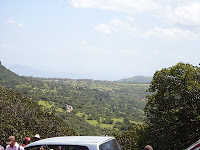 (You will need to click on this image to see the row of cars in the distance)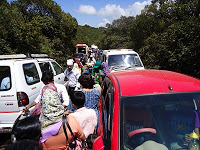 As mentioned before, this is a very narrow road with minimal space adjoining it, no laybys hence quite incapable of dealing with what was by now an army of vehicles and hundreds of over enthusiastic tourists. They walked all over the flowers, plucked or uprooted the delicate blooms, the vehicles drove over all over them and one family was even seen to have brought their dog along….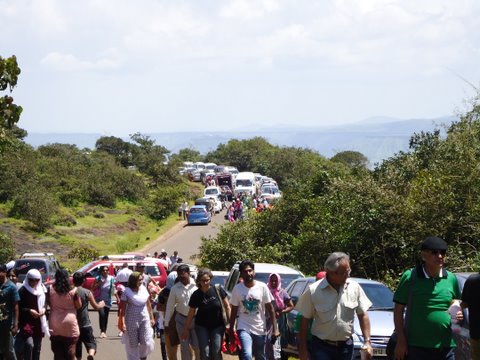 Thankfully we did not see a trail of plastic and other waste on the plateau. Miscellaneous vendors were not visible either… small mercies in an other wise ecological nightmare.
The beauty of the flowers was marred by traffic nightmare, thronging crowds and vehicle emissions. The police were in sufficient numbers but their actions did not seem effective at all. The Kas plateau was overrun with vehicles just that the thing the authorities claimed to want to avoid. Haphazard parking compounded woes of those on foot who at times had walk in the adjoining undergrowth as they had absolutely no place to walk.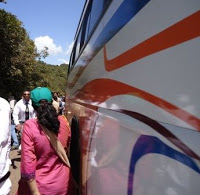 There was no evidence of rising inflation, soaring petrol prices judging the number of cars and SUVs of all brands and high tech DSLRs (with accessories) on display.
Some blamed this as a Sunday effect but whatever the reason traffic management must be more effective. Here is my two-paise worth:
1. Limit number of vehicles to be allowed, based on the area available for parking- particularly on Sundays. Those desirous of visiting the plateau must register a day prior or pay a toll for the same. I am told that the number of vehicles entering Tadoba sanctuary per day is limited at different gates. A similar strategy can be adopted here. This road leads to Bamnoli and Vasota ahead hence such a rule can hamper their travel plans.
2. Do not allow private vehicles at all. Provide sufficient and frequent buses from Satara and to Kas on holidays for the duration of the flowering season.
I am told the story is entirely different on working days.
Dont let this account put you off. The Kas plateau is indeed worth visiting but here are my tips to make your visit more memorable:
Avoid weekends and Thursdays (that is an industrial holiday in Pune)
If you must go on a Sunday or Saturday, leave early and reach Kas by 8AM. That will give you a good two hours before the crowds descend and beat the sun as well.
Carry your own food and plenty of water and carry waste back with you
Walk on the tracks or rocks but never on the flowers or grass or greenery
Do not pluck or uproot the plants
The season may be nearing its end for this year. You can still catch them else wait for another year. More about the flowers themselves in another post..
Lets all work to conserve Kas so we do not have to say 'Kash'! काश!!
Enjoy!
Archana