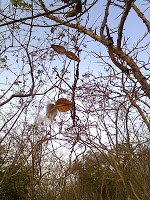 March was a month of hectic activity on our Tekdi. Instead of putting everything down in words, I have a few photos that will better convey developments on the Tekdi.
As the sleeping earth awoke (from whatever winter we have here) some trees burst into fluorescent shoots that always glittered as the caught the early morning sun. It was also time for others to shed whatever remaining green garb they wore as the reserve forest plantation took on a sad brown hue.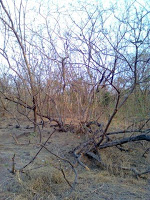 Man made or accidental fires raged in parts that often destroyed this dried up undergrowth and grass but often took along with it some healthy trees as well …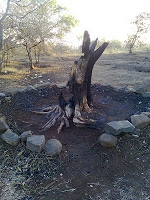 Some trees bloomed despite global warming or whatever is the latest ecological blip.
Gliricidia
(pink inflorescence- also called undir mari) spread their delicate fragrance. Yet another tree covered by delicate white blooms made a stark contrast to the brown landscape (I have yet to find out the name of this plant).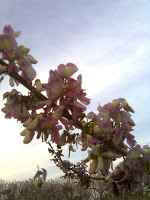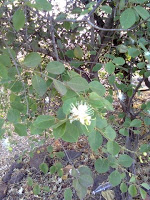 Like wise fruit of the
Harandodi
tree burst (see the first photo) spreading millions of seeds that created snowy cotton beds on the ground!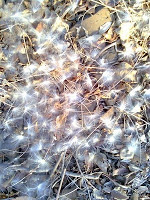 As the
parched
earth thirsted for water, morning walkers enthusiastically watered the trees using discarded plastic bottles. The forest department ensures (tries to) that cement water tanks specially built for this purpose are refilled regularly. To goad those who prefer to just walk past, many
voluntary
organisations and activists put up posters urging every one to do his/her bit. I have one photo of a sample poster but there are many more similar interesting ones put up on trees.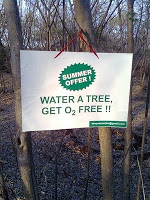 March on the Tekdi shows signs of hope.
People marching on the Tekdi all have a common aim- to stay
fit
and healthy and conserve this unique feature of our city.
Cheers!