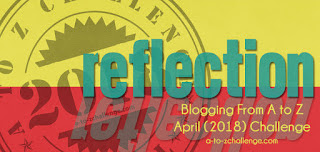 There is huge void at the end of 30 April , a massive lull as it were, after the frenzy of writing, reading and commenting on posts in the April AtoZ blogging challenge. I was travelling part of the month and associated connectivity issues meant I could not comment on as many posts as I wanted. Somehow I never did get around to doing it later.
This was my fifth attempt at the challenge.
2013 was my first attempt and I did not have a theme.
In 2014, I wrote about Exercising for fitness.
In the year 2015, I wrote about public parks around Pune.
In 2016 I posted about herbs from AtoZ.
For some reason, I was unable to comment on some posts from my cell phone. Also, some blogs only accepted comments via Facebook or Google Plus. I did not want to comment via these platforms so despite wanting to say something, I just could not reach out to the author.
The AtoZ Twitter handle was not as responsive as it used to be earlier. It would have helped if they had retweeted posts in which they were tagged.
I found a huge number of Indian bloggers, many from India and some living overseas. There was a fair number of older people participating which means blogging is not an exclusive purview of the younger generation. Older folks are also learning the tools of the tech trade and using them pretty well to get their thoughts heard across the world!
Travel, Health, Wellbeing, Poetry, Fiction, Self-Help seemed to be popular theme ideas and many bloggers explored them in a unique manner. I did not find many nature related blogs but I am still going through the list so I may still be surprised.
This year, my theme was a contemporary AtoZ. Do the alphabets still stand for the same objects as we were taught in school? Overall, for me, 13 alphabets could still be related to the same word namely A, B, D, E, G, H, I , J , K, L, Q, R and X. Yet each had a subtle 21st century twist
. The others had other more tech-related associations.
Among my posts, the O post, O for Oxygen had the highest views, followed by I for Ink, T for Trek and M for Magnet. Comments I for Ink elicited maximum response from my readers followed by B for Ball. The comments are much less than number of views so I am not sure if people couldnt be bothered to reply or were short of time or simply did not find the posts worth commenting 🙁
I am happy to have completed the challenge and am grateful to those who have commented and shared my posts!
I came across some really interesting blogs which I will update here soon. So do come back in a week or so! Hopefully I will be ready with a list then.
What could have been better? Hmmm… maybe I could have been more active on social media and visited more blogs. I plan to remedy the latter over in upcoming days.
All in all, April has been a very hot and hectic month.
I hope to be more regular in my posts other that Wordless Wednesday so wish me luck!
Thanks for your support dear readers!
Stay well, Stay Happy!