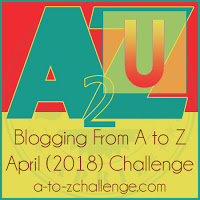 Welcome!
We are with the 2018 April AtoZ Blogging challenge and its my fifth attempt. For those who missed it, here is the link to my Theme Reveal post. Do the alphabets still stand for the same things we learnt about in Nursery school?
Its day twenty one and the alphabet is U.
Taxis were not a part of Pune's vehicle scene until maybe a couple of years ago. I have never understood the reason for this gap but Pune's narrow streets and relatively shorter distances may have been a factor. Plus cycling and walking have been an integral part of this city which has been considerably reduced now.
Recently app based hail taxis have become omnipresent. Uber is commonest name one sees emblazoned on the vehicles. Almost everyone including women (young and old), office goers, travellers and senior citizens has 'Ubered' to their destination – so much so that the noun has turned into a verb!
Travelling in a four wheeler especially when going to work or in summers is definitely a better option especially if it eliminates parking woes! Ola is a strong competitor to Uber in Pune and most people have installed both apps. Despite this rickshas continue to hold their own. According to a recent article Pune has more vehicles than its population…
I guess we do like our wheels!
Jokes apart its an environmental nightmare…
Still, if I dont want to drive all the way across the city, a taxi remains the best choice! And its just a few clicks away on your smartphone!!
So its U for Uber!
What is your experience folks?
Disclaimer: This is NOT a sponsored post!