This is my first attempt at a food post… As I have openly stated, I am a reluctant cook and I have jumped into the bloghop mainly for the food memories! And there are so many, and surprisingly the ones that stand out are the disasters
🙁
However, today I would like to share one of our projects.. one that was we had no choice but to execute and do it well.. The ladies of our unit had to put up a food stall with two items- Bhel and Pizza. For two whole days. A huge crowd was expected. Pizza delicacy was in those days.. way back in 1993… especially in the remote base in the NE where we were posted.
The local bakery would make the base but during the trials, we faced the most unexpected difficulties. Rings of capsicum dried out and the sulfurous odour of the onions was quite unbearable. Spending two days in its company was quite unthinkable. Plus with limited space, we could not accommodate many containers. None of us were keen to freshly chop the veggies on a need-based basis.
Our plan was the do the entire preparation at home and just grill the pizza when ordered.
Necessity is the mother of invention – it is said and that is what happened to us.
We came up with the idea of putting all veggies together into the tomato sauce. What we finally had was a vegetable puree that we just had to pour on the base, top with grated cheese, grill and serve. All flavouring spices too went into this sauce. The pizza was a big hit! We ran out of sauce by mid afternoon and had to make fresh batches many more times on those two days till we ran out of pizza bases!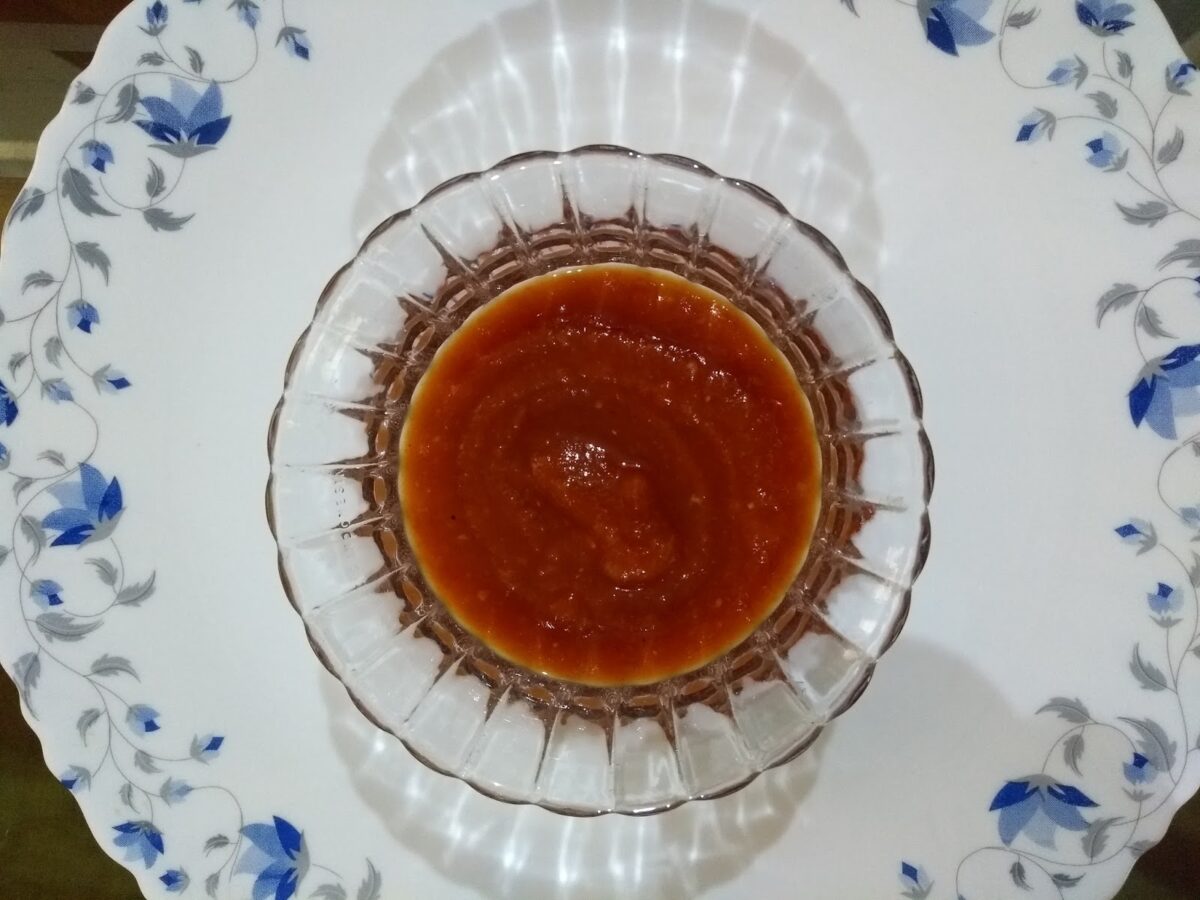 To this day, I make my pizza sauce in the same manner. Any leftover is stored in the fridge is reused as pasta sauce. In fact, I add it to vegetable gravy to get an interesting taste. My daughter has continued with this method so I guess, it has its merits one of the main ones being saving the effort of finely slicing the veggies.


😉


There is no fixed recipie – but here goes.. You can improvise according to your taste – increase or reduce the tomatoes or onions or garlic or capsicum or Ajwain


For the sauce:
4 large red tomatoes

1 Capsicum

1 medium Onion

3 cloves Garlic

1 tbsp Sugar

Salt to taste

1 tbsp Tomato sauce

1 tsp Ajwain

Little Oregano

1 tsp red chilli powder

1/2 cup water
Chop the veggies, mix with other ingredients and cook on a slow flame till done. Reduce till seiredd thickness. Cool. Grind in a blender to get a smooth puree.
Pour this on a pizza base, spread grated cheese, dot with butter. Grill in a hot oven and Viola.. the tastiest pizza is ready for you!


We had not added mushrooms but I guess those can go in too..


How do you make your pizza sauce at home? Do you prefer separate toppings?
I am joining Sunita and Shilpa in #flavoursometuesdays which is on the first Tuesday of every month.