I have always had a collection of plants in my home and wherever possible, a garden. Some species owed their presence in my collection to glorious foliage but Jasmine has always been a constant, despite unremarkable leaves and flowering limited to a few months of the year. The reason is quite simple, its haunting powerful fragrance.
Mogra as its commonly known in Marathi, blooms gregariously in the summer months provided the plant is growing in a spot with abundant sunlight. One particular year, there were hardly any flowers and it was only later that I pinned down the cause to the Sun. Or rather the lack of sunlight. Which means that blazing heat is necessary for a good harvest yet the fragrance of the blossoms is the maximum at night when its the Moon that rules.
When in full bloom, they can be spotted from afar at night not only by the heady fragrance but also from the flowers that seem to glow in the dark. Yet when touched by the first rays of the Sun, they drop off to create a glorious carpet on the roads below.
Other equally fragrant varieties like Bakul (Mimusops elengii), Buch (Millingtonia hortensis) and Parijatak (Nyctanthes arbor-tristis) also exhibit such contrarian behaviour.
Here is a strange story from this league of Suns and Lovers.. its about the Parijatak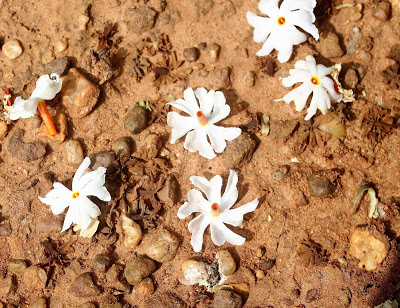 Long long ago, there was a princess called Parijata. She fell in love with the Sun God.
From here on, I have come across two versions of their love story. The first one is that since her love is not reciprocated the Princess commits suicide. A Tree grew at that spot which is known as the Parijata. Its beautiful flowers have a blazing red dot in the centre, representative of the Sun.


In the other version, Surya, the Sun God agreed to marry provided she never turned away from him. This is said to have happened in the Autumn. They led a blissful married life till the seasons changed and the power of the Sun started increasing. The Princess would find it difficult to be near the Sun. On one such such hot noon, the Princess Parijata flinched momentarily in front of Surya. His wrath caused her to die. A repentant Sun, sought the help of Gods, who knowing his true love for Parijata, granted her another life as a tree. Surya visits her at night. These sun kissed flowers rejoice in the night, but drop off at day break unable to bear the sun's rays.