And here it comes…
The much awaited (I hope!) account of our maiden high altitude trek.. At first, apologies for the delay but I have finally managed to put away worldly compulsions to pen this down even as I have begun planning my next trek….
Alert: Long Post!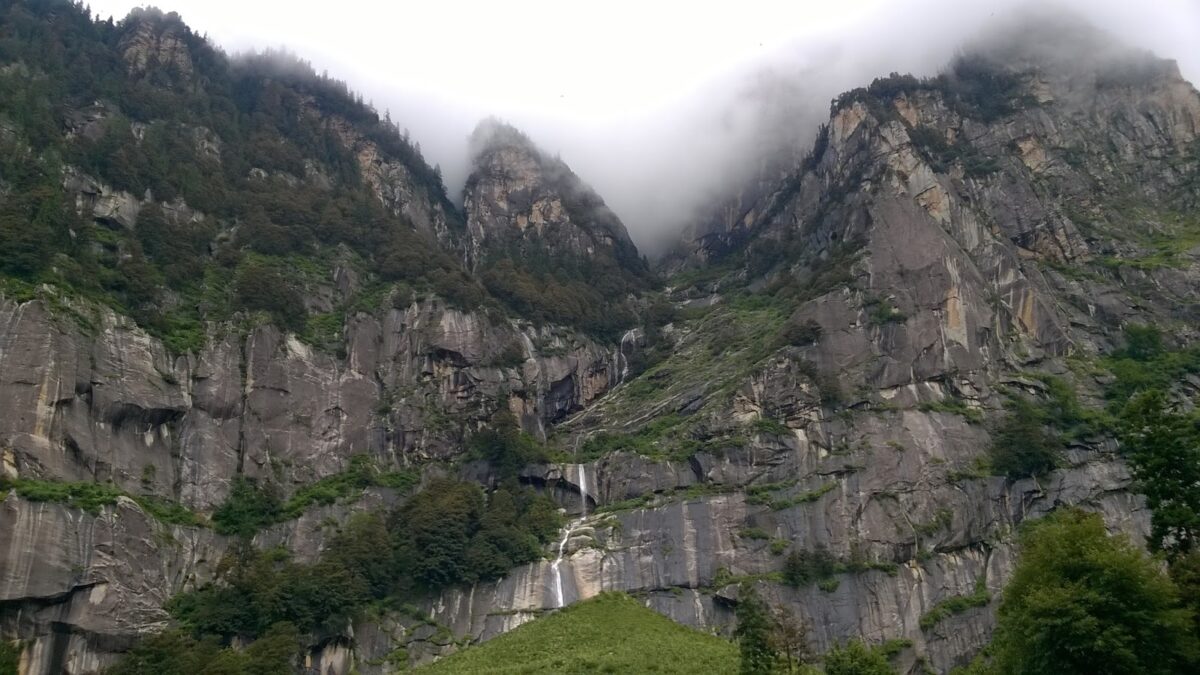 Feeling Dwarfed!
Our original plan was for the Kashmir Great Lakes Trek which is said to be one of the most beautiful routes in India. However the prevailing conditions in the Valley meant we had to either abandon our holiday or choose another option. That's how we embarked on this trek to the Hampta Pass. The entire schedule was reworked and we even managed to retain part of our original reservations. The hard work put in by the excellent team at Foliage Outdoors meant we had little to worry about except staying fit!


Disclaimer: This is not a sponsored post!


The Hampta Pass is a route taken by shepherds traversing an altitude of 14100 ft in Himachal Pradesh and begins at Manali. In retrospect, our overnight bus journey to Manali was the most boring and tiresome part of the entire trip- despite the push back reclining seats! The bus sped into the hills along the roaring Beas – its swift waters gushing over rocks and rushing to the plains. As it turned out, a river was to be our constant companion for the rest of this trip. We spent our first day at the base camp at Prinni to acclimatise, check our gear and so on. This was essential as it immediately and effectively 'removed' all perceived 'urban' conceptions about comfort! Besides our backpack which held immediate requirements, some food and water; we had packed our luggage (only 8kgs) in separate bags that would be carried by mules.



Day 1:
Our trek began at Jobra and the road snaked up in a series of hairpin bends through some impressive Pines and Maples to our start point. After the issue of energy packs and a last minute briefing, we were off! The initial part took us through a thick jungle of Devdar, Oaks and Maples. Admiring these massive trees was out of question as we navigated through, over and around their roots and the slush in-between. I slowly got the hang of using the trekking pole, sipping water from the hydration pack and finding my walking rhythm. We had some veteran trekkers in our group but they did not resent having a newbie trekker like me around – patiently waiting if I took my time to reach the resting spot! A wonderful team makes all the difference to a great and happy trek experience!



Soon the pine-needle crunching muddy track opened to a stupendous meadow that was bisected by a gushing stream. This was the Rani Nullah (I learnt later) and we accompanied it upstream for the better part of the next two days as we climbed higher and higher. A huge surprise at this spot was a makeshift 'shop' set up in a tent – selling tea, Maggi (yes despite all bad publicity a cup of these steaming hot noodles taste divine in the hills), Chips and so on.. Kudos to the entrepreneurial spirit of the locals!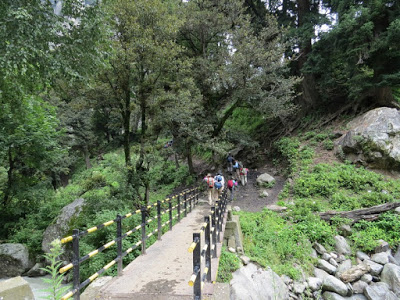 Here we go!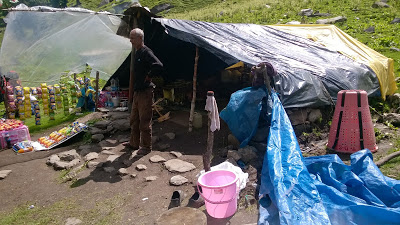 A shop in the middle of nowhere!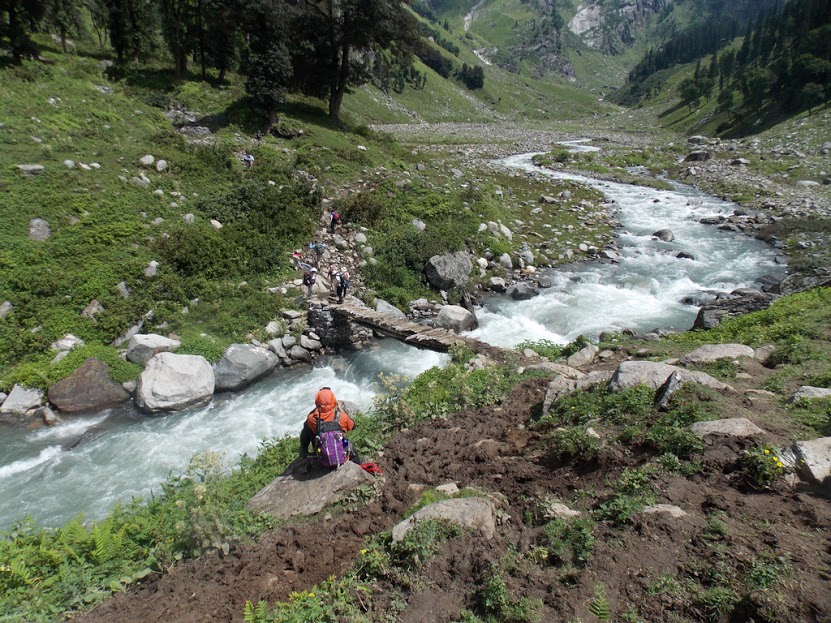 Crossing the rickety bridge and walking in the valley! Image Credit- Foliage Outdoors
Soon we left the tree line behind as the glorious green carpet beneath us was embellished with several tiny blooms, ones that ably competed for attention with the surrounding towering mountains. The day's work ended at our campsite at Chika (10400 ft) and as we had not done any significant climbing we were not too tired.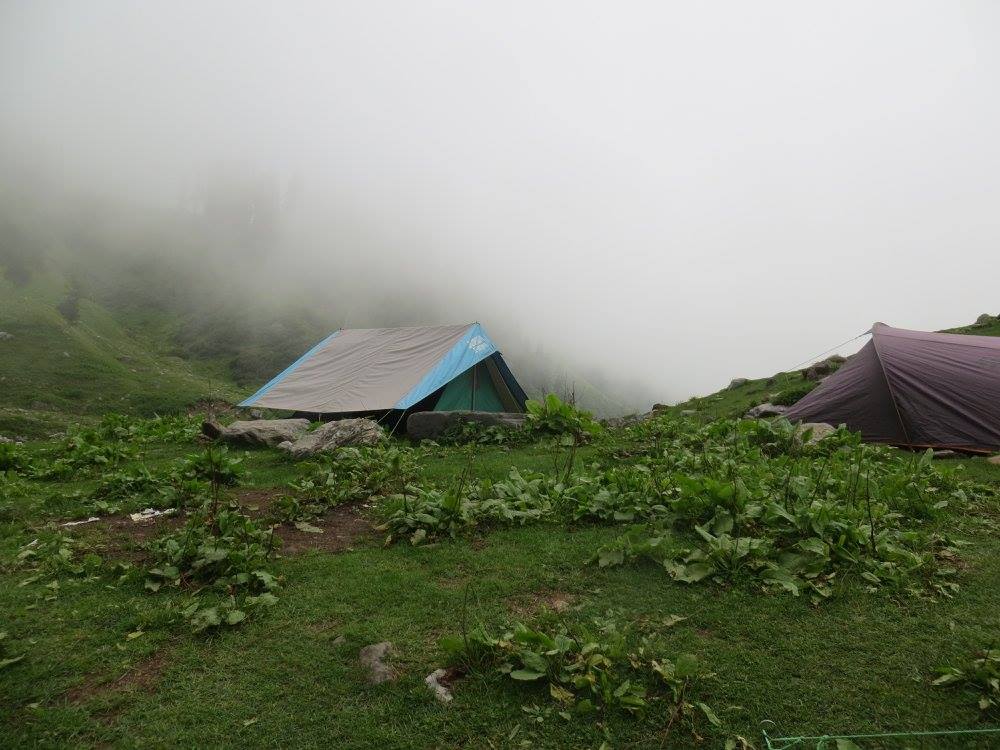 At the Chika campsite… Impending rain…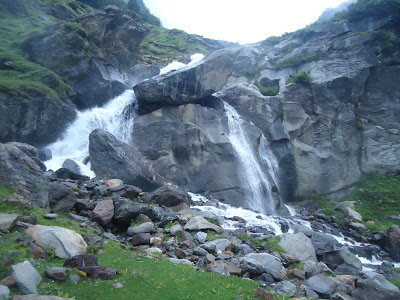 A personal waterfall in the backyard! What more could we ask for?
Our support team had hot tea and lunch waiting for us and our tents were already set up. Even as we wound down for the day, the sky looked ominous as wispy clouds descended down the mountains. Rain was imminent and after a quick dinner , we retired to our tents and tried to sleep in amid the downpour which sounded as if the all the water in the world was bearing down on us! I was worried if the puny looking tent would hold up but it did! Sometime around midnight the rain stopped and by morning a lovely blue sky invited us to start early.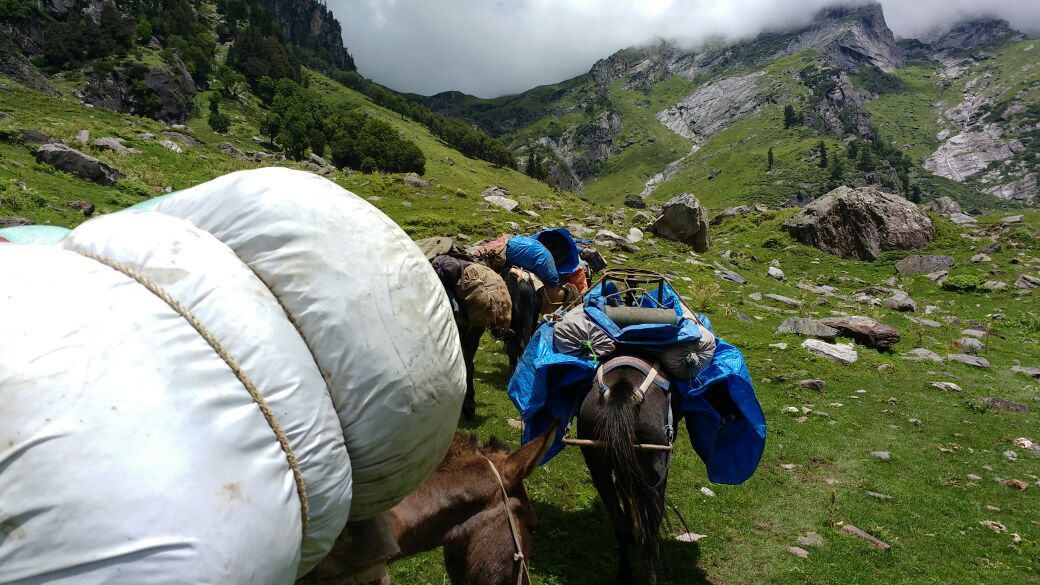 The silent hardworking team members!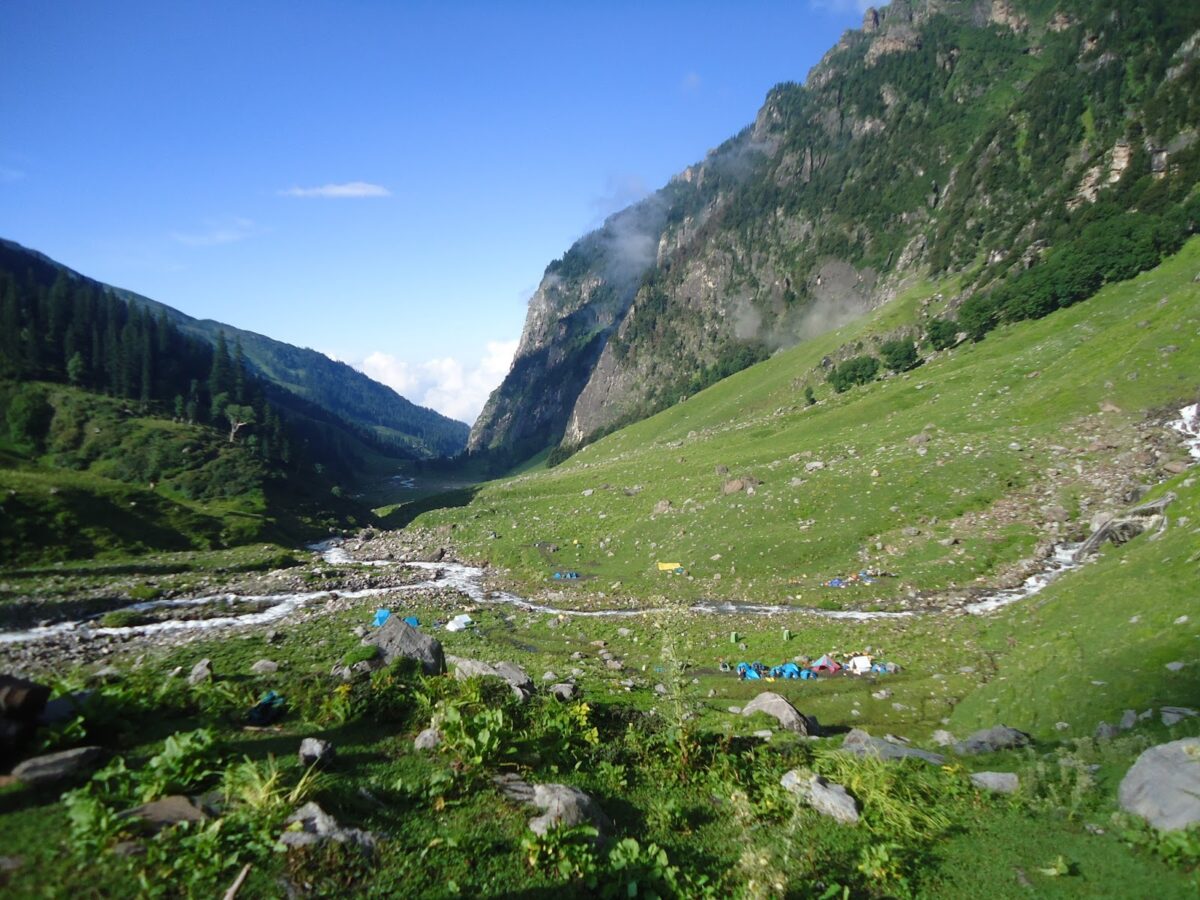 Leaving the campsite at start of Day 2 after a sumptuous breakfast.

Day 2:
This turned out to be a long day and the walk seemed never ending. By now we could see occasional snow capped peaks around us and soon the meadows gave way to an increasingly rocky path. Moraine is the correct term I believe. There were endless little streams to cross but one particular one needs special mention. Its rapidly-flowing knee-deep water demanded special methods to cross. We removed our footwear and socks made a human chain to wade across. Our feet and legs were totally numb as we emerged on the other side. Luckily no one slipped as one fall would have meant all of falling into the freezing water or worse — getting swept off. At another place, we walked under a water fall! I eagerly looked forward to the rest halts even as our progress was slowed by some rain en route. The camp site at Balu Ka Gera at 11900ft was next to the silently flowing stream. It was a full moon night but rain sent us scurrying into the relative safety of our tents.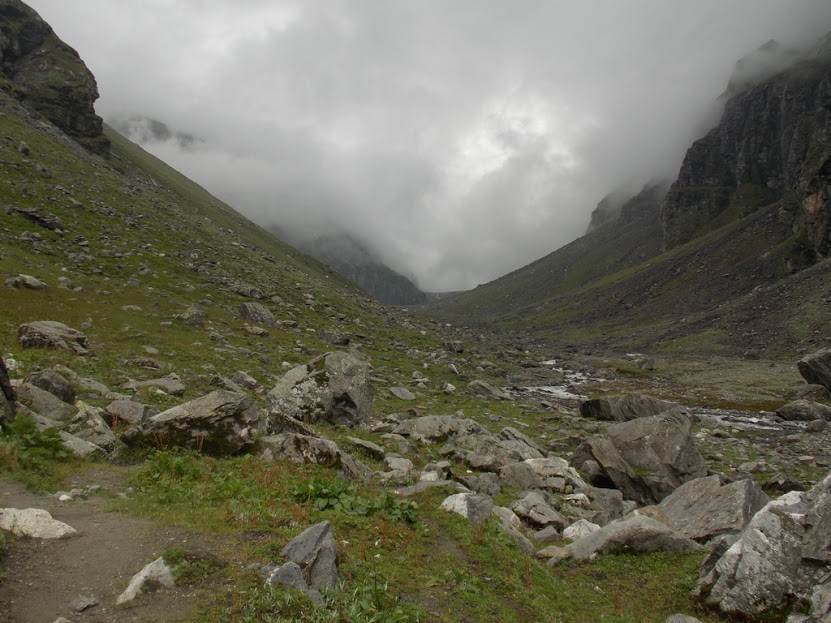 The campsite seemed simply too far away as we encountered moraine.Image Credit- Foliage Outdoors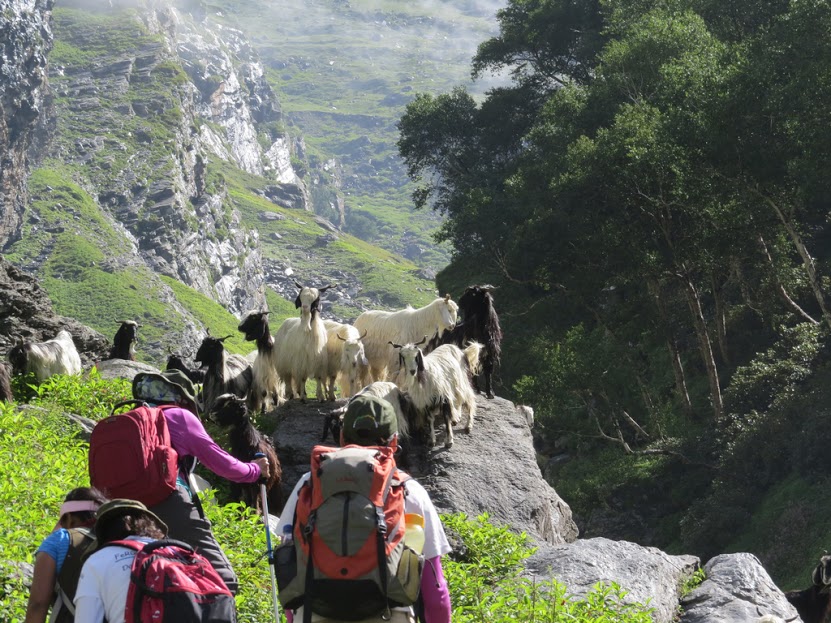 Negotiating our way over rocks and through flocks of mountain goats! Obviously the traditional lifestyle still continues in this part of the mountains…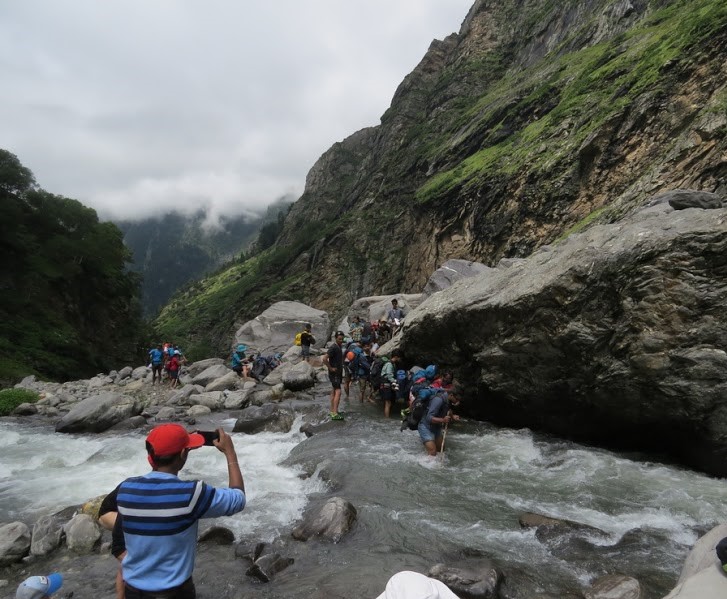 Looking back at fellow trekkers making a human chain to cross this stream Image Credit- Foliage Outdoors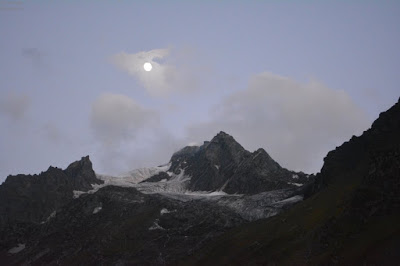 The clouds rewarded our day's effort by moving aside to give us this stupendous view!

Image Credit – Ashwini (our fellow trekker)
Day 3:
Its on this trip that I truly appreciated the restorative powers of sleep! Six hours of dreamless slumber in a Sleeping Bag laid out on rocky ground protected from roaming sheep dogs and pouring rain by two layers of a fabric tent had me raring to go the next morning. Its was the day for us to summit and cross the Hampta Pass. Our leader cautioned us about the long journey ahead and to watch out for Mountain Sickness. A glittering rainbow on a waterfall bade us farewell from Balu Ka Gera..


Let these photos speak for themselves…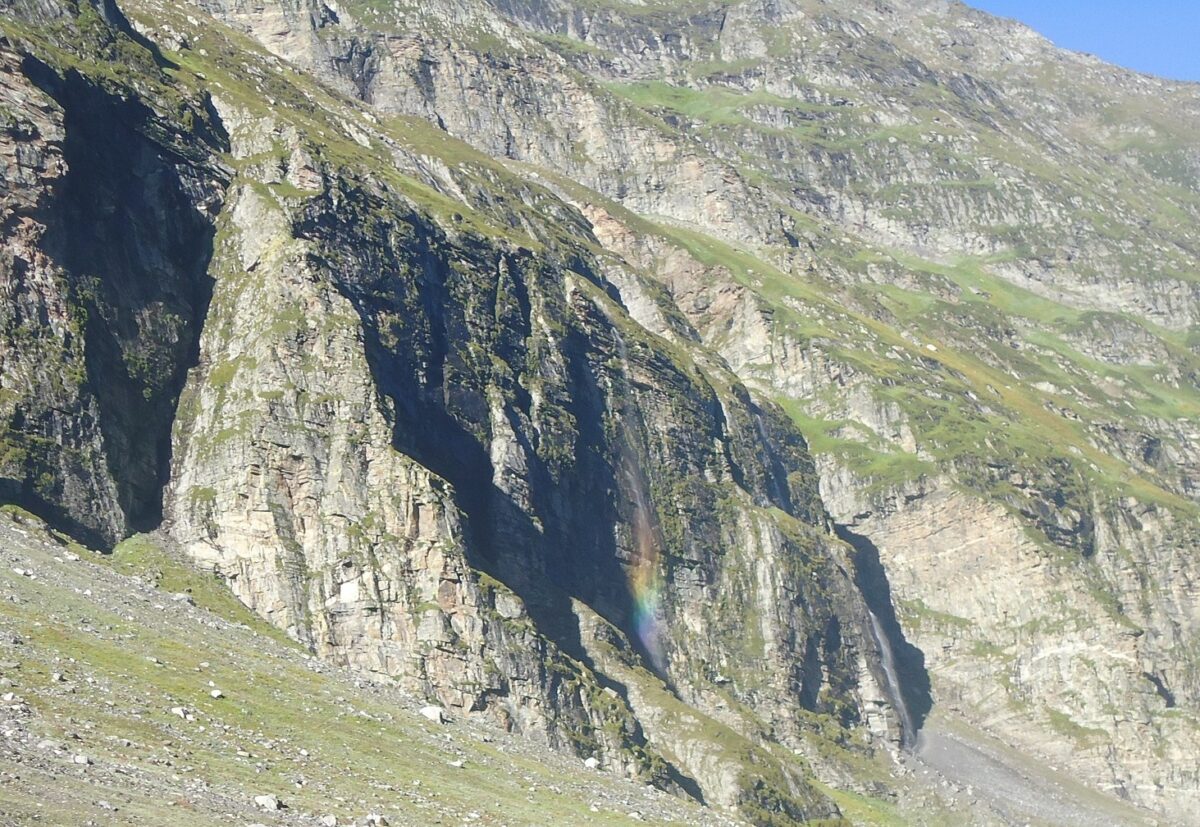 Day 3 begins with this rainbow in the waterfall!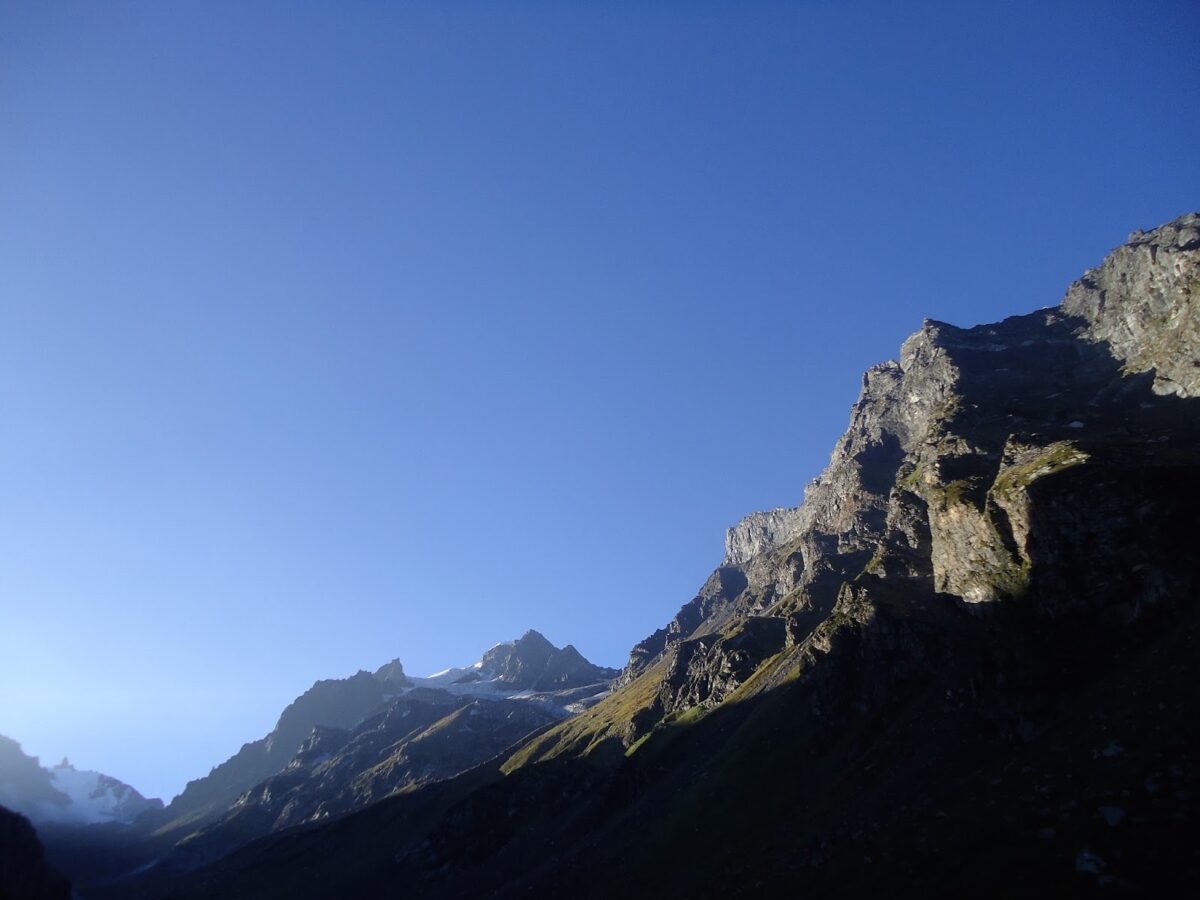 A glacier-view tent at Balu Ka Gera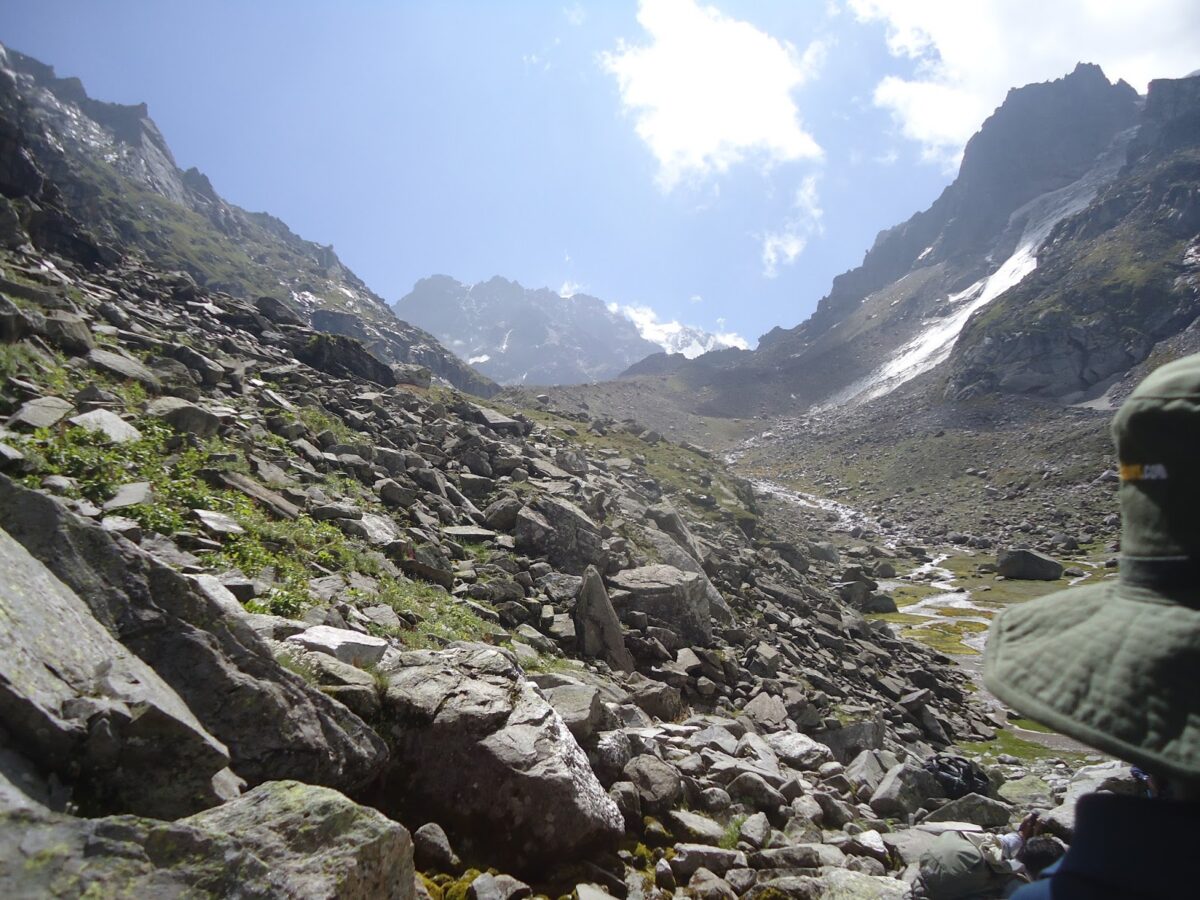 A long long way to go…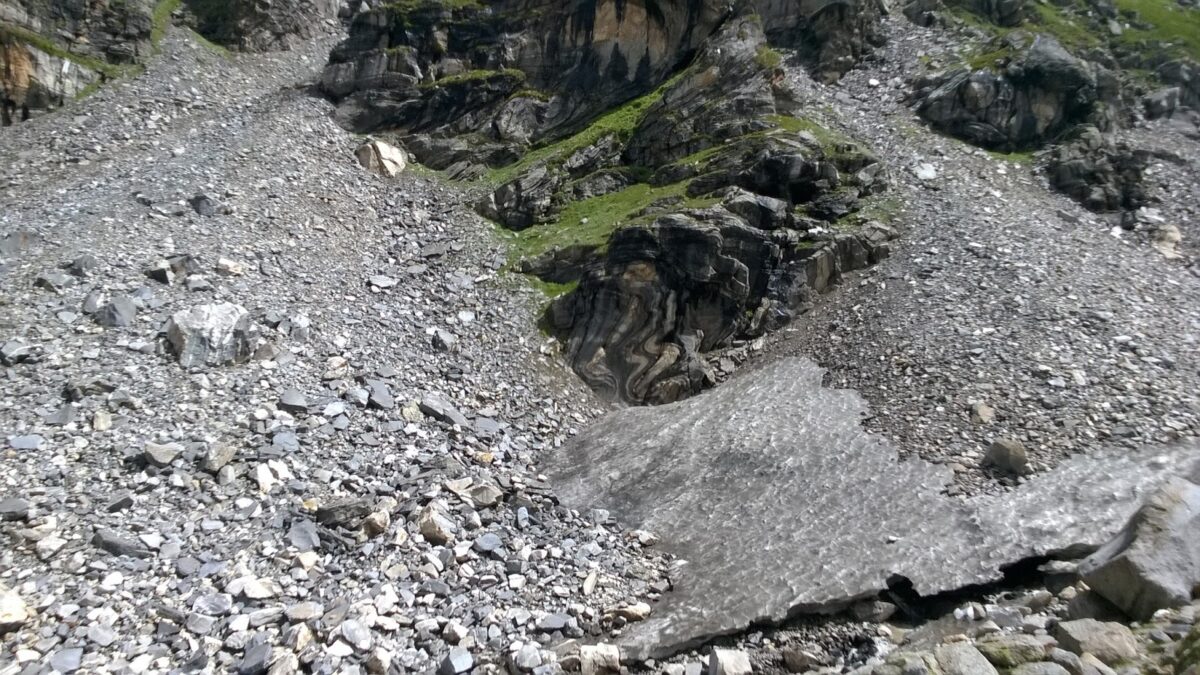 Melting glaciers created interesting patterns on rocks.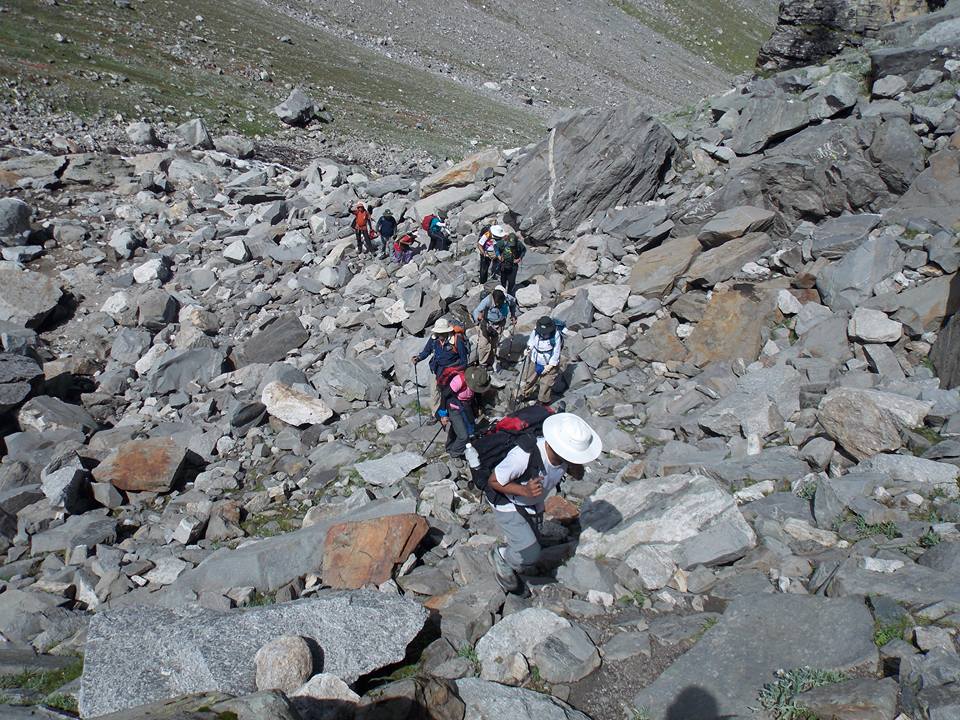 Almost there! The last stretch was challenging. Notice the huge boulders that we climbed!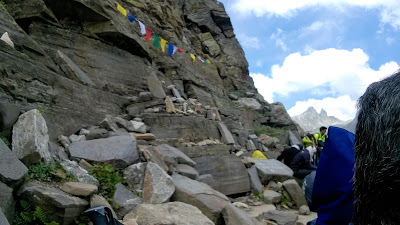 The Hampta Pass! Catch your breath and get set for the steep descent. Admire the glaciers as well as the Indrasen and other surrounding Peaks that look down upon us!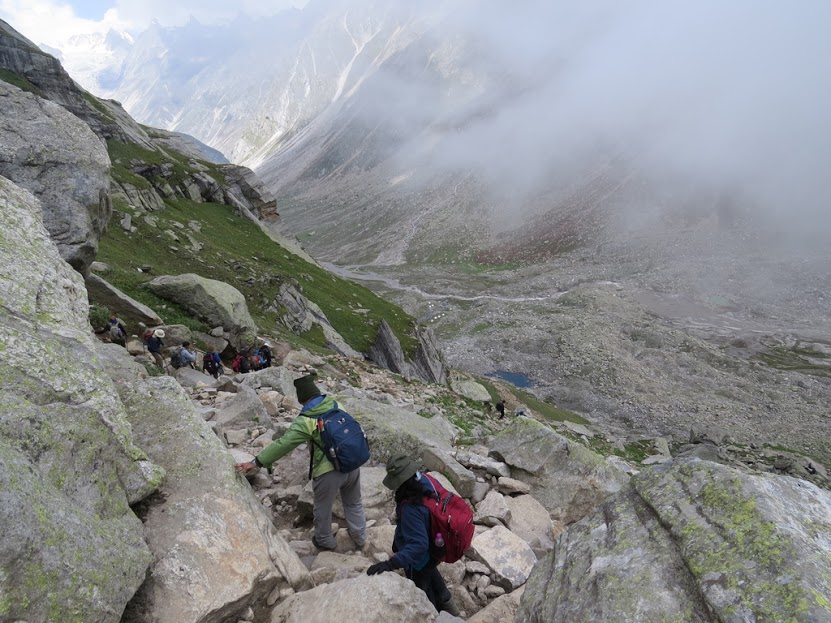 We climbed down to the tiny white tents.. Can you spot them?? Notice the green lichens on the rocks.
Image Credit Foliage Outdoors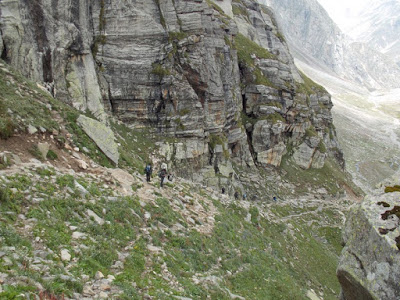 The descent puts intense stress on the knees as I learnt the hard way. I had carried many kinds of first-aid but no knee caps. This made me the laggard of the group for the rest of the trip… Image Credit – Foliage Outdoors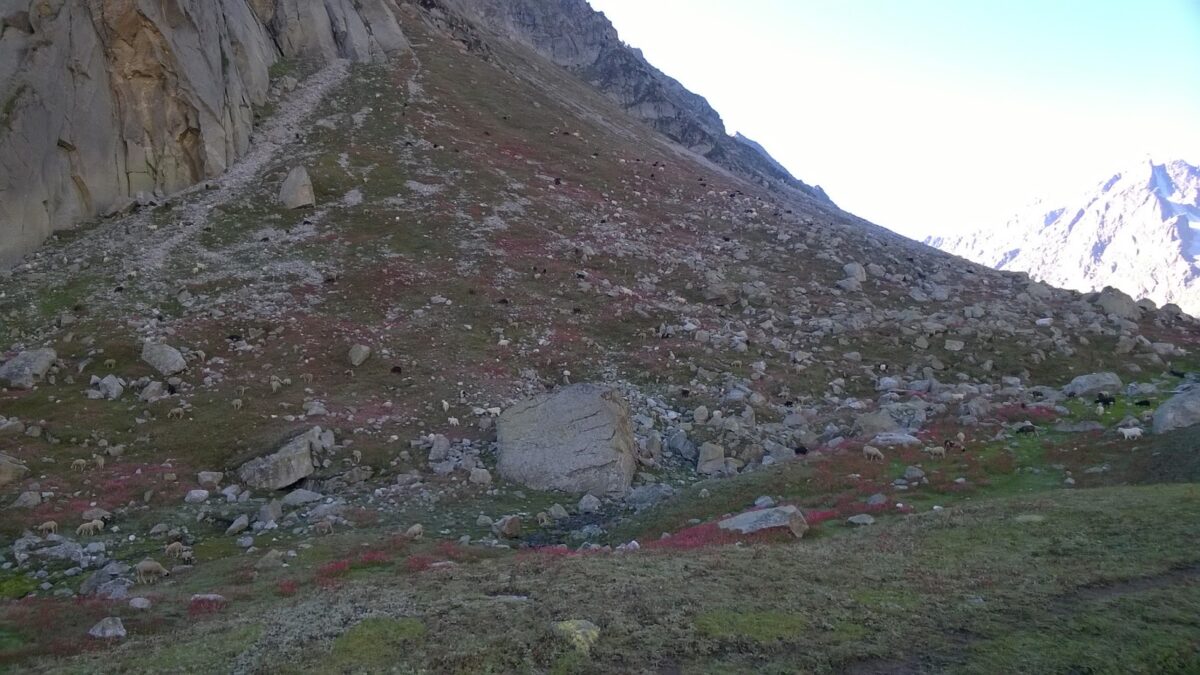 The Himalayan Fleeceflower (Polygonum affine) painted the mountains at the Shea Goru campsite to wonderful shades of pink offsetting the green lichens on the rock.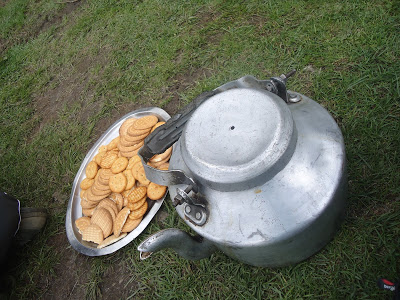 A hot cup of tea was waiting for us at the end of a really long day of walking. A chilly wind blew from the glacier down to the campsite ensuring I wsa bundled up in a cap, gloves and five layers! This region is called a cold desert…
This was supposed to be a relatively easier descent in comparison with the previous day! And it was. The glorious views and the painted mountains meant this day's views were possible the most beautiful … But that would be unfair… Each day had brought forth a special and unique aspect of Nature… The day began by a very tricky river crossing on a pair of logs and holding on to a rope. The trick was not to look down and focus on one point. By God's Grace, we all make it across safely and reached the Chatru camp in good time.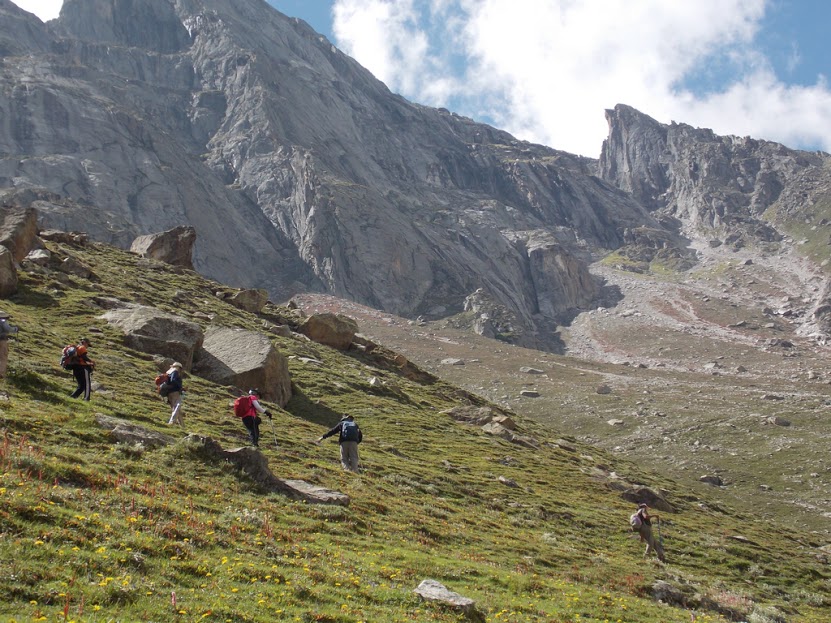 With reducing elevation, grass made a reappearance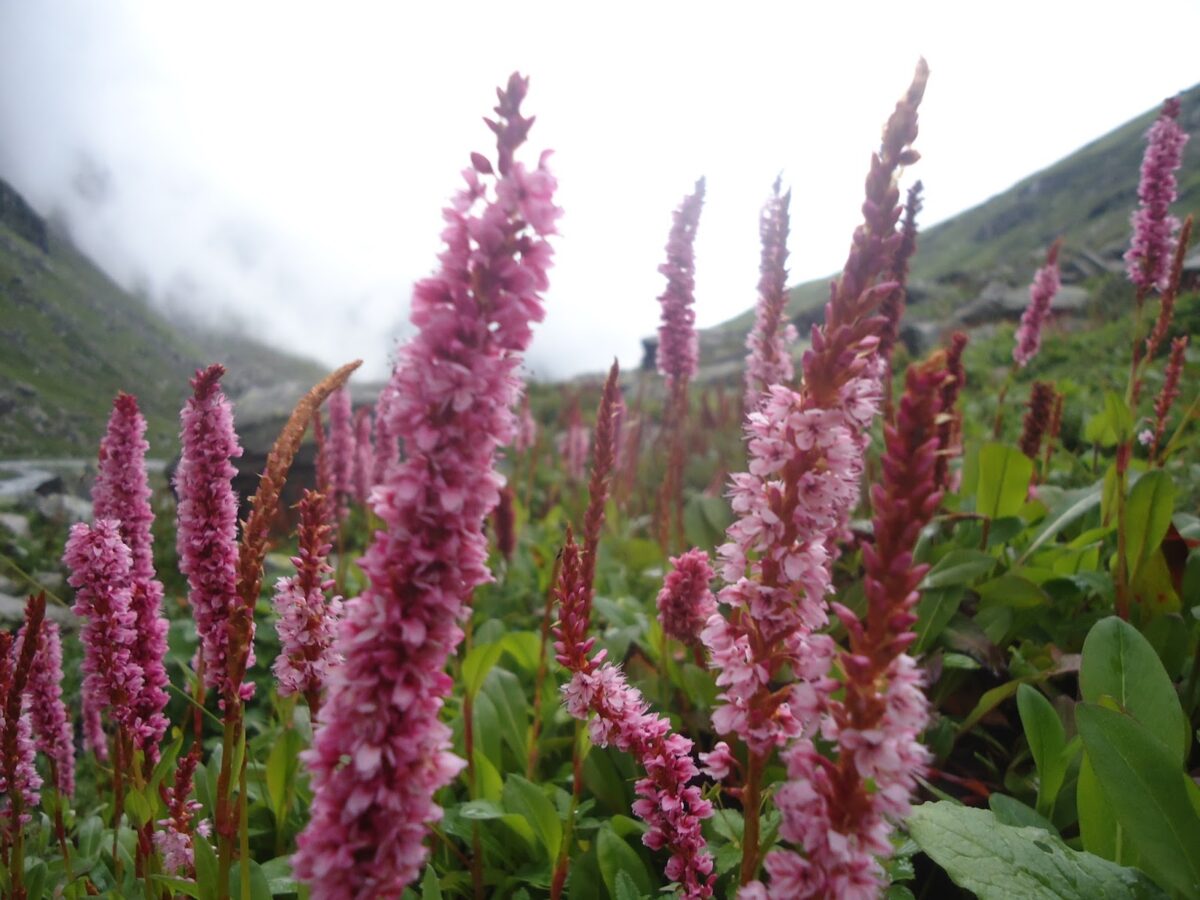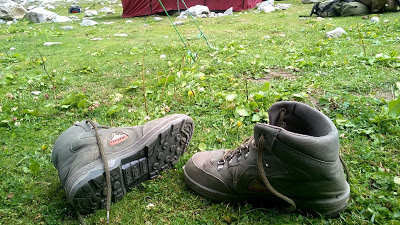 End of the walking phase of the trip!
From Chatru we drove to Chandratal Lake but I shall reserve that for another post. This has become quite long and Thank You dear readers for patiently reaching this point….
Its been very difficult to choose images today, one of the reasons for the delay in posting I suppose. None of them really do justice to Nature's beauty. The Himalayas are imposing, dominating, craggy and moody still manage to mesmerise everyone. I am in the process of planning by 2017 holidays and the Hills are calling!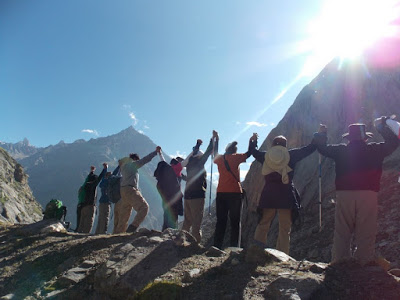 Yay!!!!! Image Credit- Foliage Outdoors