Many people in this city have a tradition of visiting vegetable markets like the Mandai to purchase vegetables for the entire week. I am not sure how or why this practise has arisen but there is no comfort like having a fridge full of veggies. An almost mandatory accompaniment to the veggie purchases is Patties or Misal. Patties can be from Santosh Bakery or Hindustan Bakery (almost iconic outlets) and the Misal can be from Bedekar or Shri Krishna Misal. Click here for an e-food walk of the city and then get yourself out to actually taste those goodies!!
But I digress. This post is not about ready made food rather about the veggies and to be specific, vegetable markets. Over a period of time, places other than the Mandai too have become popular vegetable shopping sites probably because of distance and parking constraints. Several vendors (not sure if they are farmers of just middle men) set up shops on the street sides near the DRDO circle in Pashan and on Karve Road. The produce here is fresh, fairly cheap and all seasonal (and some unseasonal) stuff is available. There are also the established Mandai in Aundh and the iconic Shivaji Market in Camp.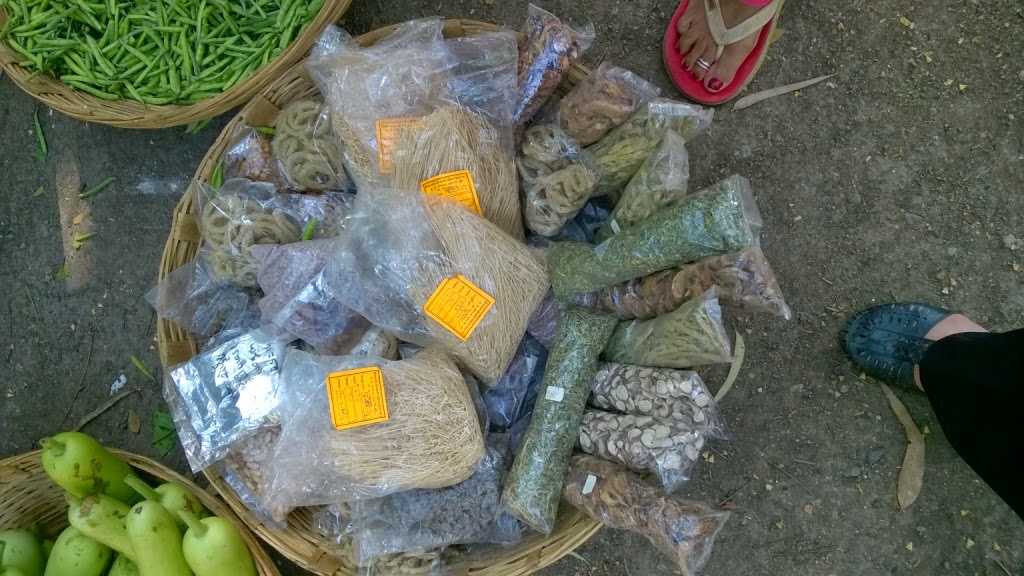 Dehydrated Sweet Potatos, Lady's Finger, Gawar (Cluster beans)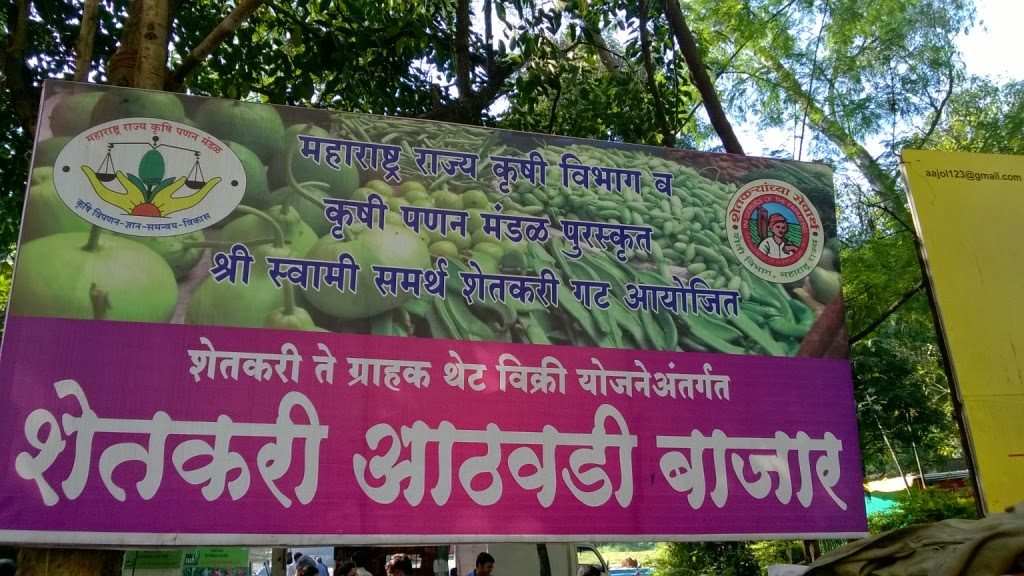 A new entrant is a farmer's market near Gandhi Bhavan at Kothrud. Compared to the other venues mentioned above, there were fewer vendors but some of the vegetables seemed cheaper. I use the word 'seemed' because I cannot compare same-day prices across the city. My comparison is based on my last purchase! This place looked like a 'haat' with lots of interesting stuff. Besides vegetables and fruits there were dals, biscuits, papads, kurdai, pickles, dried vegetables, Bhel, ready-mix for fruit shakes, and a stall selling Pohe and Dhirda for the hungry birds. Here are some images from our visit. Its a good effort and is especially beneficial for those residing near Gandhi Bhavan.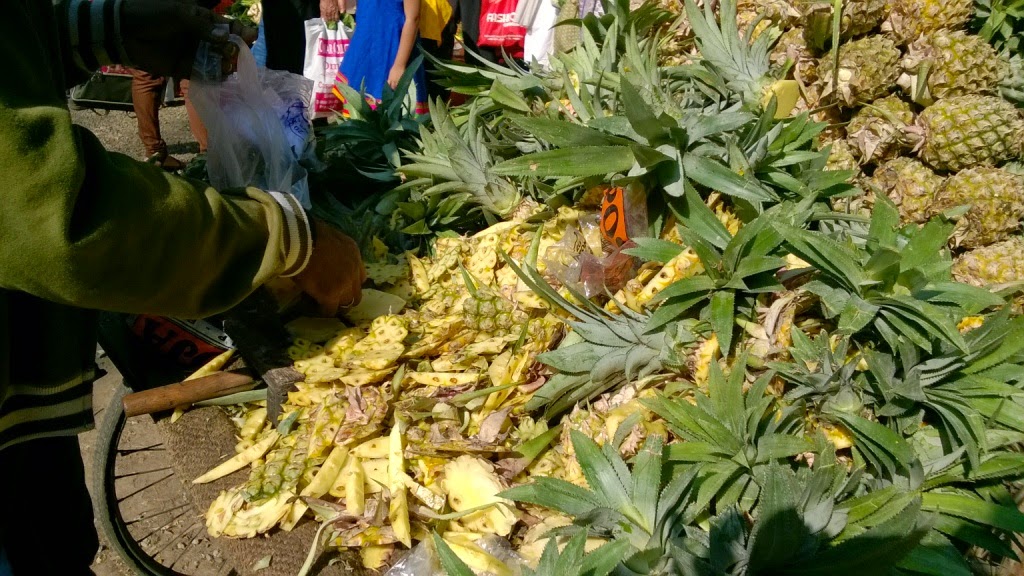 Fresh pineapple. He readily cuts it up for you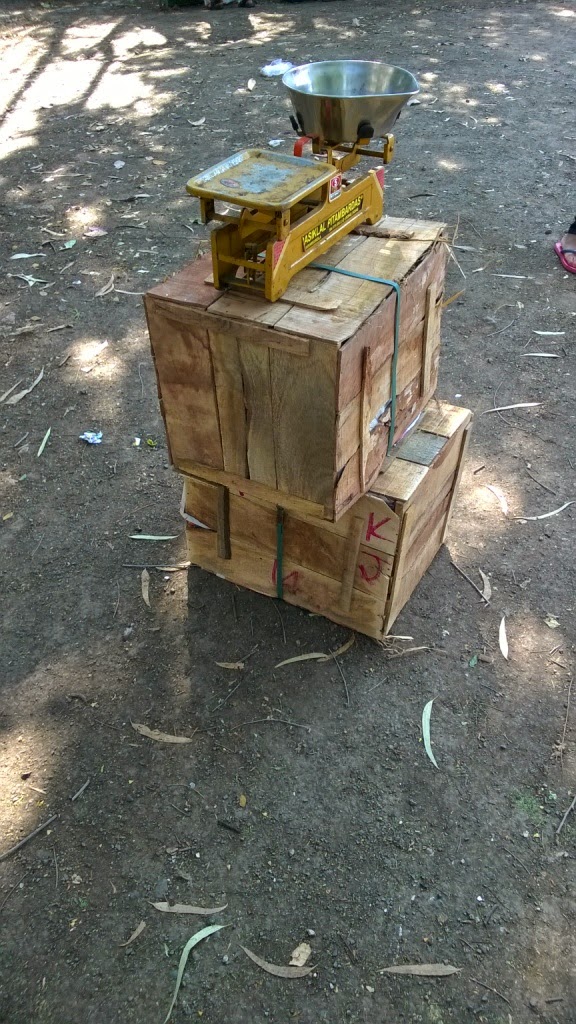 This weighing scale had nothing to weigh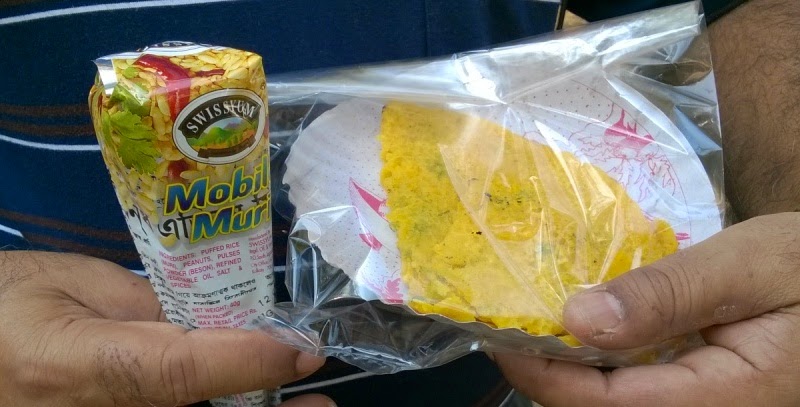 For the hungry birds
Happy Sunday Shopping!