Pune is fortunate to have two rivers, the Mula and the Mutha. Yet the present condition of these rivers shows Punekars do not care at all for their natural wealth.
An annual debate before Ganeshutsav has almost become a ritual as environment activists and local authorities urge people to immerse their Ganesh idols in specially built 'houd' and not in the river. Traditionally, the idol is supposed to be made out of 'Shadu' a kind of river mud which means the idols dissolves easily in water once immersed. There are umpteen workshops to help people make their own idol which can be easily immersed at home.


Yet many idols continue to be made with Plaster of Paris. These often do not dissolve in water and the idol that we have worshiped for 10 days suddenly becomes a 'problem'. Here is a stark article in The Alternative about fate of Ganesha idols.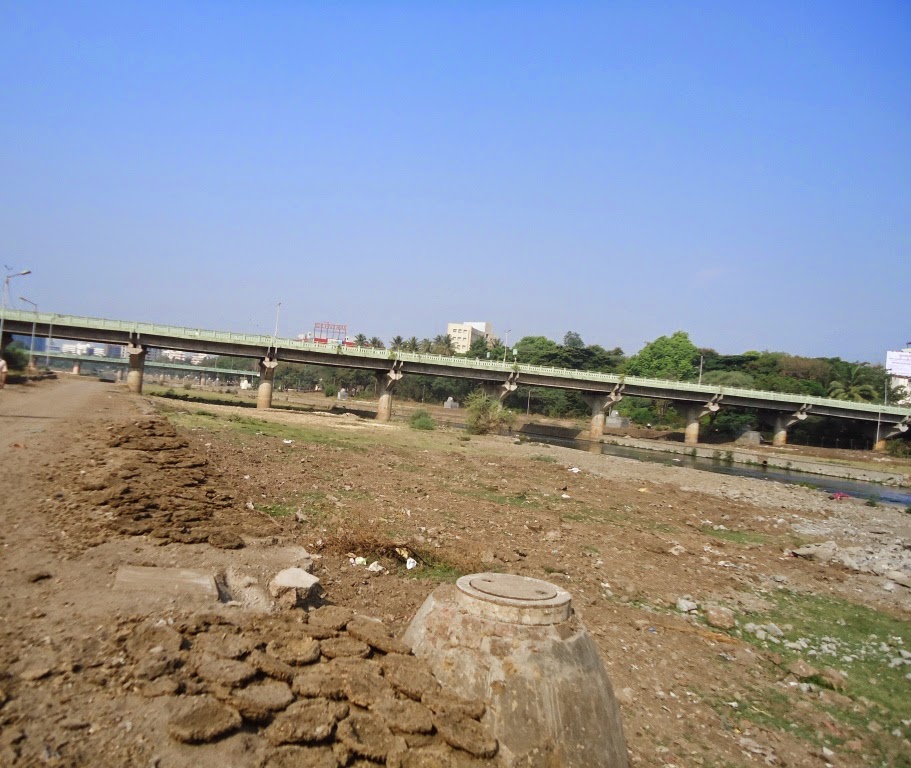 The river becomes almost a trickle as water and is often highly polluted


This year we reached the river early to immerse our idol. I was pleasantly surprised to find the entire area absolutely clean. I could see the bottom of the 'houd' and I was very happy to immerse our idol in its clean water.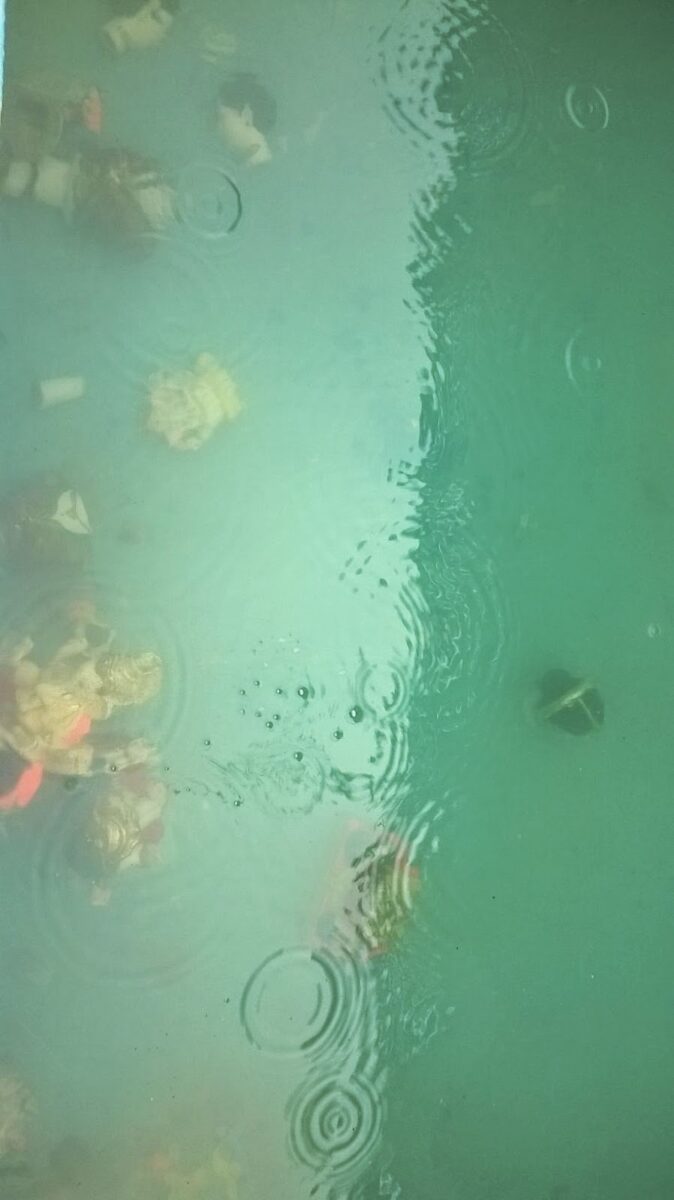 It was possible to see the bottom of the 'houd'
Yet an article in Maharashtra Times dated 10 Sep 2014 was very disheartening. It has published data which indicates that the number of idols immersed in the river in the Sep 2014 Ganeshutsav has actually increased y/y and the number of idols immersed in the 'houd' has reduced y/y. The article does not mention number of idols immersed at home nor the total number of idols in the city.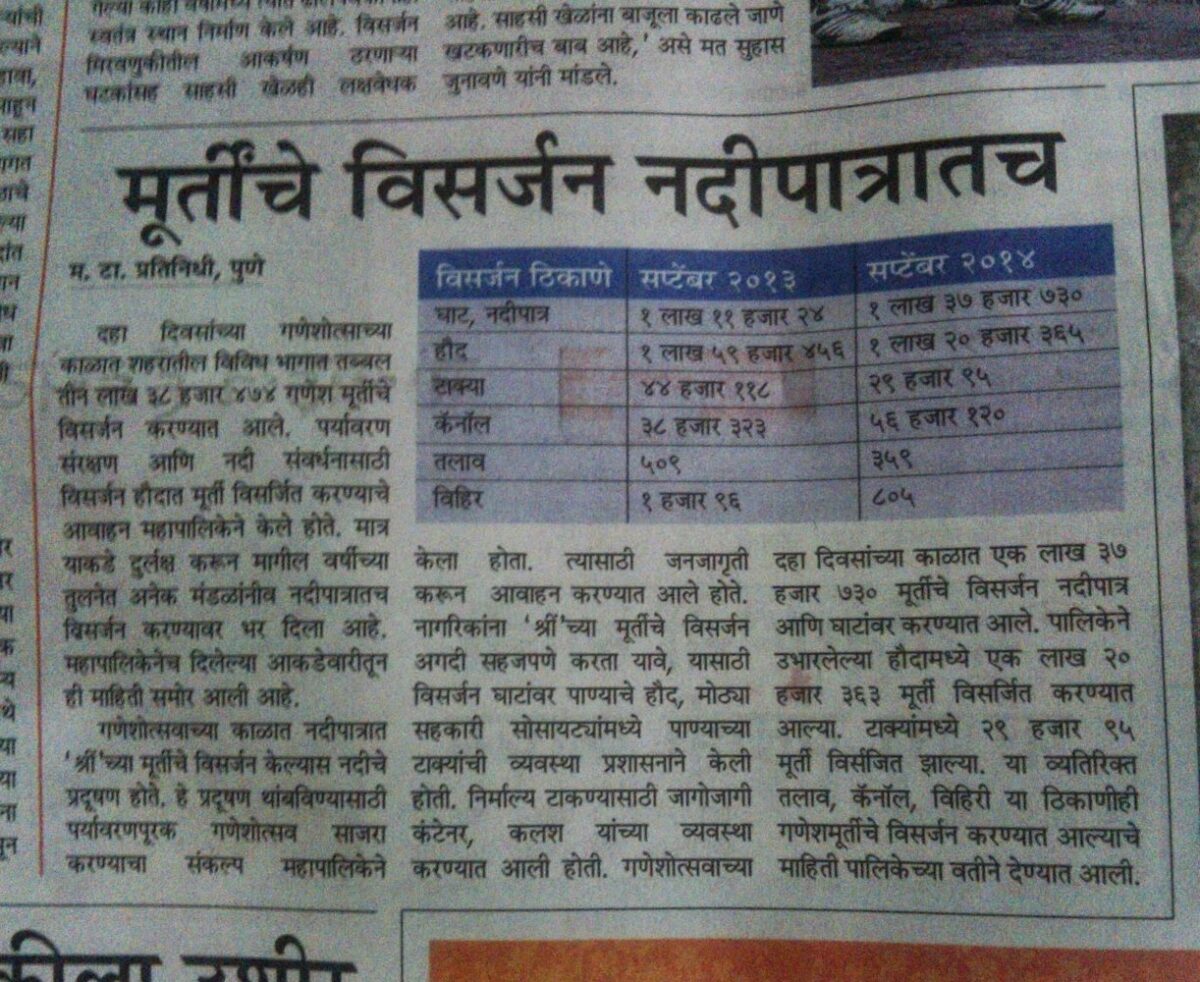 However if one considers only the figures available in the article then there seems to be shift towards immersing the Ganesha idol in the river, tanks, lakes and wells.
Above figures for Sep 2014 repeated below with y/y figures in brackets. The figures in red are higher y/y:
Ghat, Nadipatra: 1 lakh 37 thousand 730 (1 lakh 11 thousand 24)
Houd: 1 lakh 59 thousand 456 (1 lakh 20 thousand 365)
Tanks: 45118 (29095)
Canals: 38323 (56120)
Talav: 509 (359)
Wells: 1096 (805)
Why? Why?
Lets hope the situation improves in 2015.