Currently its the FIFA World Cup 2014 that rules TV time at home. Being hosted by Brazil, the live telecasts can be seen at some unearthly hours in India but football fans are not complaining. Ofcourse repeat telecasts are shown to suit those not willing to sacrifice their sleep but it means others at home having to give up their favourite serials.
Since I could not fight the football fever, I decided to join in. As I was trying to learn the intricacies of a spectacular pass or a heroic save, I found myself admiring the fluorescent brilliant colours of players' footwear.
Note: All images below are from the TV transmission on Six HD via Hathway cable provider.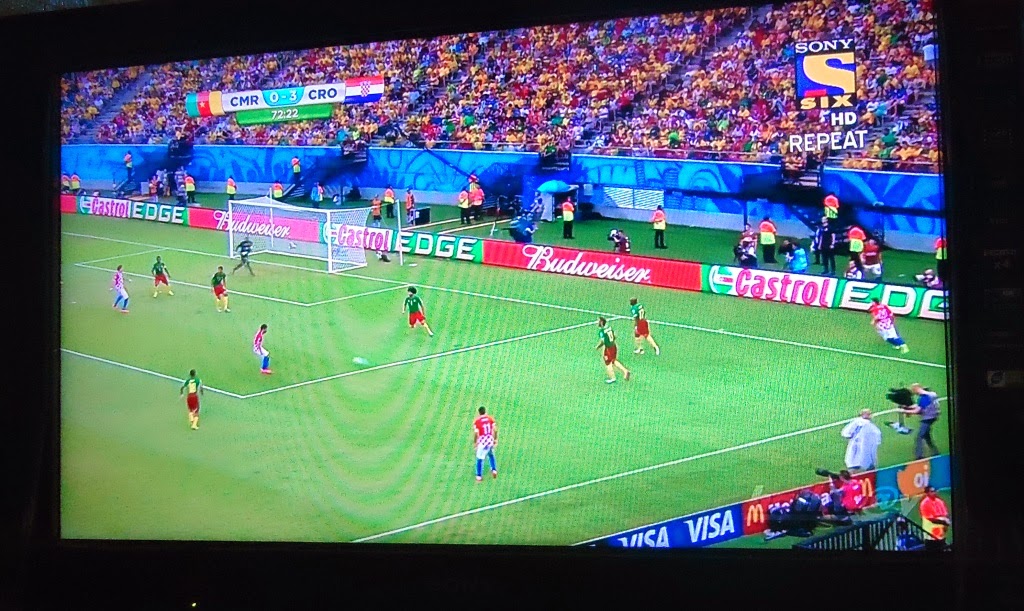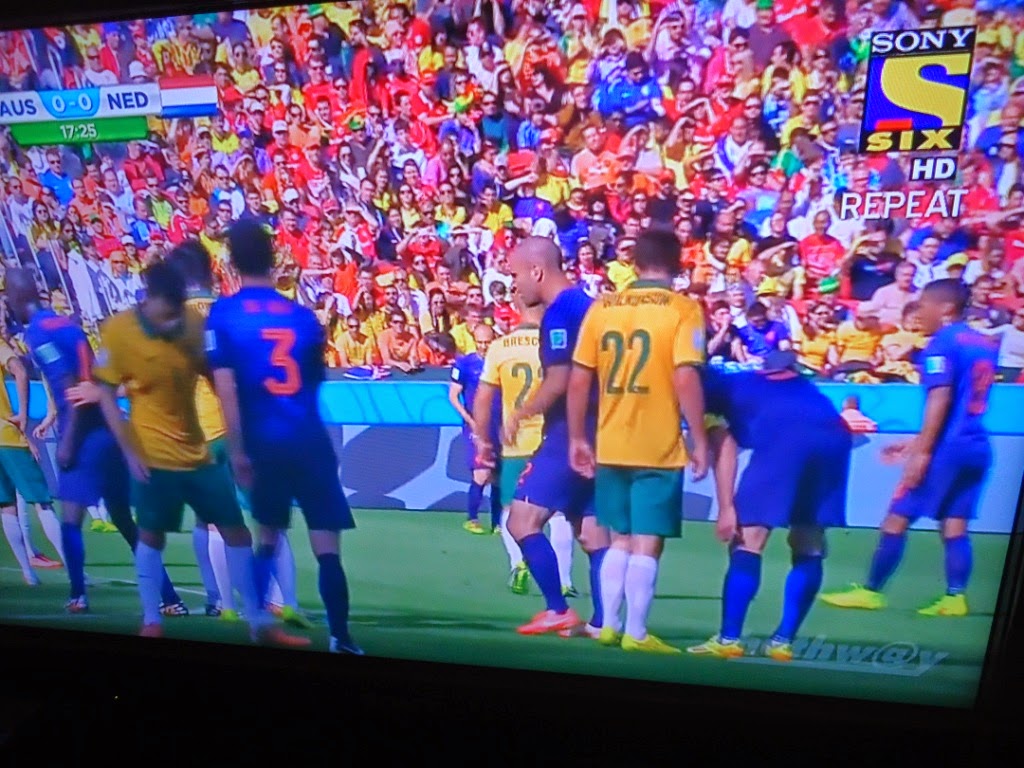 Mentally I congratulated the company and its designers that had come up with these great uniforms for the players. Coordinating colours for the different teams and the accessories must have been a real challenge…. And that's where I spotted in some players had differently coloured shoes on the Right and Left feet.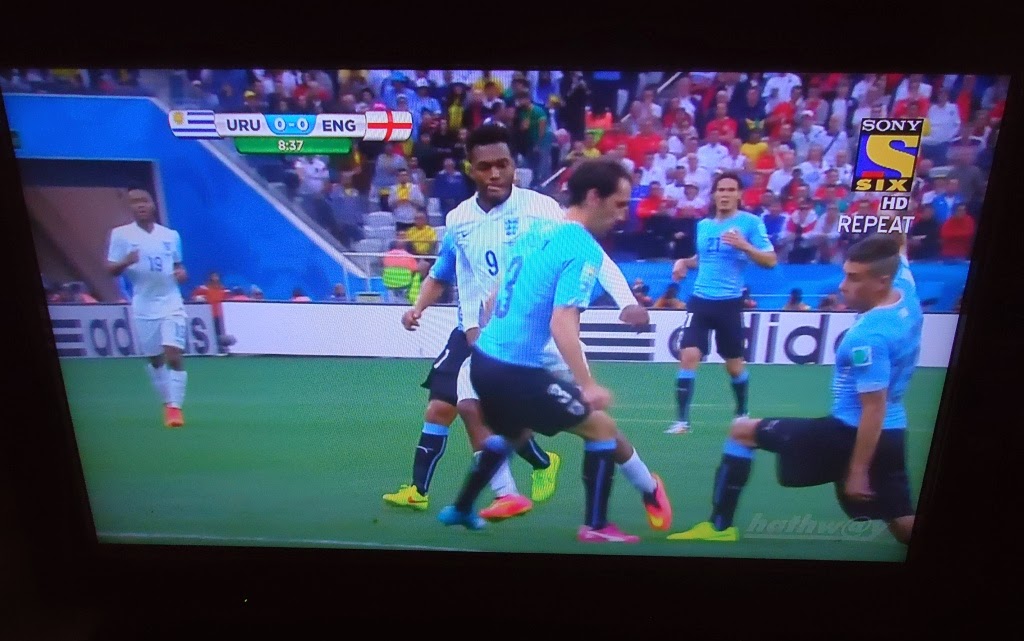 Pink shoe on the right foot and blue on the left
Was something wrong with the transmission or was this a case of making do with some shoe because the proper one was damaged? The latter was a wild idea discarded immediately because the teams would be fully kitted out and such a problem was unimaginable.
So that left me with the option that the shoes mismatch was deliberate.
But why would someone do that?
As far as I know, among whatever fashion or function footwear statements anywhere so far, no one had come up with mismatched shoes.


As you can see, my mind had strayed way beyond the games that were being telecast. I now avidly watched a few more games just to see if this was repeated in other teams and to my utter surprise it was. That confirmed my suspicion that the mismatch was not by chance but by design.


As is usual, I turned to Google-Baba and here is what I learnt. The first search threw up several colourful shoes… oops boots/cleats.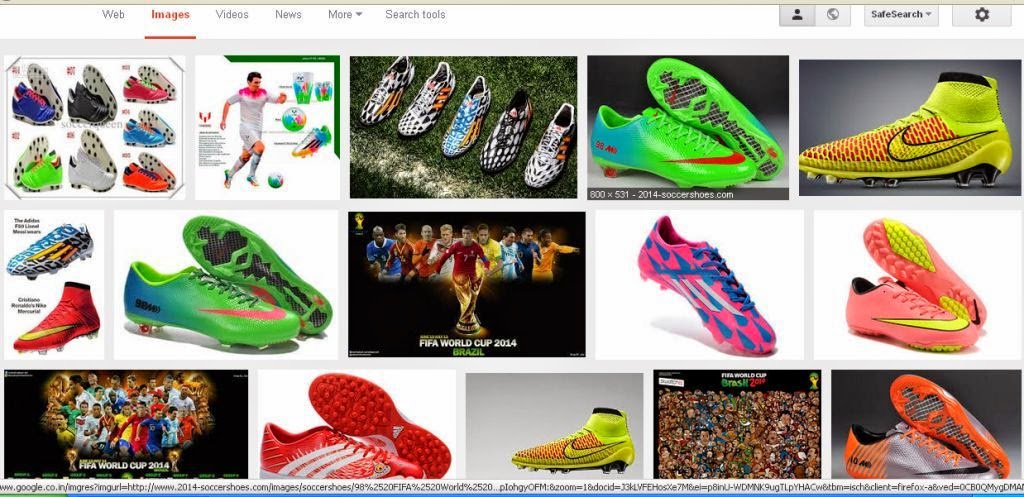 Screen shot of random Google image search for football shoes 2014
Further search gave me the following gyaan:
As I learnt from this abc article, Puma athletes will wear one pink (on the right foot) and one blue (on the left foot) shoe. See the image above. Read the article here
http://abcnews.go.com/Sports/wireStory/boots-ground-world-cup-cleats-24052545
Yay! So my observations were right… there was some method in this apparent colour madness!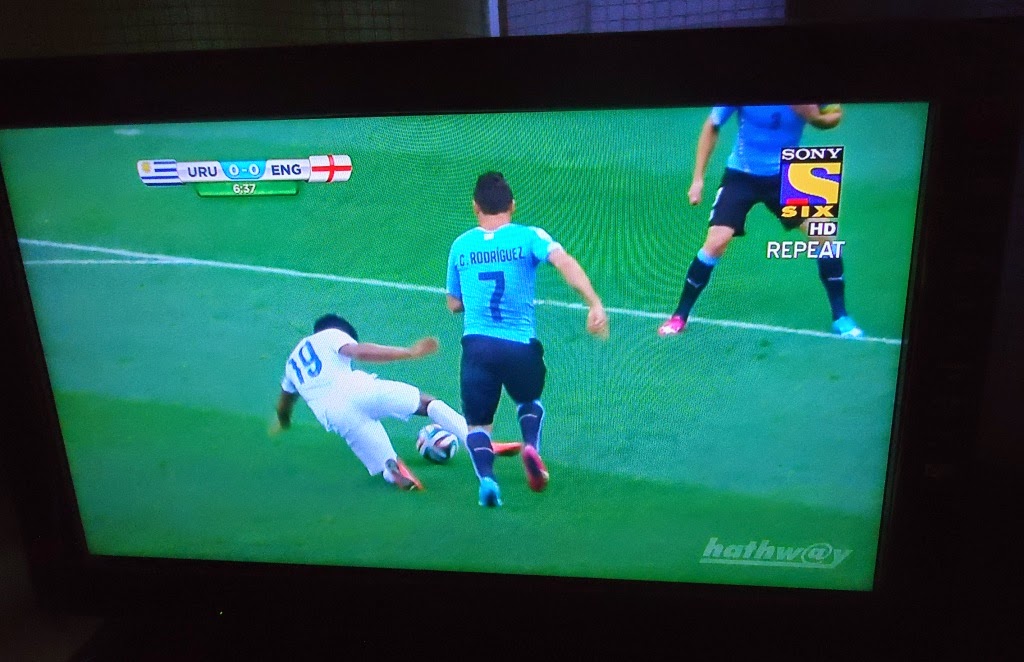 According to this article, there are many more 'special' cleats that players will be wearing. I must now look out for Eucador goalkeeper Maximo Banguera's boots that are supposed to to reflect light (Lotto Solista boots). Keisuke Honda's (Japan) Special gold and black Wave Ignitus 3s.
Nike's new Magista and Mercurial boots use its ultra-lightweight fly knit technology wherein it seems as the player is wearing socks with cleats attached. According to this article on the New Zealand Herald, Ronaldo is going to wear the Mercurial Superfly.
Adidas has the special Battlepack boot collection for the 2014 Fifa World Cup. Read about that range here.
Obviously the World Cup has something at stake for the participating teams and the sponsors as well. The teams will battle it out on the fields and a silent (or colourful) marketing battle will be going on simultaneously.
For those viewing matches on TV, there will be a different take-away from every event for different people. For some it will just be spectacular football. For some it would be well… shoes!
Neymar, Ronaldo, Bartolli, Banguera, Honda. They are the guys to watch out for!
So whether you are a football fan or not, do watch the matches. You never know what you will learn!!
Cheers!
PS: While we are discussing things other than football, here is an article from abc News that talks about Why Soccer Players Walk Out With Kids.
Screen shot of the article