Somehow I have noticed that when people say 'I love travelling' it usually means foreign exotic destinations. Ask such people about something in their own city and one is more often than not likely to get a blank look. But of course there are exceptions!!
I admit I too had not done much 'sight seeing' of significant places close to my city, or indeed in the city itself. Something that I have been consciously working to overcome over the last year or so. This post is about one such wonderful place that I visited recently.
Potholes usually evoke images of roads riddled with holes and pits with traffic mayhem all around. So when I read about possibly several hundred years old naturally formed potholes near Pune which are geological wonders themselves I just had to go there…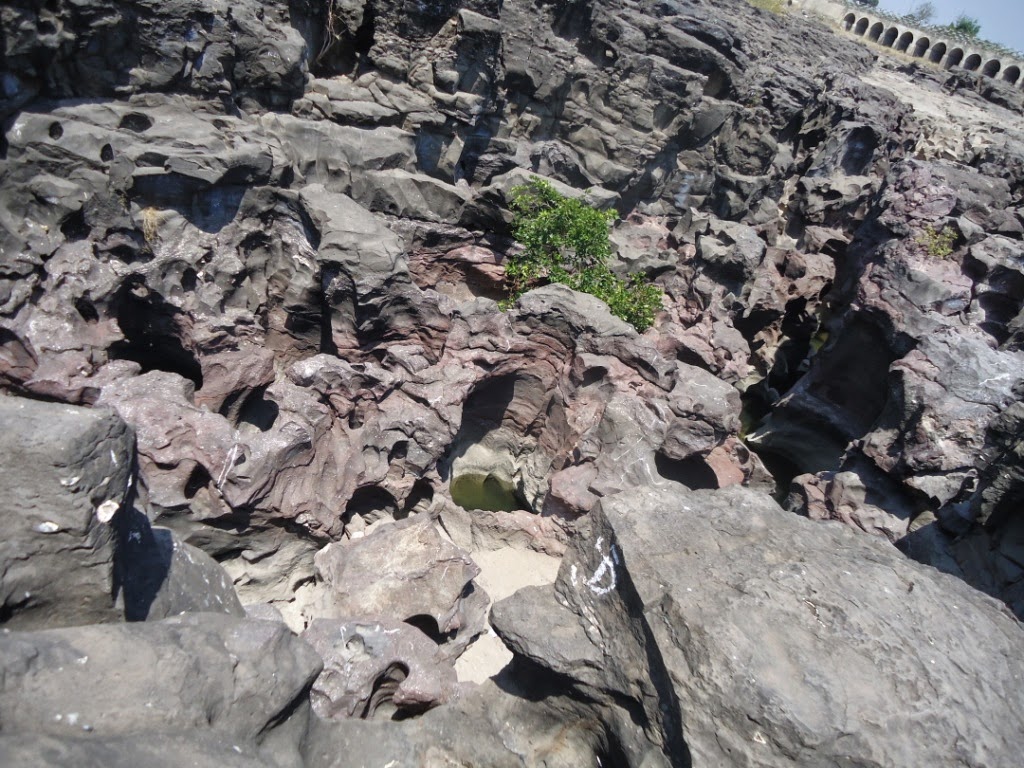 Natural potholes seen near Pune


These are at a place called Nighoj about a couple of hours drive (approx 90kms) from Pune. The road is excellent except the last part when one has to lurch across the country roads to actually reach the river bed. We are going to see potholes remember?? Jokes apart, these are formations in the bed of the River Kukdi. The irregular jagged 'holes' or craters seem like a canyon and open up suddenly as one trudges along the hot rocky river bed. Despite seeing some amazing photographs in a magazine, the sight took my breath away.
These potholes are formed in the layered basalt rock of the river bed and extend for quite some distance and were about 25 feet wide and deep where we stood. The depth may be more in other parts according to reports. Being the peak of summer, the river had hardly any water, thanks also to the dam that is built on it. This showcased the full glory of the potholes and made them easily accessible as well.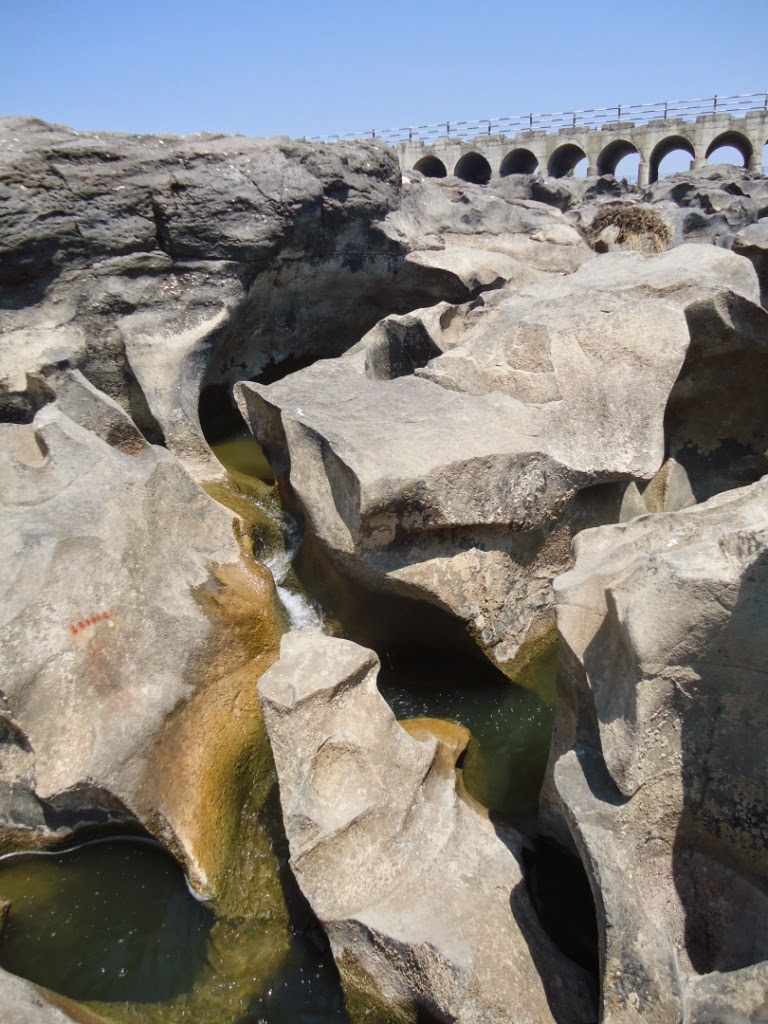 Dam wall visible in the distance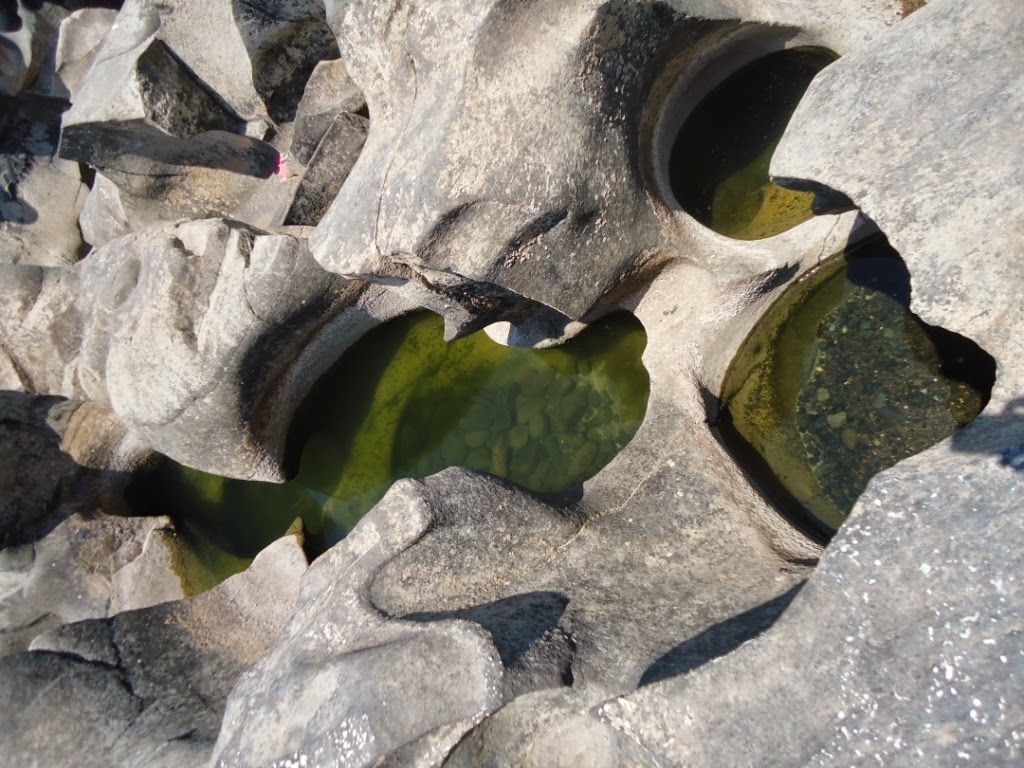 The holes are shaped like a pot being wider in the centre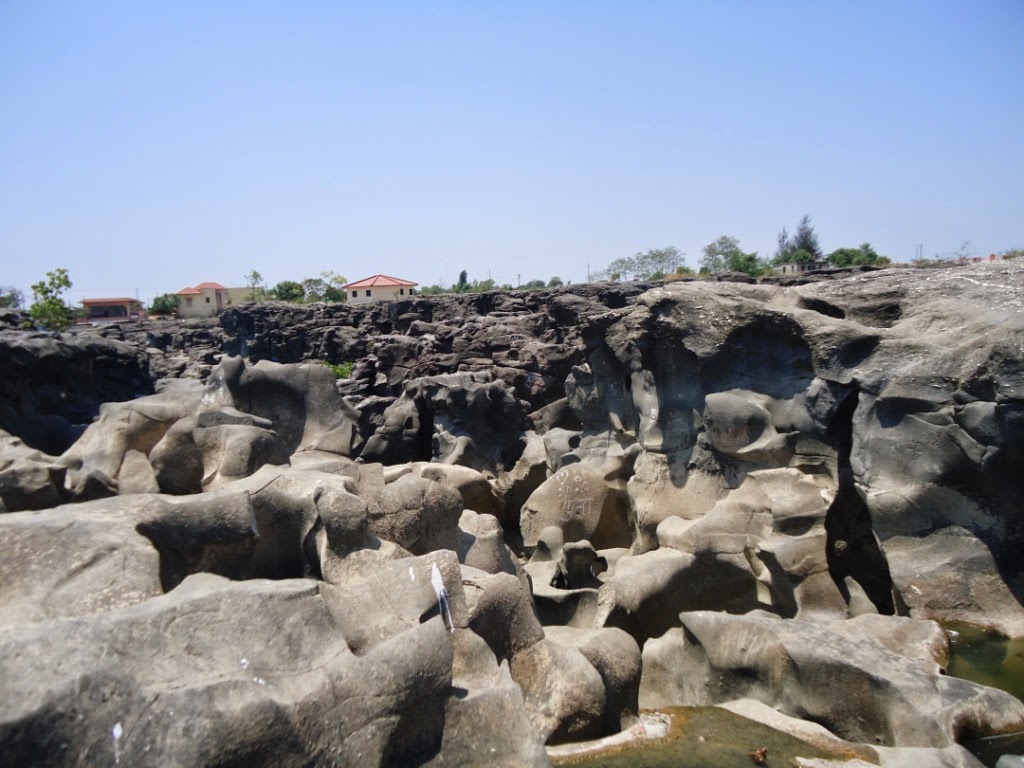 A huge plus was that the river bed was very clean. There were a couple of temples on both sides of the river and a Laman Jhoola built across it. One can see the potholes slowly end and the river bed gets the usual flat appearance downstream.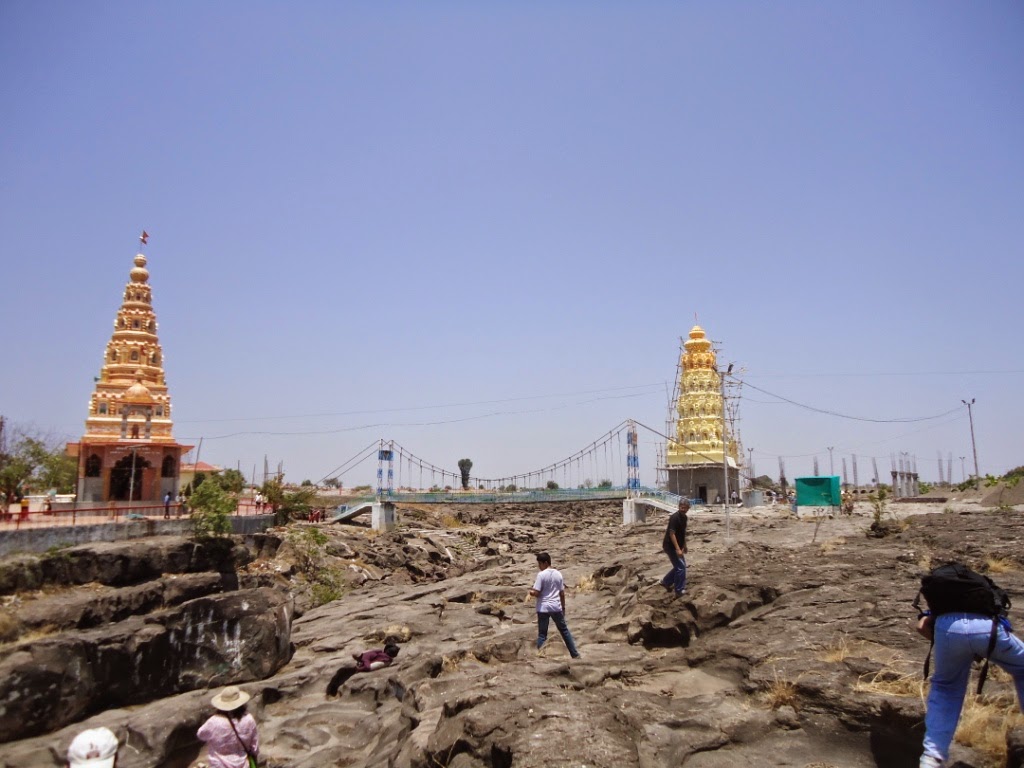 Temples and Laxman Jhoola

The area is home to the uncommon Capparis decidua. En route one passes several pomegranate fields as well as onion fields enroute where the harvested onions are stored in makeshift huts called 'Kandyachee chaal' कांद्याची चाळ (depending on the season you visit).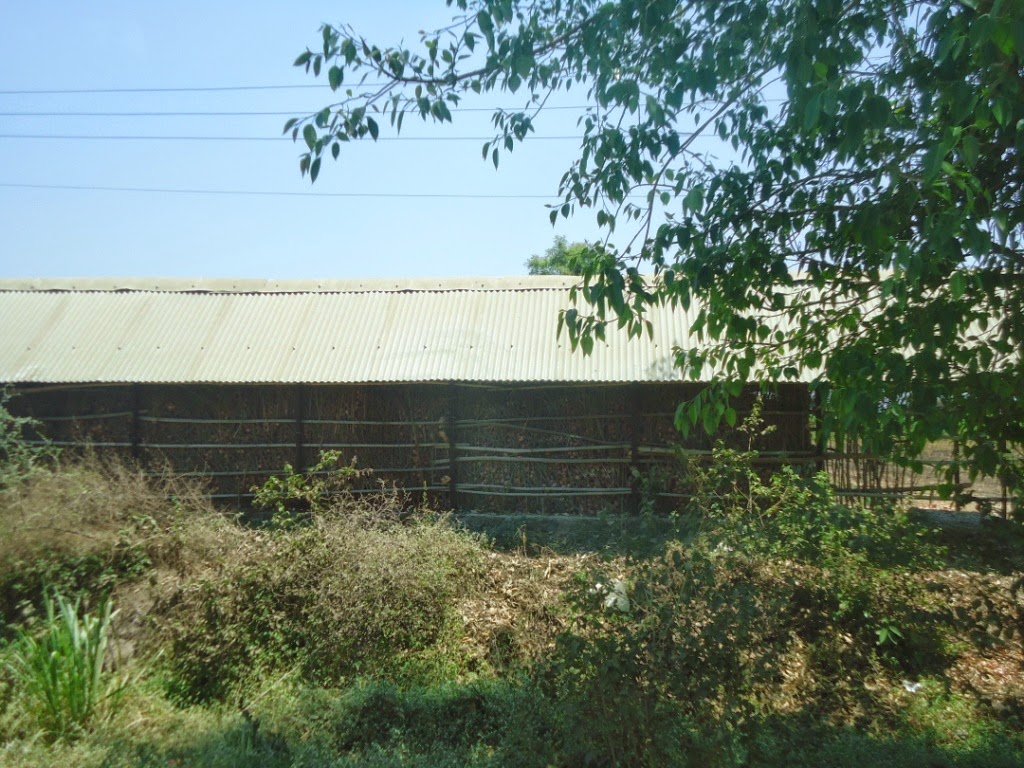 कांद्याची चाळ

We were very lucky to see a colony of Swifts. It was a beautiful sight to see the birds feed their young ones. A binocular is a must!! Their nests are washed away every time the river fills up and they rebuild them again the next year. Tip: Keep utter silence so as the birds are not scared off.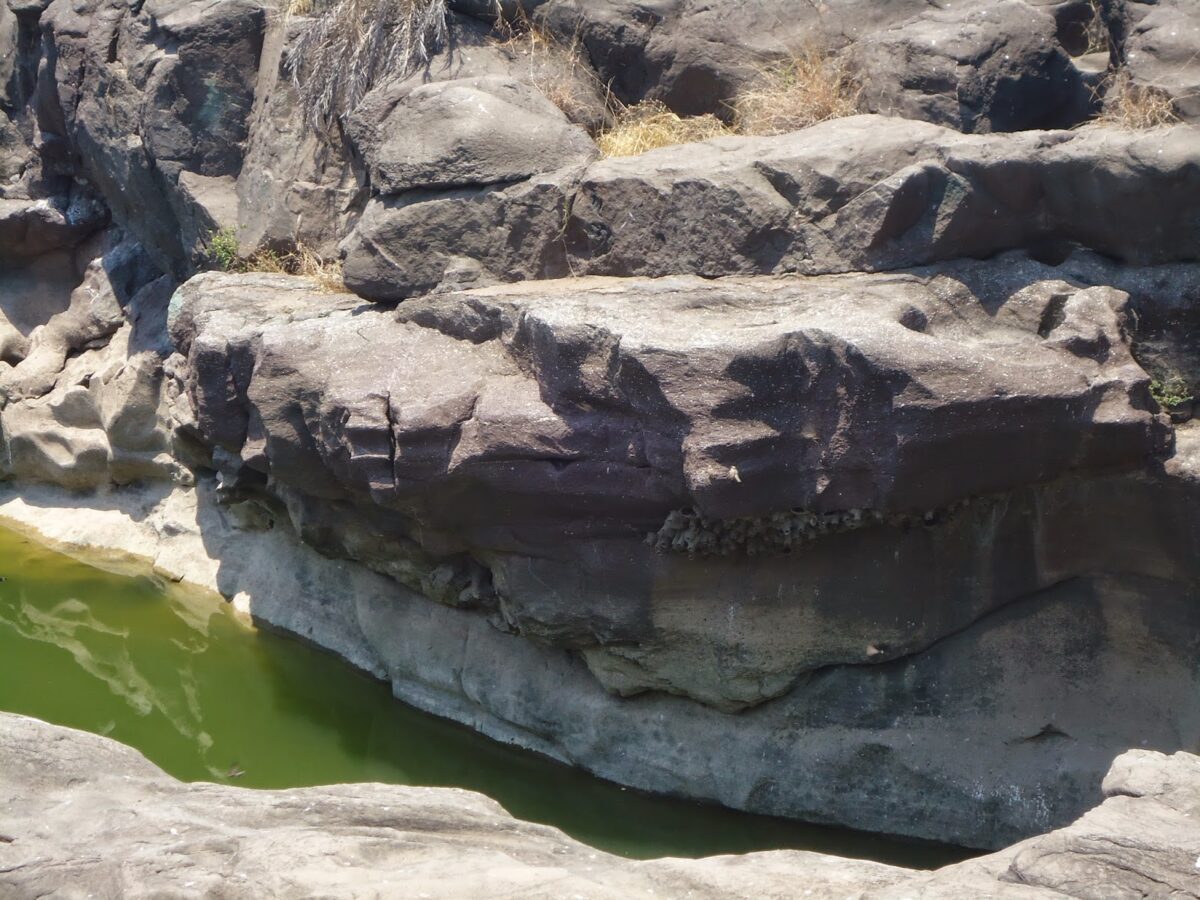 Colony of Swifts
If you are in Pune with half a day to spare do visit this amazing place.The famous Ranjangaon Mahaganapati Temple is located close by on the main Nagar Road and can be easily added to to the itinerary.
🙂
Happy travelling!