I have written before about Devrai or Sacred Groves. I had the opportunity to visit one more recently with none other than the Patriach of Botany in my city. He gave us some more insights about Devrai which I would like to put into my own words.
Devrai is the marathi word for sacred groves, and loosely put, they can be described as forests that are protected by a local deity usually a Goddess (देवी) but some devrai have Khandoba or Mhasoba as their deity. The forest does not have a 'temple' in the form that we know it but it may be a simple structure made from local materials and the idol itself may be no more than a stone. Usually the offerings are flowers that have naturally fallen off trees and the blooms must not be deliberately plucked in a devrai. In fact nothing should be plucked in this forest or even taken away including dead or dry branches, twigs, leaves all of which must be left to decay there itself. The species growing in such protected forests thus get protection and thrive. Some shrubs, trees, roots etc may have medicinal properties. It is the 'Bhagat' who is the only person who is allowed to pluck such tree parts to help any sick villagers after offering due prayers to the tree. No one else can do so.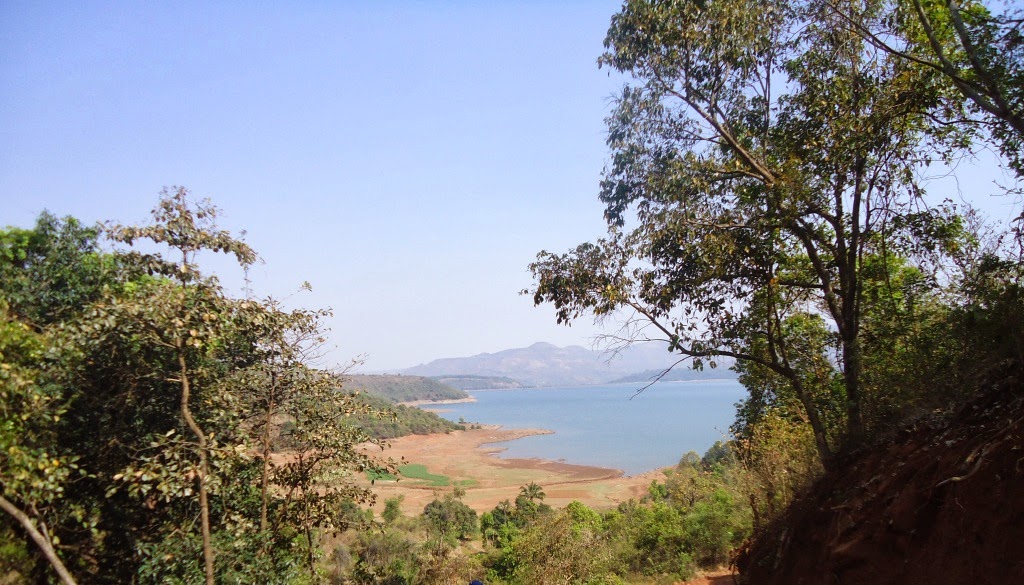 Backwaters of the Mulshi Dam near Pune, Maharashtra


The Sahyadris have about 3000 devrai and the Mulshi area has up to 30 sacred groves. The Kudawale devrai near Dapoli is said to be spread over about 100 acres. These can serve as reference ecosystems which will help chose the
correct species for any new plantation, afforestation projects in
the area. It takes a thousand years or more for a proper forest to develop and simply planting a few hundred trees is not akin to creating a forest.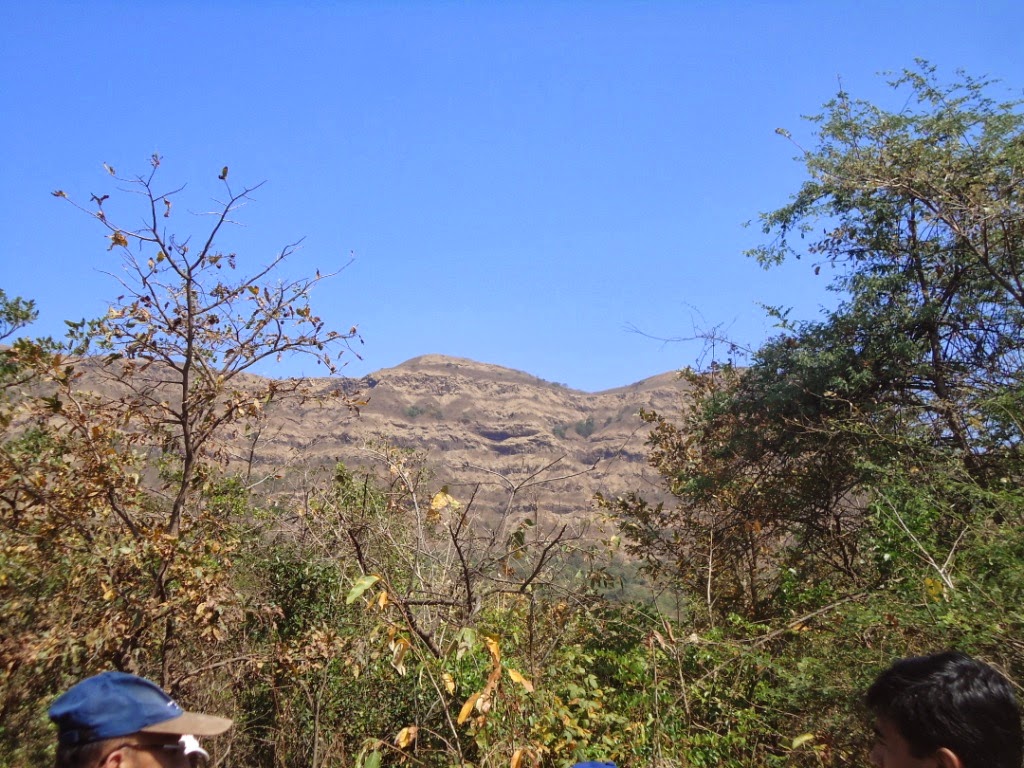 The Sahyadri crest line near Mulshi Dam


It is such blind faith has helped protect the forests from the relentless march of so-called progress and urbanisation that has extended cement and mortar monstrosities way outside Pune. The area of some devrai has reduced and some do not have undergrowth. The latter is an indication of regeneration of the species growing there. Lack of undergrowth heralds a bleak future for the devrai. Construction of new roads is a good thing but it may have a detrimental effect on such protected forests.


Here is a link to a Wikipedia article about devrai.


This article lists sacred groves in Maharashtra and here is one with some general information.


We recently visited a devrai near Mulshi. A tarred road to Lonavla ran through a part of this devrai. Access is by personal vehicles or an ST bus service from Pune (Swargate). As we neared Mulshi, the blazing red Dhaitee (Woodifordia fruiticosa) provided a welcome relief to the dry brown and yellow of the countryside as was the furry soft white inflorescence of the Bhamni. The weather had just started warming up and people were just about recovering from 'Holi'. There was extensive flowering which was a pleasure and helped identification.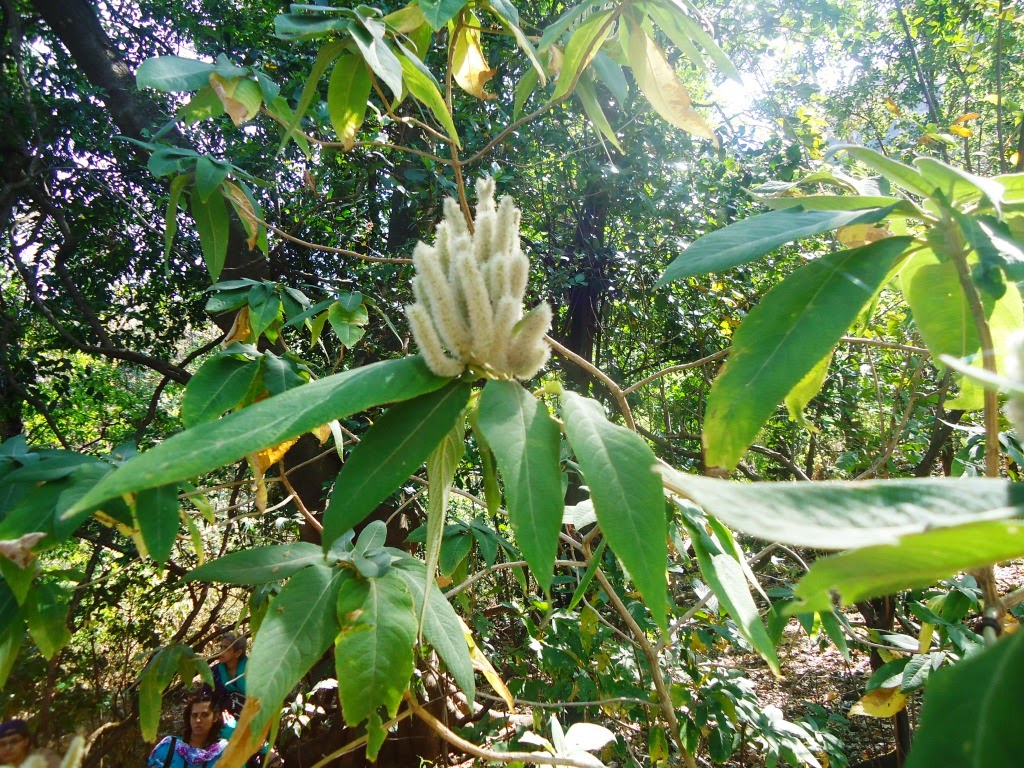 Bhamni: Cholebroochia oppositifolia
We stepped out of the bus and were greeted by the sweet fragrance of the 'Lokhandi' (an Ixora species). You may remember the red walking sticks in Mahableshwar. They are made from this tree! Other trees specifically found in this grove were the Toran (Zizyphus rugosa). Its fruit is double the size of the usual Karwanda and is ready around the Divali festival. We were lucky to see blooming of the Waras (Heterophragma quadriloculare) , Vatoli (Diploclisia glaucescens), Shivan (Gmelina arborea), Kakad (Garuga pinnata) and Kuda. The Palas was in fruiting stage while the red blazing leaves of Baheda (Terminalia bellerica) and Kusumb gave a flaming touch to the scenery. I saw the Khedshingi with its strange looking fruit for the first time. The poisonous Hura (Sapium insigne) and Raan ghewda (Paracalyx scariosus) was a first for me as well.
My friends tell me that they could spot many varieties of birds and had an extremely satisfying bird spotting session here.

Here are some images (absolutely amateur variety!!) that I have taken during my visit to the devrai. Enjoy!


(Double click to open a new tab so the photo description can be seen)