Many years ago, when my husband was still serving in the
Indian armed forces, the most important aspect when moving into the allocated MES accommodation was getting it painted — 'chuna' was
our brutally frank description of that process. The team of workers 'did' up
the houses in a day, two days if we were lucky. All of us had uniform pale
yellow walls with white ceilings. Just that layer of coloured water on the
walls gave the homes a fresher feel and we happily settled in. The family was not separated, there was a Kendriya Vidyalaya for the children and we were happy. That's
just how things were in our times.

Decorating homes meant
displaying mementos, paintings, embroidery, potted plants and so on. Paint as
decor by itself was unheard of.

Out on civil street after my hubby had quit service, we were quite confused
when it was time to paint our flat. We opted
for the
Asian Paints Home Solutions
which
meant the company took care of everything including the dreaded 'post paint' cleaning of the home.
With the provider chosen we had just one more task and that was choosing the colour-scheme. This was something we had never done before and there were just too many shades. I
did not know that a basic sounding 'white' could be 'Pristine linen' or
'Egg shell' or 'Silence.'
And I have not even started on the rest of the colour palette.
What about the VOCs? Did I want to keep inhaling
toxic gases? Then
there were
the textures
… My
vote was for the 'Spatula, the hubby wanted 'Canvas' and our daughter wanted
'Dapple'. Any guesses on who won?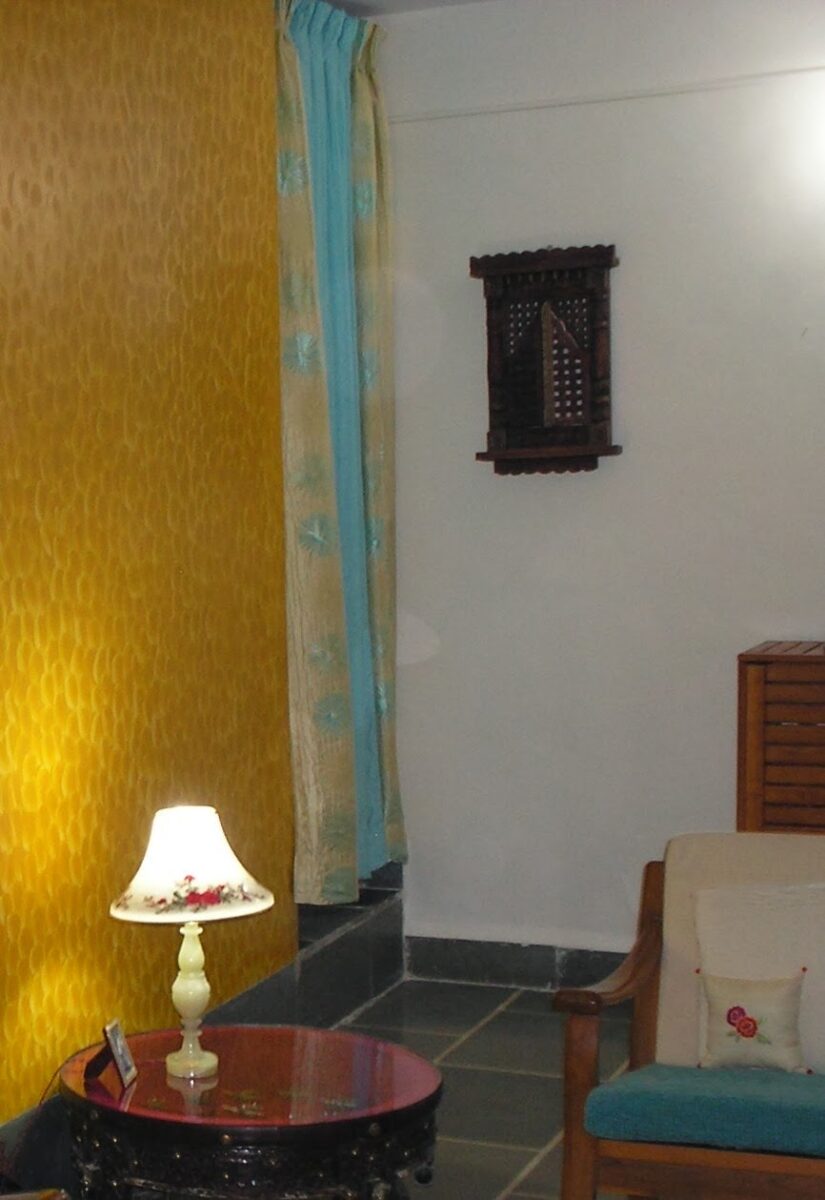 You can only imagine the lively discussions that took place before we made our
choice!
Suffice to say that we tested the patience of our relationship manager and I
must say he was pretty cool throughout.

The team did a thorough job working on each room for six days. Six
days! Unheard of from where we had come but the
end result was stunning. Super smooth and silky to touch, the walls glowed
softly in the light of our lamps. My artefacts were truly unique (even if I say
so myself) but they looked more beautiful against these lovely
walls. The textured wall is the piece de resistance in our drawing room.

My driftwood looks even more beautiful with
the special wood finish paints and waterproofing products have taken care of
unsightly scars from seepage.





They say it's the people that make homes what they are – cosy comfortable
heavens where we can anytime retreat to for unquestioned faith, love and care. It's
the emotions and memories created therein that binds the family members
forever.
Homes whose walls keep track of the kids' growing height, their tentative drawing skills, occasionally even serve as a 'board' when they play 'teacher teacher' and
groan under weight of the framed certificates

! Walls that tell a story of their own… The only additional thing they need is they need 'proper' paint. Truly a "Home Sweet Home".
This post is slightly edited from my submission for the Asian Paints & Ripple Links Beautiful Home Blogger contest.