The usual factors for choosing a holiday destination for most of us are the Local Attractions (Music, Arts History, Geography, etc), Shopping, Food, Nature, family/friends (at times this helps in NOT choosing a particular place) and so on. After my visit to
Hampi
, the presence of a UNESCO World Heritage site has become a big plus in the decision process. This explains why we seized the chance to visit Bhopal.
Located in central India, Bhopal is the capital of Madhya Pradesh state and I had often transited this city during train journeys but had never actually stayed there. Sanchi is located to the north east of Bhopal at a distance of about 45 kms. It is home to the Buddhist monuments – the Stupas that show case Buddhist art and architecture. This is designated as Unesco World Heritage Site. It dates back to some time in the 3rd century BC and was constructed by Emperor Ashoka. After its hey day period, it was ignored and forgotten for several hundred years. It was re-discovered and then explored and developed by British Officers during the Raj. There are plenty of reviews and descriptions of this site available on the internet so I would not like to repeat those. This page on the website of the Archeological Survey of India offers excellent information.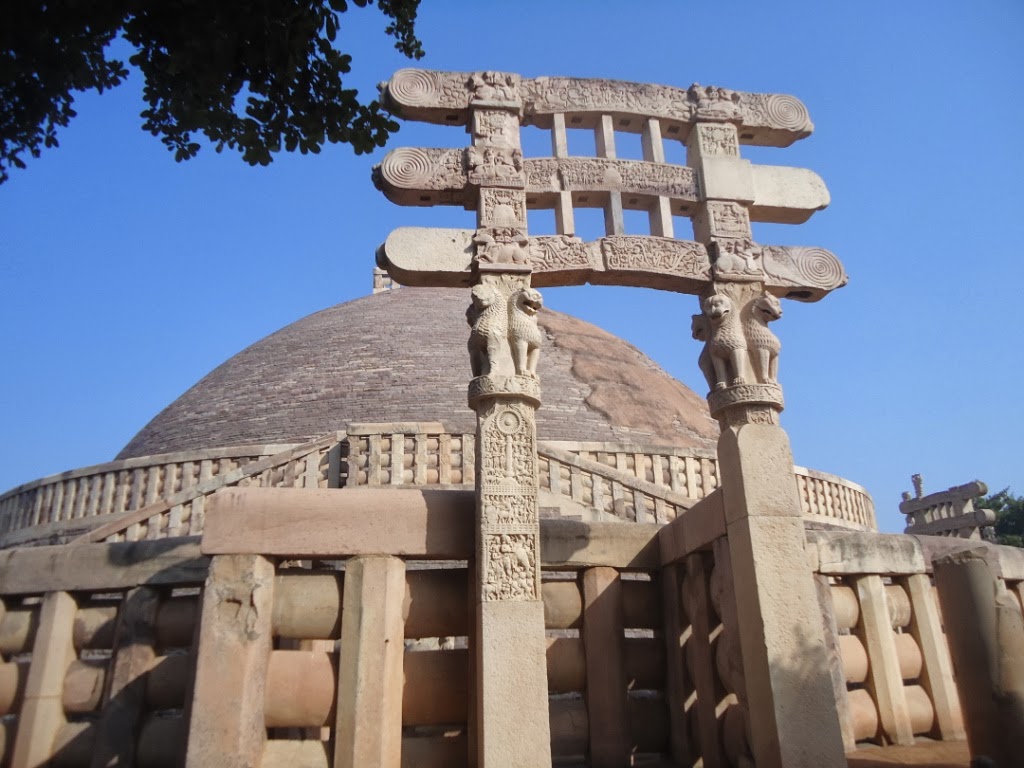 Buddhist Monuments at Sanchi
Sanchi is easily accessible by road from Bhopal. Entry is with a nominally priced ticket and the guard at the entrance politely told us not to eat inside. There is an excellent museum near the ticket hut but I suggest visiting it after seeing the Stupas. Its a very good idea to take services of a local guide as they have an uncanny knack of retelling the history of the place and bringing it alive.
The main stupa (Stupa 1) is said to hold the remains of Gautam Buddha and the other stupas are of his disciples. It is distinguished by its bigger size and by the triple umbrella (chhatravali) on its dome. It has four entrances (toranas) and the southern one is thought to have
been the principal entrance. The
other ones (east, west, north) were built later. Each gateway has two pillars (square with carvings on all sides) and a superstructure of curviform architraves (also carved with different stories).
Our guide brought attention to details inscribed on the pillars which relate the life and preachings of Gautam Buddha and Jataka tales. Parts of the site have been restored. At no site is the Buddha depicted in the form that we now know him to be but he is depicted symbolically. E.g. Umbrella held above the throne, dharma chakra, footprints etc.
If you happen to visit any place near Sanchi do make it a point to go there. It has a serene atmosphere and the Gautam Buddha's ideas are conveyed in a very subtle manner via the carvings. There are beautiful seats under the trees that are ideal for this purpose. The skills of the artisans in years gone by is humbling especially considering that they did not have the so-called advantage of 'modern' technology. Dont miss the stone pillar with a mirror like polish or the huge stones that would have been hauled from miles away and then installed in its position or the interlocking cylindrical stones that form the peripheral boundary of the main Stupa. These are just a few examples. There are many more at Sanchi. .
This site has special walkways for visually challenged individuals and a sign post in braille. This is among the few places that I have seen that offers this facility for the differently-abled.
At the entrance is a small shop that sells some brochures and CDs that have extensive information and history of the site. However they do not have any significant mementos or fridge magnets (I am really partial to those!) which is sad considering that this is such an important destination. I do hope concerned authorities do something to rectify this. Rest rooms are available and there is small shop that sells basic food
items. So do go prepared with snacks or something to eat depending on
where you have travelled from.
Here is a slide show of some of some photos. It only gives a glimpse of the beautiful place and the images probably do not do full justice. Double click on the image for the slide show to open in a new tab… then its possible to read additional descriptions of the photos.
Considering my interest in trees, this blog will be incomplete if I don't write about the trees I saw there. The most important is the Bodhi tree planted just at the entrance. There are several Khirni trees at Sanchi, all flourishing and their shiny dark green leaves glowed in the cool morning sun. I also noticed a Kalam (Mitragyna parviflora), lots of Bougainvilla and other trees usually used for landscaping. Here is a slideshow of the trees at the Buddhist monuments at Sanchi.

Enjoy!