The best way to really know our country is to physically travel and 'see' different states. This is especially true for our vast nation with diverse habitats and cultures. We have 'learnt' history in school but I certainly do not remember anything more than certain names. The Chalukyas, Vijayanagar empire, all were names that shone from behind a thick mist. As things worked out, I got an opportunity to visit some historical sites, one that I took up eagerly.
Monuments at Bijapur, Badami and Hampi (close to Hospet) all in Karanata are not easily accesible. Our visit ended at Hampi but those who can must include Halebid in their itinerary as well. By easy I mean that one needs to travel by train or air to the closest destination and reach these places by road. Luckily the roads are all excellent, well maintained and one covers large distances easily. These are small towns but the three offer comfortable, clean, vegetarian hotels with helpful and courteous staff. Lack of such facilities have deterred me from visiting places despite being a self professed 'travel enthusiast'. But this time, I was pleasantly surprised.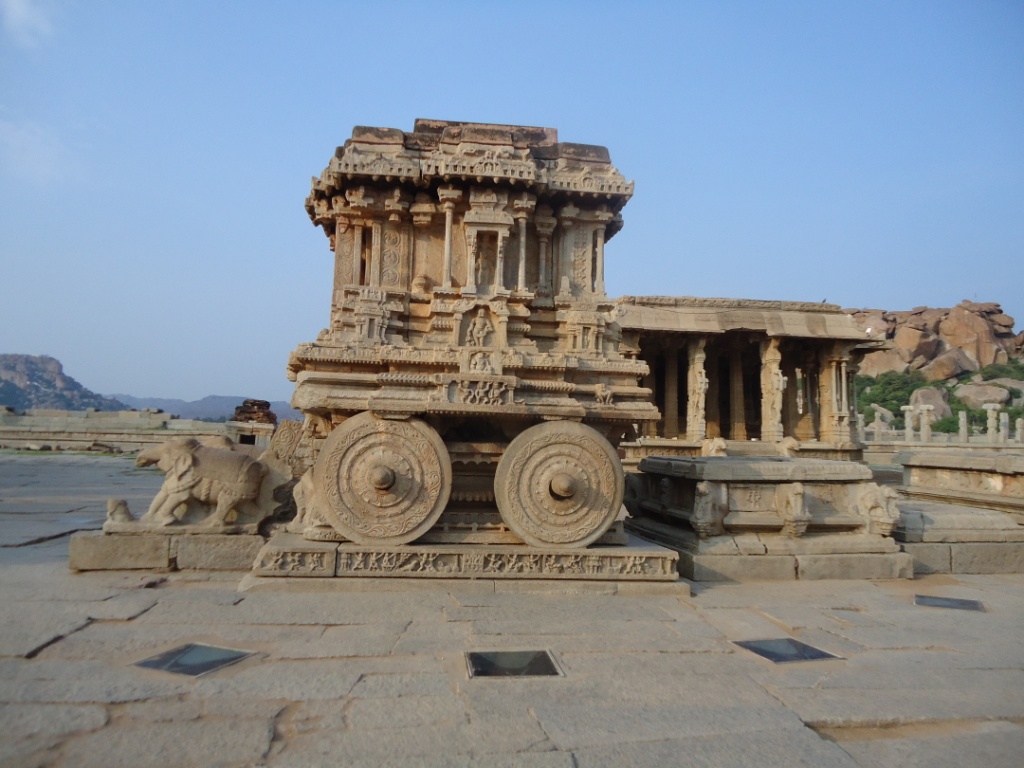 (Each of the sites named below are linked to the ASI website for detailed information.)
Gol Gumbaz at Bijapur was one place that I had heard of but never really made any attempt to visit it. Its main feature obviously is its dome, a.k.a whispering dome that is second biggest only after the dome at Rome. Whispering a few words in it causes them to echo up to 13 times and naturally everyone coming there wants to experience this phenomenon. Result.. an ear-piercing continuous crescendo of screams, laughter that is sure to send your head spinning. Its best if you visit early (when the Gol Gumbaz opens at about 6AM) so you can peacefully appreciate the skills of the men of yore who have created this monument. There is a museum on the premises that is said to be excellent but being a Friday, it was closed when we visited. The Ibrahim Rauza is yet another must visit tourist attraction at Bijapur. These monuments are under the care of the Archeological Survey of India and have a nominal entry fee for Indians plus nominal camera charges.
The main attraction at Badami is the cave temples. However between Bijapur and Badami one must visit the Aihole and Pattadakal temple sites which are World Heritage Sites. While these are called temples, most of them are not places of worship any more. When at Badami do visit the Banashankari temple – a peaceful serene temple that was originally said to have been built in the ninth century. We were blessed to get a peaceful unhurried darshan of the goddess – a wonderful experience. Dakshin Kashi or Mahakuta is yet another ancient Shiva mandir. Legend has it that the demons Vatapi and Ilvala were destroyed by Agastya at this site.
A couple of interesting things that I recommend: walk in the underground Pradakshana chamber at the Vitthala Temple, Hampi and walk in the secret chamber at Pushkarni. Both involve walking in the dark but some light does filter in and one can see outlines as the eyes adjust to the low light.
Hampi is close to Hospet (about 12-15 kms), a small yet busy town due to several steel plants around it. If I was impressed by the highways we had travelled on so far, the ones under-construction outside Hospet will be absolutely stunning as and when they are completed. The entire region Bijapur, Badami, Hospet and Hubli is well irrigated and we saw flourishing crops along the highways. Bright yellow sunflower fields were our steady companions all through but the other crops changed from jowar, maize, sugarcane and the Hampi area had plentiful coconut and banana groves growing amid towering rocks. People spoke Kannada but were open to answering our queries in Hindi. We looked forward to tasting north Kannada cuisine (supposed to be different) but found that most restaurants offered Punjabi, Chinese, fast foods …. And we opted for bottled water all through. One crosses the Bhima, Krishna and Tungabhadra Rivers and Kudalsangama is a best place to see the mighty Krishna after its confluence with the Ghataprabha and Malprabha rivers.
A strange observation at Virupaksha… When visitors offer money
to the temple elephant, he 'blesses' them with his trunk by placing it on their heads . Yet I saw him
'refuse' to do so for a foreign visitor… The mahout returned the coin the lady visitor had offered but I still cannot understand the reason for this denial..
The rock carvings at all these sites are
stunning not only for their intricacy, beauty and symmetry but also as
to how the artisans must have worked back then without the help of the
so-called indispensable modern gadgets. The inverted shadow image of the
main gopuram at Virupaksha temple, Hampi seen in a dark chamber about
200m away as the light streams in from a hole in the wall. The Badami
cave temples have been carved from the top downwards and some free
standing ones were carved from down upwards much as we now build our
buildings. The walls here have carvings that record work of the
artisans who created these magnificent structures. Frescos painted with
natural dyes have stood the test of hundreds of years. The three rows of carved rock channels outside the Navrang mandap in the Vitthala Temple, Hampi was designed to cool its interiors by the water that trickled down. The musical
columns at this site are amazing not only for their artistic
creativity but the scientific thought put in to recreate musical sounds
from solid rocks. Ditto for the water channels at Pushkarni, Hampi.
Badami is also home to monkeys and their presence almost amounts to a menace as they steal food out of our hands or snatch bags, bottles expecting them to contain food. Do not carry plastic bags, plastic bottles when at the Badami cave temples. Ditto at Virupaksha temple at Hampi.
I cannot end this post without mentioning the trees that I identified…
The Vitthala temple, Hampi has a supposedly 160 year old Chafa
(Plumeria) tree (still blooming). The Virupaksha temple has a couple of
Kailaspati trees in its premises and there are two huge Kadamb trees
outside the Mahakuta. The Ibrahim Rauza had massive Thespesia in its
beautiful lawns- much bigger than any I have seen around Pune. These were common around Bijapur but less so in the other towns mentioned here. I noticed the occasional Shirish but Maharukh was commoner around Hospet and Hubli. Sag (Tectona grandis) grew rampantly everywhere in fact, there were what seemed liked dedicated plantations at some sites. The landscaped gardens have some beautiful trees (Sawar, Sterculia foetida, Chandan etc). The
Badami cave temple complex has some lovely trees growing on the rocks –
an effect that we as bonsai enthusiasts struggle to achieve.


When visiting these sites make sure to wear strong, comfortable walking shoes. Carry your cap and sunglasses, sunscreen and drinking water. Its a good idea to take services of a local guide as they have an uncanny knack of bringing these silent stones alive. There is lot of walking involved plus climbing up and down often irregular and long flights of stairs. Keeping some analgesic creams for your joints may be a good idea!
Concerned authorities have worked hard to preserve our heritage. The sites are extremely clean, well maintained and surrounding manicured gardens add to their beauty. By visiting them we can reconnect with history and really know this incredible country of ours.
Happy Travelling!
Archana