We have been reading and drooling about street food delicacies available in Pune during the holy month of Ramzan. Never really made the effort of actually going out to sample the goodies. Last week however it was Determination with a capital D that drove us away from our computers and out on the streets.
The article in Sakaal served as a starting point and after consulting Google 'Baba' for local maps, we zeroed in on Babajaan chowk in Camp…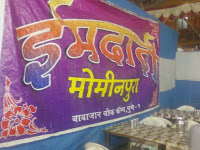 We reached there just as the last rays of the sun disappeared from the horizon. Camp with its low rise British era buildings was bathed in a warm golden glow. The determined would be dazzled by the glimpse of the changing colours of the Shravan evening sky, that is, if you could tear your eyes away from dodging kamikaze two and four wheeler traffic..
While we had a general idea of its location, asking shopkeepers and cart vendors was unavoidable. They probably thought we were gluttons of the worst kind, who kept asking for 'biryani kuthe milel?' (where can we get biryani?).
Hence the sight of the covered pandal and wafting aromas at Babajaan chowk reassured the surging gastric juices that a return to varan bhaat was not imminent!
My apprehensions about cleanliness were largely unfounded (for the time and day of our visit). Various stalls were arranged in the periphery with several seating arrangements in the centre along with the cashier and coupon seller. One could consult the menu with him or better still, take a walk around the stalls and check out what was on offer. In our case, we ended up getting more confused as to what we wanted to eat. Finally one could only consume so much and importantly our trip was self sponsored! So indulging on dishes we did not want to eat was out of question!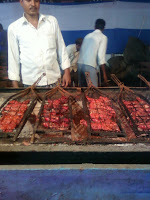 There were kababs of many kinds all sizzling and spattering on coal beds. Aromas from the biryanis and kebabs and rotis and parathas of different kinds rose up to engulf and smother us. They competed as it were to be on our order list! And the meal was completed with delicious phirni and doodhi halwa!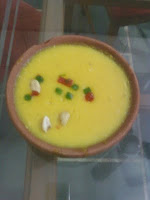 Some difficult decisions finally made, we got our food packed and headed home though eating there was not uninviting. Prices were reasonable and the experience was 'priceless'!

Before Id, do make it a point to check out these khau galli's, you will be pleasantly surprised!
Other areas you can explore are Rasta Peth and near Azam campus.

Yenjoy!