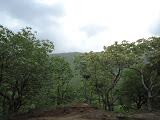 Sinhagad holds a special place in the hearts of Punekars and I dont mean for its history. If one has not been there, its simply not done. And I do not mean driving up in a vehicle to this hill located at about 25kms from the city. Nah! That's for non-Punekars! Any self respecting Pune resident will climb up the about 800m (please recheck for precise figure).
Note: its a good idea to double click and view these images…
We had not 'logged' a visit for a long time and could finally trek up only recently. The climb up and down was as exhilarating as always. However this time I did find several interesting developments…
For a start the base was swarming with cars with no space to park even at 630AM. This probably is a good sign of people preferring the outdoors… The path that leads up now boasts of solar powered lamps. These must be tremendously useful for several Sinhagad enthusiasts who go up as early at 530AM. You see the true Sinhagad 'fans' take the first early morning bus from Swargate, climb up and then come down to the fort- in time to board a bus on its return journey.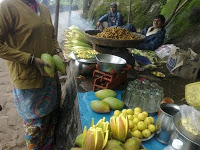 As soon as you reach the top the vendors tempt you with dahi, buttermilk, roasted bhutta, nimbu pani, groundnuts, mangoes and cucumbers – all of which I must add are excellent to revive an exhausted trekker! Further ahead one can savour pithla bhakri, bhajee.
Over the years their offerings have remained the same. I cannot say if this a success of desi over FMCG but the cost to transport packaged goods to the peak and then manually carry them to stalls cannot be an attractive proposition for marketers. You see, despite a tarred road going up to the top of Sinhagad, one has to walk all the way inside.

These vendors physically carry their ingredients on their shoulders or head to their stalls so visitors can enjoy a piping hot meal. This dissuaded us from arguing about the price of a cup of tea or dahi!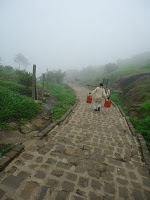 Looking around I was pleasantly surprised to find the area quite clean, no garbage and surprisingly was free of the usual unpleasant odours. I did not peer into the valleys or the undergrowth but that surely must have had a wonderful plastic collection! But I did find signs that Homo sapiens have not lost their ability to damage nature- note the engraving on the Agave.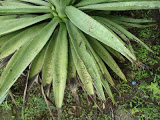 The climb down is tougher than going up, or may be as tough. If you are lucky you can get ride downhill in a jeep. All in all, a trek up is highly recommended in this season or the next for that matter!
Dont delay!
Ciao!
This is the link to my earlier post about Sinhagad: https://yenforblue.com/2008/04/sinhagad-calling.html