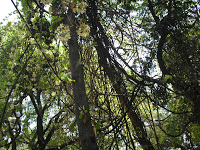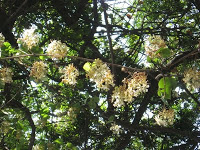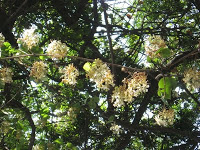 The Empress Garden is one of the jewels of our city one that activists and nature lovers are striving to protect. This is the link to its website: http://empressgarden.org/
Situated in the Cantonment area, it has several huge and old trees that offer cool respite from the heat. While you may have read of the 'cooling' shade, one needs to experience it to truly understand. For this there is no better place than the Empress Garden.
On a recent visit, we were mesmerised by a huge creeper that seemed to rise up from the ground and soar to the tree tops. It formed a natural canopy of white flowers that no decorator can match. The vine had some kind of a tall stand erected for its support, but the plant had long left it behind and had used other trees to spread around the entire garden.
A bit of searching and we learnt that it was the Bauhinia vahlii. Some flowers were white, some yellowing with typical bilobed leaves of the Bauhinia. Here is a link to some botanical details: http://www.flowersofindia.net/catalog/slides/Maloo%20Creeper.html
Our camera proved incapable of capturing its glorious bloom but I have added our meagre efforts just to get an idea. Experts say the creeper blooms till June, so those lucky may still be able to enjoy this spetacle.
Enjoy!