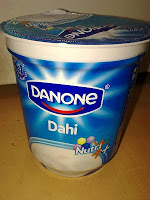 Puneites now have another choice for their dahi (curd) needs with Danone launching its Dahi in Pune. Now making (setting) dahi at home is something innate to every Maharashtrian household. Buying it was never an option other then when returning from a journey or due to sudden guests.
Yet come the retail revolution we are spoilt for choice. Danone's dahi in Pune has illustrious company : dahi by Amul (Masti brand), Nestle, Britannia, Gowardhan (Go) in addition to local biggie Chitale Dairy. Of course one can buy dahi loose from the local mithai store but that is often extremely sour.
For those of you keen to know the hard money facts behind this dahi/doodh market, click here and here.
Here is a homemakers perspective on the brands mentioned above. I have not mentioned costs and they usually vary by a couple of rupees. For me the deciding factors are taste, texture and ofcourse if it can be 'reused' or not (to set another bowl at home..)
Amul Masti: neighbourhood kirana stores usually stock this brand instead of Nestle. The dahi is often sour and most importantly does not work as a starter to set your own dahi at home. Texture is good.
I was told that dahi is prepared commercially using 'designer' bacteria. These become inactive once the milk is set into curds hence useless as starters. This is also the reason why the dahi does not turn sour.
Nestle: has many options and all have 'live' culture. This means a spoonful of this dahi can be used to set a delicious bowl at home. All varieties including NesVita are firm in texture and almost always sweet, but not often stocked by kirana stores. It also offers a range of flavoured yoghurts that are from all accounts excellent.
Don't know if its because of margins or distributor incentives or customer preferences…
Britannia: again with 'live' culture and usually sweet to taste. Not available freely. Texture and taste are good.
Go: a recent entrant but does not have a 'live' culture. Texture needs improvement as does taste. Freely available at kirana stores.
Danone: the new 'kid' on the block in Pune is actually an European dairy major. I am not an authority to predict its success in this market segment but I do know this dahi is a good product. It did not seem to have 'live' culture (I did put on my glasses to read the fine print the packaging but could not figure out!). Taste and texture were good. I have not seen many ads other than huge hoardings and posters at the point of purchase.
As for me, my vote goes to Nestle- any variant. Danone is a close second choice provided its freely available!!
Disclosures: other than hopes of my kirana stocking this brand, I have no interests in the company!!! This would save me the journey to a supermarket and parking hassles!!
Cheers!