Like all tourists, I too love to pick up small souvenirs – preferably magnets with pictures depicting the place that I can stick on my fridge. On a recent visit to Goa, I spied a wonderful magnet with a cartoon by Mario Miranda (it was autographed as well!). The small ceramic circle had a white background and carved figures were raised giving it a 3D effect.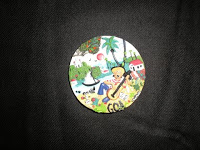 This was at Dona Paula and as usual we got into a spate of haggling but the vendor would not budge. Take it or leave it he said. I was quite surprised as usually these chaps are keen to make a sale. Any way we moved on thinking we could pick it up elsewhere.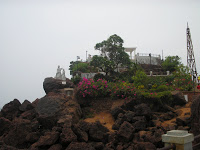 The rest of my wonderful stay was marred by only one cloud- I could not locate the same magnet at any other outlet. Naturally I blamed hubby for giving up this purchase. On the last day we made a final bid to locate this elusive memento. I found ceramic plates, cups, drawings by Mario Miranda but no magnet. There were many other designs mind you but not THAT one. To complicate matters, being a Sunday, most shops were closed which did little to improve my mood.
At long last I spotted an open shop and best of all, it stocked the elusive magnet- droves of them actually, in all designs. We picked the one we liked- quite meekly I might add without any bargaining. Thereafter I did see them at another store as well. We tried to locate the same product but priced lower, even a rupee less would do…. Our efforts had to be cut short as it was time for our return journey but I doubt if we would have succeeded.
Here's why…
While prices of all other curios varied across shops and the final price paid was fully subject to the buyer's skills in persuading a price cut, this one was uniformly priced at Rs 180- irrespective of the shop. The smaller ones were cost a bit less.
All in all this was the prized trophy of the journey a proud member of my small and growing collection.
Once back home I turned to the Internet (where else?) and found this article in Bangalore Mirror that described making of these magnets. It was also featured in the souvenir section of the December 2006 edition of Outlook Traveller.
Next time in addition to feni, cashews, spices and kokum, do pick up this magnet from Goa.
Cheers!