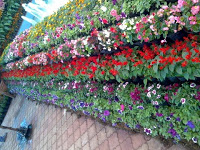 The Pune Municipal Corporation organised its annual fruit, flower and vegetable show at the Sambhaji Park recently. In view of the recent explosions at German Bakery in Koregaon Park, public participation was less enthusiastic. Every year the organisers go the extra mile to decorate the Park in a unique way. In fact, one will not recognise Sambhaji Park in the Show to be the same as the one seen all year round.
This year, the entrance and walkway thereafter was bedecked with orchids, anthurium, gerberas and carnations in many different colours. A deer created out of sphagnum moss was a lovely look alike to a real one. With Shiv Ratri being round the corner, the organisers had created a 'shiv ling' of flowers. The backdrop to the imposing statue of Shiva (NOT made of flowers!!) was … more flowers of course with a layered border of pansies, salvia, balsam etc.
Behind they created a landscape depicted a river, trees etc. and in front of it a flower train…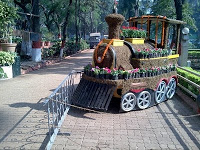 Other than this the show had the usual displays (all wonderful) and a superb display by the Friends of Bonsai.
If you missed the event this year, here are some photos. But keep track of the newspapers next year, and its a not-to-be missed display .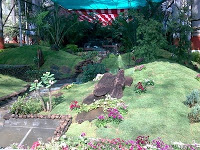 Cheers!