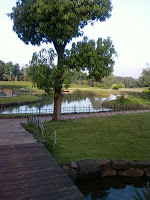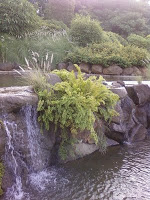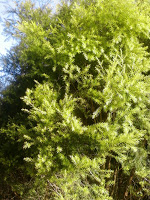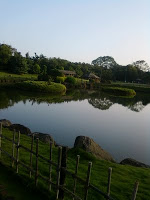 The PL Deshpande Garden situated on Sinhagad Road Pune is probably the only one of its kind in Pune. It is open only in the morning and evening hours, charges an entry fee of Rs 5, visitors may not walk/play/sit on the grass and eating is not permitted in the wonderfully clean property.
So obviously this is not a place one can go on a picnic but is certainly worth a visit. I would say visit more than once and in different seasons.
Also called the Pune Okayama Friendship Garden, this beautiful garden is based on the 300 year old Korakuen Garden at Okayama City, Japan. The landscape is designed to give visitors a feel of changing nature throughout the year (do refer to the map at the entrance that gives a suggested route to be followed for the best experience). As one walks around one feels various elements like , stillness, light, hardness etc.
I must add that trees/bushes don't carry botanical names so my walk around the park was challenging as I tried to identify names of various trees/bushes/ flowers planted here. The landscaping includes a small waterfall, a hillock, several bridges, undulating lawns and several 'gazebo' like bamboo structures where one may sit. The tiled walking track also has several benches where one may sit and enjoy the natural beauty.
Word or pictures obviously cannot capture the beauty of this garden. Visit it.
Cheers!