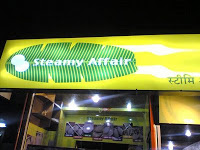 Jangli Maharaj Road is easily the street food leader in Pune. They say that if one eats dinner out each day on this road then one can easily spend a year and not repeat a food outlet. While this may be an exaggeration, family restaurants stand cheek by jowl with roadside thelas, fast food outlets and more.
For foodies in Pune every new entrant is a
subject
of study!
'Steamy Affair' thus came under our scanner. There are no prizes for guessing what is on offer….
A simple standup outlet,
idlees 
are the USP. Ranging from the normal fluffy white to more exotic sounding Kancheepuram, shevai and corn idlees, Steamy Affairs even offers special 'varai' idlis for those on a fast. Of course these are restricted to Thursday and Saturday.
Each serving is accompanied by sambhar and chutney and it doesn't take long to demolish it. While the sambhar could do with more vegetables, it does have a typical 'Puneri' taste. Chutney passes muster. 
Besides idlees there is not much else on the menu except few
beverages
.
Priced between Rs 12 and 20, the pinch to the pocket is bearable.
Certainly worth a visit when in the area.
Yenjoy!!