Hello! Welcome to my seventh attempt at the April AtoZ blogging challenge. My theme this year is Experiences of a first time grandmother! Some sweet, salty moments and learnings! My posts are totally based on what I felt (may even border on rants) and are not meant to be a guide.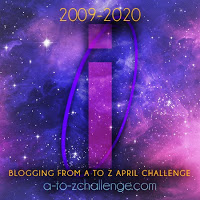 Imbibe
All of us know the story of how Abhimanyu learnt the about entering the Chakravyuha when still in his mother's womb.
While that is a story, my mother-in-law has always said, that kids brains are like sponges till the age of 5 and they soak in almost everything we tell them. This happens even if they dont understand what we talk. Overall it contributes to higher intelligence.


I took it quite seriously with my daughter, and in the same vein, I speak to my grandchild about everything. Each day, I describe a tree that I see from our balcony, its family, flowering, etc. I try to talk about the birds in our area (though I am not a bird-person), my husband talks about flying, Hindustani classical music and so on..

I think you get my point. The aim is that his brain can unconsciously imbibe diverse information. This is naturally in addition to stories, baby songs and so on..


Before I am accused of information overload, let me assure you, baby simply dozes off when bored so naturally we have to stop!
Conversely, this also means no fighting, no arguments when baby is around!


What do you talk to a baby about? What has been your experience? I am sure my thoughts may cause a deja vu to some of you especially someone who has hosted a new born. I would love to hear from you!


See you tomorrow folks!

Here are links to my previous AtoZ attempts.
2013 Mixed Bag
2014 Exercising For Fitness
2015 Gardens of Pune
2016 Herbs
2018 Contemporary A to Z
2019 Caring for the Caregiver



Disclaimer: My posts do mention some products or service providers but these are not sponsored and not meant to be an advertisement. All posts are from a maternal grandmother's point of view!