Hello and welcome. The first post is possibly the most difficult in a challenge- a long one will discourage readers and an uninteresting one will drive them away…
I am using my 2016 April AtoZ Blogging challenge to identify herbs and in the process increase my knowledge about herbs. The chosen ones will be herbs I have seen (in my city or in my travels) or used (as medicine or in cooking).
My memories of Asparagus are ancient dating to my school days (trust me, thats a long time ago) when we were served Asparagus soup at some hotel and I remember liking it a lot. Over the years, I have had to choose between umpteen soup varieties but the asparagus soup has never appeared before me again! Asparagus is now fairly commonly available in the bigger super markets in Pune but the price is discouraging. Growing them seemed to be a good option. This meant giving up some of the prized (sunny) spots in my balconies which are occupied by my Bonsai. A decision I dont regret as we now have source of fresh, chemical free herbs. 🙂
Here are a couple of images of my Asparagus.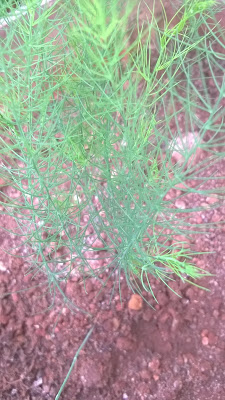 The growing plants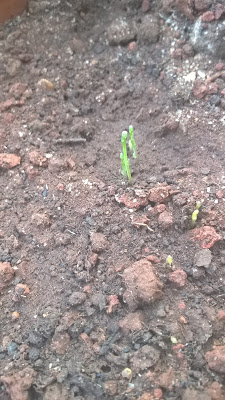 Tiny seedlings from Asparagus seeds

















































Asparagus officinalis or Garden Asparagus is said to be native to the Middle East and the Mediterranean but is now naturalised in India. It has thread like delicate leaves and I am waiting for my plant to flower. According to this website, the flowers are small and hard to see and are attractive to bees. Asparagus officinalis belongs to the Asparagaceae family. Here is a link to the key to the Asparagaceae family .


Another variety is the Asparagus racemosus also called Shatavari. This has huge medicinal properties especially for women's health.


Here is a Pasta and Roasted Asparagus made by a dear friend. She says that Asparagus is an easy vegetable to cook with and needs minimum preparation. Just blanch/ steam / saute it and add sauce. Alternatively roast in the oven and season as desired. Viola, a healthy tasty meal for you!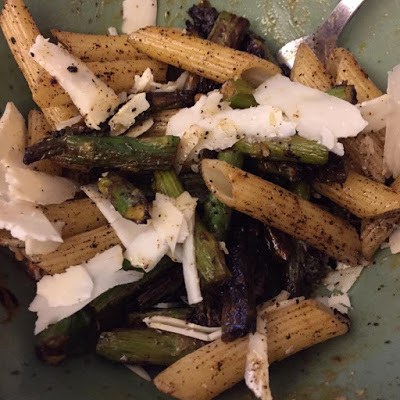 Pasta and Roasted Asparagus by Vishakha
Aerva lanata is a yet another "A" herb that I was able to identify – also called Mountain Knot Grass. I have seen it in Orissa and was flowering in mid January. The white flowers stood out against the almost bare soil and this is what it looked like…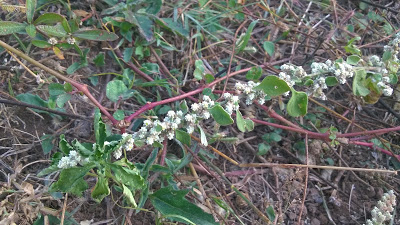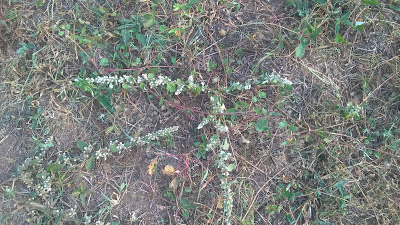 Do you have an Asparagus recipe to share?


Tomorrow, I have an interesting herb for you.
Till then, Happy Blogging!
🙂