Personally we do not like the unexpected. Ofcourse, some surprises are pleasant and happy and rewarding ones but we cannot really be sure that is what is in store for us. This is especially valid when travelling. Hence we make sure to go into great details when planning a journey for work or just plain fun. Hotels, transport, sightseeing, food, health and the most important- money… All budgeted for and made available in time and to be easily accessible. That should take care of most unpleasant unexpected surprises.
Or so we thought…

Flight cancellations do occur often due to weather. But as we learnt recently, and the hard way I might add, flights are cancelled when workers go on a strike. Its not at all pleasant to learn about flight cancellations when in a foreign city, at the fag end of a vacation, and when its a weekend and office hours have ended. There was no one to answer queries and our calls to customer care meant being on two-hour long 'hold'. While our flight was on the next day, we had to end the suspense which entailed personally going to the airport and rebooking. Thankfully the airline executive manning the ticketing counter was very helpful despite being past her working hours. We were given confirmed tickets on another airline and now have returned home safely.
Lesson Learnt: Do carry addresses, working hours and contact numbers of local airline offices when travelling. If possible verify your booking on a working day during working hours before your actual flight. Usually airlines to offer alternatives hence one should know where to contact them as we learnt the hard way that customer care phone-calls though toll-free, are practically impossible to reach.
On another note, here is cool apparatus that we picked up on the above journey. Its a strap to carry a hand sanitiser that can be affixed to a purse or handbag. No more searching inside a bag/purse. This is from Bath & Body Works and is available in many different attractive types.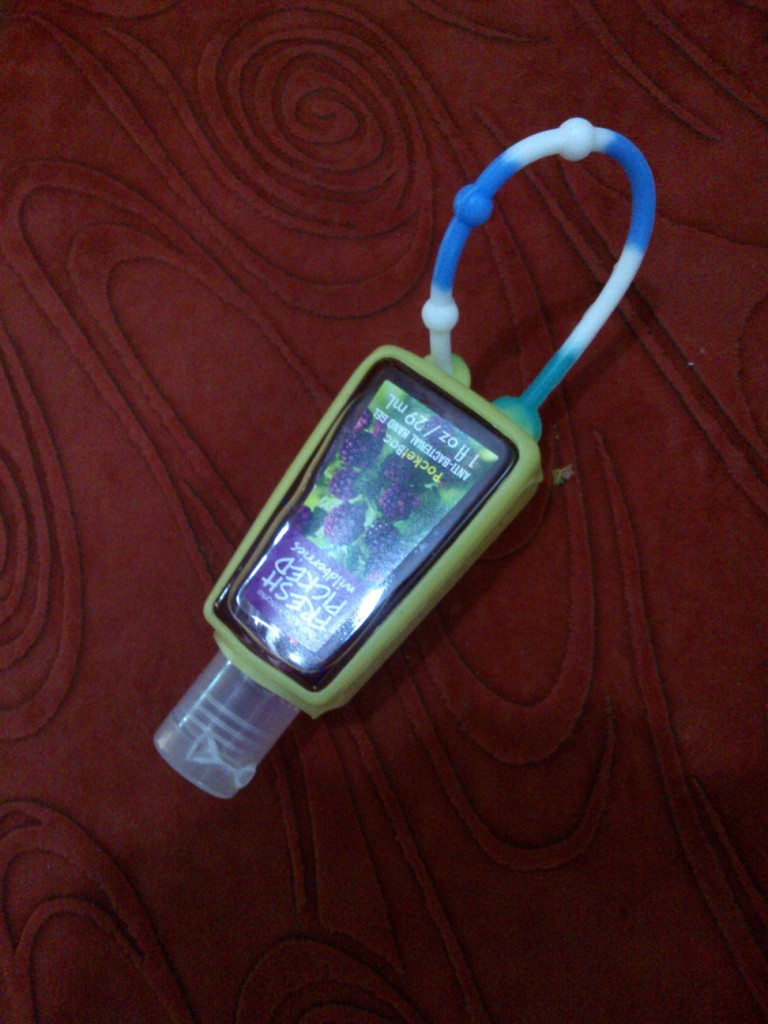 Happy Travelling!